Bullfight goes wrong for Bodi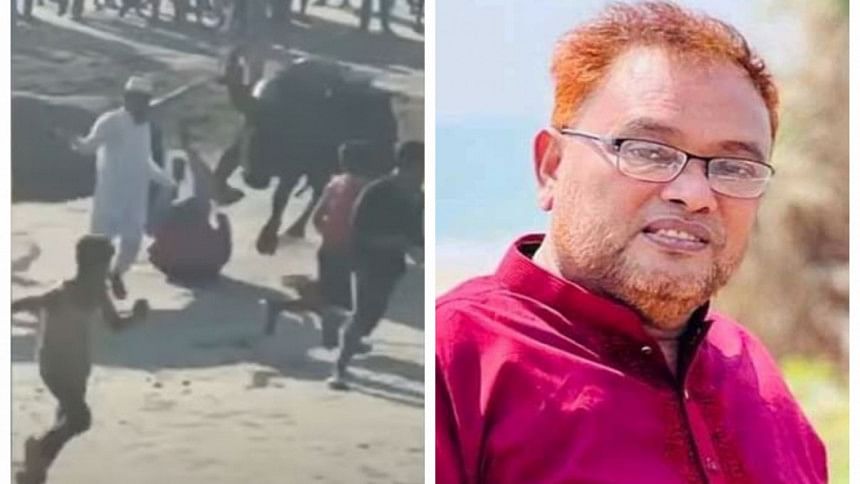 Controversial AL leader Abdur Rahman Bodi again hogged the headlines very recently as eight of his relatives were among the 101 yaba peddlers who were sentenced to one and a half years in jail in a drug case.
But this time, the former lawmaker is making news for an entirely different reason.
It was a bullfighting event where Bodi was invited as a special guest. What could have been an enjoyable afternoon turned out to be a nightmare for him.
A bull, for a reason unknown, charged at him, knocked him down and trampled him.
The incident took place at a sea beach in Teknaf beside the Marine Drive of Cox's Bazar this afternoon.
Jabed Iqbal, vice president of Teknaf Upazila Awami League, confirmed the incident to our Cox's Bazar staff correspondent, and said two youths of the locality organised the bullfight and invited Bodi.
Bodi went to the event wearing a "red shirt" and attracted the attention of one of the fighting bulls, the AL leader said. He was staying home after taking primary treatment for minor injuries.
Although the red colour has widely been associated with bullfights due to matadors' use of a red flag or the muleta, recent studies have debunked the myth. Bulls are colour-blind and cannot see red. Rather, they are apparently irritated by the nonstop movement of the flag the studies claimed.
Bodi, a former lawmaker of Cox's Bazar, was placed at the top of a yaba traffickers' list prepared by the Department of Narcotics Control.
His eight relatives, who were convicted in the drug case, used to run the illegal trade under the shelter of Bodi, according to officials of law enforcement agencies.