Perspective
The Story of the Star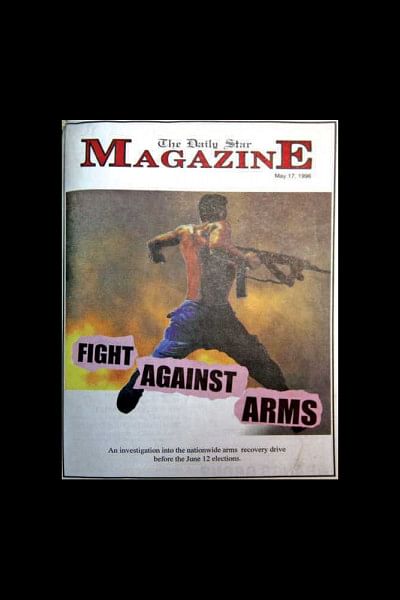 The Star is about to embark on a new journey. It will change its format from its present size to a tabloid. Being its editor for most of the 18 years of its existence a little reminiscing is in order.
As I look through old issues of the Star my facial expressions change from a smile to a grimace to a look of utter horror and then a grin. If cartoonist Sharier Khan were nearby he would have had a blast drawing cartoons of these contortions. But while my hands are blackened with the soot from old issues that are only archived in paper form, I am filled with pride and a sense of fulfillment to be part of this unique publication that we have put out week after week for 18 years. I smile as I see those familiar names of those I have worked with, each team member bringing about his or her unique set of talents and eccentricities. Many of them have left to move on to greener pastures but most of them have become life-long friends - even the youngest ones. I grimace at the rough, dull yellowing paper of old issues – how unattractive we were in black and white with blurry pictures, dull art paper cover and minimal effort in terms of graphics. I am horrified every now and then as I see the gross spelling mistakes – even on one or two cover jackets and the tediously long articles, the convoluted sentences, the painfully long paragraphs. But I also find myself impressed all over again at the diversity of subjects we have covered and the depth with which our writers have delved into them.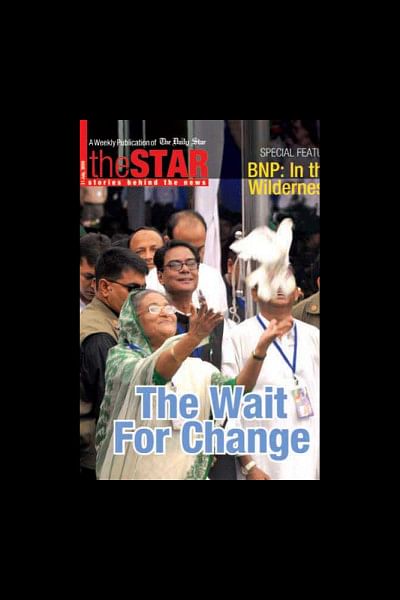 I am looking at our first issue of May 17, 1996 which should be considered, our anniversary. And all these years I have been claiming that our inaugural issue was May 19th – oops! The cover, designed by Sharier is of a young man jumping over flames with a gun in his hand. The cover story 'Fight Against Arms' is about the nationwide arms recovery drive before the June '96 elections and why it had not been successful. Written by Morshed Ali Khan, one of Daily Star's most talented investigative reporters and Gemini Wahhaj, always the social activist and part of the first magazine team, the story talks about the futility of raids on university halls as the terrorists vanish along with their arms just before a raid, thanks to informers within the police force. The writers conclude: "There will always be more arms and more terrorists as long as there is a demand for violent means to resolve a political crisis…" I marvel at the relevance of these words even in today's scenario. 
In the same issue is the first installment of a series 'A Punjabi Writer's Perspective' by Pakistani writer Ahmed Saleem who in '71 had written against the genocide of '71 and was consequently persecuted for it. There is also an intriguing feature 'Looking at the Future of the Past' by Raffat Binte Rashid (now editor of Star Life) on the heritage sites of Old Dhaka.
Since I have started name-dropping let me do a little more. Our pages have been graced by many important people. Our own editor and publisher of The Daily Star Mahfuz Anam has written several times – he even had a weekly column on politics which was definitely a crowd puller. In the first year of the magazine, Mahfuz Anam gave us an insightful interview of the UK High Commissioner Peter Fowler, a diplomat who earnestly had tried to bring two sides of the political divide together during the then opposition movement. Answering a question, Mr Fowler says: "the more one got to know of Bangladesh the problems of Bangladesh became all the more apparent – that the political tensions of the two of the main parties were helping to sap the initial energy of reform and effective governance which had come from the events of 1991 and the rebirth of a sense of national idealism and the new possibilities of change and growth."
Nurul Kabir, now editor of The New Age wrote an article on codes of conduct in the parliament as part of an analytical review of the first year of the AL government. Even Motiur Rahman, editor of Prothom Alo has written for us - a cover story on corruption. 
I remember our first years trying to get the hang of things, our team brimming with ideas. All through these 18 years we have been blessed by remarkable teams – young men and women –some still in university, others coming back from the US, Canada or UK with impressive degrees – to try their hand at journalistic writing and know their country in the process. If I had to list all the names of the writers who have made this magazine so rich and diverse with their innovative thoughts and creativity it would probably take the entire issue. Gemini Wahhaj, Rashida Ahmad, Elora Halim Chowdhury, Anindita Sarkar, Lavina Ambreen Ahmed, Ayesha Fariha, Mahtab Haider, Samia Islam, Sayeema Hasan Tori, Mustafa Zaman, Kajalie Shehreen Islam, Hana Shams Ahmed, Elita Karim, Shamim Ahsan, Imran H Khan, Srabonti Narmeen Ali, Zain Al Mahmud, Nader Rahman, Anika Hussain, Tamanna Khan, Akram Hosen, Sushmita S Preetha, Rifat Munim, Naimul Karim, are just a few of them – there are many, many more.
From the very beginning the Star weekend magazine has been about projecting the interests of the ordinary citizen, more importantly the marginalised sections of society. We have written about the rights of domestic workers, migrant workers, hermaphrodites, indigenous communities, sex workers and child laborours. We have discussed the issues of rape, sexual harassment, domestic abuse, male prostitution and women's need to redefine their identity. We have talked about current perceptions of sexuality and love, the need to address the obsession with fair skin. We have also had cover stories on many well known talents – Qayyum Chowdhury, Monirul Islam, Mohammad Kibria, Murtoja Baseer, Ferdousi Mojumdar, Selim Aldeen, Nasiruddin Yousuff Bachhu, Shyk Seraj, Kalim Sharafi, Syed Shamsul Haq, Nurjahan Begum, Shimul Yusuf, Alamgir Kabir among others. And we have always tried to bring to attention those who have worked silently behind the scenes such as Gobinda Haldar the lyricist of the most famous songs of the Liberation War, Mizanur Rahman, a relentless champion of the disabled, Dwijen Sharma, a diehard environmentalist and Dr Firdousi Quaderi a dedicated scientist.
In our recent issues we have consciously tried to highlight the achievements of young innovators – entrepreneurs, artists, film makers, musicians, social activists and social workers – a generation who is determined to take the country forward despite the odds.
And there have been stories that have treaded into other areas that affect our society – the effect of video games on children, how teenagers view life, how to stay healthy through alternative medicine, why it is important to know oneself, how people fall in love in the age of the Internet and so on.
As I turn the pages of the magazine from various years I see the names of so many individuals who have contributed to enriching the magazine's eclectic content. Reporters from the newsroom have spared precious hours to write for us on subjects from the trial of war criminals to the feats of sports men and women. I see the cover story on Martina Hingis the young tennis player who wowed the world with her amazing feats. It is written by our former managing editor, the late Towfique Aziz Khan, known for his excellent sports commentary, sharp wit and affectionate nature. Our next managing editor Syed Fahim Munaim proved to be another staunch supporter of our magazine, becoming a kind of ombudsman to solve all kinds of problems from getting a computer monitor replaced to recruiting new writers.
Then of course there are the columnists that have given our readers a window to other worlds. Neeman Sobhan's  A Roman Column (originally called Antipasti-Notes from Rome) was one of the first columns of the Star magazine apart from Chintito. Write to Mita by Shaheen Anam has been perhaps the most talked about column giving advice to the lovelorn young and not so young. Other columns soon followed drawing in more readers – Farah Ghuznavi's Food for Thought, Nadia Barb's Straight Talk, Aly Zaker's One Off, Richa Jha's Slice of Life and Sharbari Ahmed's Writing the Wrong. Later we were blessed by the beautifully crafted writings of Andrew Eagle who has started a wonderful column called Village Flute writing stories from all over Bangladesh. While we were creating a platform for these writers to express their creativity we were also providing our readers with a diversity of writing that was both entertaining and enlightening.
I read through our first anniversary issue and come across a piece titled 'Taking it Funny side Up' by yours truly. I chuckle at the disasters mentioned – missing pictures, missing cover story writers, threats of litigation and love letters from female fans who mistook me for Aasha Bhai rather than Apa! Included in this issue is a feature on 'The Ideal Mate' with two columns listing the traits of an ideal man and woman. An ideal man for instance, 'has pots of money but is never stingy and believes in the philosophy: her money is her money and his money is her money too; has the body of Arjun Rampal, style of Pierce Brosnan, the brains of Carl Sagan… a face like Akshay Khanna and voice like Amitabh Bachchan.' The ideal woman meanwhile, 'has the body of Pamela Anderson (Bay Watch), the face of Aishwarya Rai, personality like Shabana Azmi and as caring as Shabana in Banglar Bodhu'. In fact the positive response this first anniversary issue got gave us the incentive to do many more satirical issues – mostly on politics but also parodies on social interactions. They were enriched by the elaborate, colourful cartoons by Sharier and later also by Sadat and Tanmoy. 
Thus over the years our appearance anomalies with the content – we got a glossy cover, coloured pages and most importantly professional photographers like Zahedul I Khan and Amirul Rajiv and a graphic artist like Manan Morshed who has for the last thirteen years tirelessly, uncomplainingly worked to design the magazine and bring about changes in its look. Ahmede Hussain, our Assistant Magazine Editor has for 12 years brought to the table his intellectual acumen and keen interest in politics. Other people behind the scenes include Monirul Islam Bhuiyan who for years has efficiently formatted these pages working extra hours besides his regular duty. Selim H Chowdhury, our General Manager, production, while pushing us constantly to stick to our deadline on Tuesday has also been a behind-the scenes champion of the Star, looking after the printing side of the magazine. A few years ago we changed to another size – something less than the old A 4 size and one that has been adopted by quite a few daily papers. 
And now the format is about to go through a dramatic change all over again. The Star will transform into a tabloid form in tune with all the other daily newspapers. Under its new, younger, more energetic editor Elita Karim and her team, the Star no doubt, will tread into more exciting arenas. Although it will be different in terms of look, rest assured, it will still be the Star – a publication that predominantly caters to readers who like to read about things that are relevant to their every day lives. More importantly, it will be a publication for those who really enjoy one thing in particular – to read.
AASHA MEHREEN AMIN
Editor, the Star