KAJOL'S VISION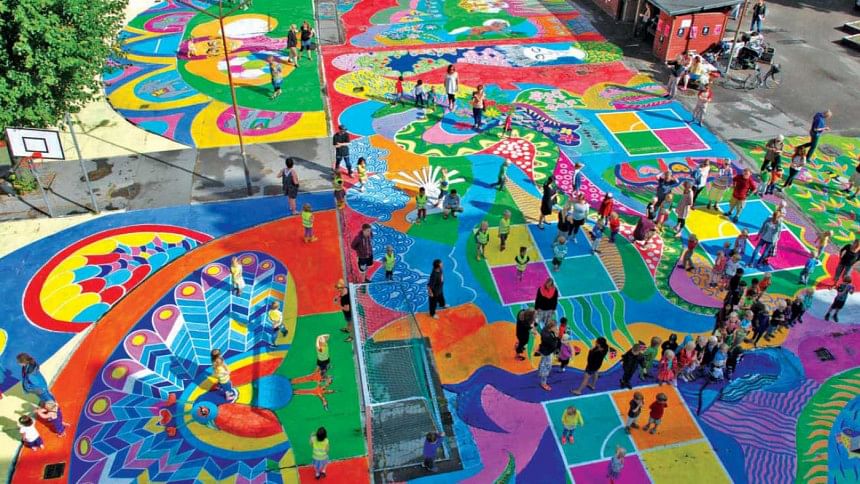 According to artist Ruhul Amin Kajol, who is in Bangladesh for three months , visiting friends and relatives, formal art began with the Egyptians, Phoenicians and the cave dwellers before them, who used art to express their thoughts, beliefs and stories through architecture and relief work and to glorify their power. Huge constructions were made to establish supremacy. The artists involved had to paint the lives of kings and queens. Thus began formal art. Artists were commissioned and some like the ancient Indians, made buxom goddesses and gods with bows and arrows to signify love. After the advent of Christianity, popes commissioned and organized competitions to appoint artists to paint Christian-based art. Later came the ages of artists like Da Vinci, Michelangelo and Raphael. Kajol was sipping tea at a Dhanmondi house, and casually munching fish kebabs. His hair had become a mop of white while his eyebrows were still ink black. 
What, in his opinion, is the work of a true artist? An artist's whole life is to be himself, he says. He is selling himself. Vand Gogh expressed himself. You can judge Munch and Nolde in the same way. Expressionists allowed themselves to come out. "If you are the curator or gallery owner you cannot play with an art work as if it were an object like furniture which can be sold again," he adds. "Those who are intuitive find spontaneity. For me this is magic. One would say Kandinsky was a supporter of this theory. Mondriani thought similarly, as did Dadists and Surrealists." 
His foray into street art was through alponas. Since 1974, he has done at least one project of alpona every year. He loves it when people gather around him to see his work in progress. It gives him great satisfaction. When in Spain, he was to paint the Rio Vinalopo which was 81kms in lengyj."I painted it in the form of an Indian snake with red, black and yellow stripes." He had three  days to finish his work. He also did profile portraits of giving flowers to a girl and a boy. I also painted a picture portraying a snake and a peacock - motif of a folklore taken from Modhuboni style from Bihar near Mymensingh, where Nakshikanthas are made. This gave him the confidence to continue with his street art in different places.
When he went to Spain, he visited the coastal town of Landsk Rona (Sweden). After viewing his work done in Spain, the Norwegian Bjorn Hernes commissioned him to work on a painting of dancers. In1994 he met a Swede who gave him a regular job and he worked on it for four weeks. Ten years later he decided to work with artists Saleh Mohammed, Saidul Huque Juisse and Sakhawat Hussain. They began the Bangla New Year with the Mangal Jatra making tigers and elephants for Bangladesh. Then he did the outdoor sculpture at the British Council where he worked with 15 artisans and 15 artists. 
In 2008, his exhibition "Evalization" was presented at the Zainul Abedin Art Gallery. "Conspiratorial thoughts were necessary to make conceptual thought through conspiracy. Conspiracies were necessary to establish the imperialism of the Roman and British Empires. Through digitalisation, a new civilization could be obtained. We got a civilisation that is different from what we were used to." After completing his series titled 'Society' he started work on an art project on love. "I took my cue from real people whom I came in contact with. Thus the idea of love - which is eternally present among us - appeared to me as an essential part of nature. And I thought that at the far end of the spectrum lies the love between a man and a woman." 
Back in the days he used to mingle with writers and they inked a kind of poetic script. He found expression through poetic imagery. "When violence peaked and I became a witness to the slaughter of human bodies being slain, I thought it was time to address it. I was perturbed. There were two kinds of violence. One was physical and one was psychological. I decided to signify this human slaughter through amputation and used the symbolisation of a bird. 
After the demolition of the Berlin wall, the world politics changed gradually. If earlier communism was considered to be the enemy, at present religion and morality became the targets. He addressed this clash between the heads of states in his art work titled "Killigion." This led td to the exhibition titled "Evilization." "Bangladesh is degenerating into a South American type country. In our society we have the rulers, the kings, the priests and the slaves as we did during the age of the Dravidians," he concludes.