VIOLENCE AGAINST MINORITIES
The new normal?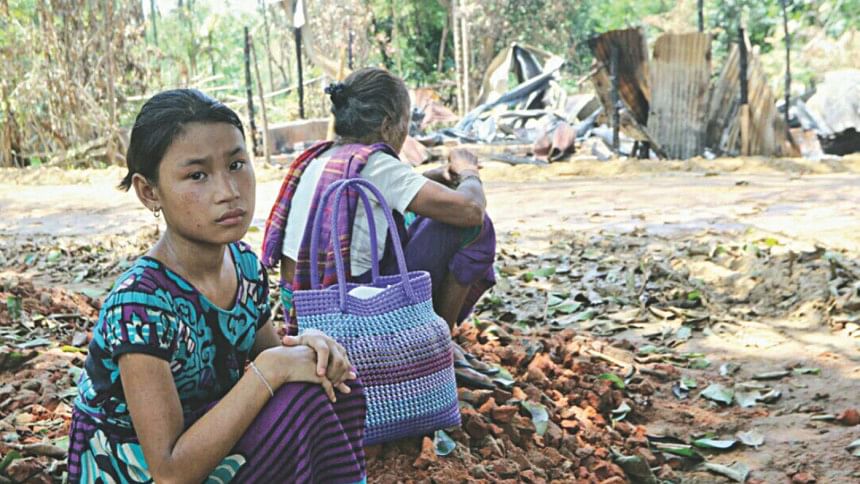 IT is customary for the government and indeed a large part of Bangladeshi society to meet news of violence against minorities either as acts committed by fundamentalist or extremist groups or as individual isolated cases. Yet the two explanations are contradictory. The first implies that such violence is indeed an act of politics and the second that these acts are apolitical. The common denominator in these two apparently contrasting responses is that they do not belong to the mainstream body politic. But the actual instances of violence defy such explanations.
Existing discourses on violence against minorities dissect the phenomena in four broad categories: the historical, political, economic and legal. Some analysts are of the opinion that violence against religious minorities is deep-rooted in our history, as, for example, the Partition of India or more specifically in the context of Bangladesh, the purging of secularism as one of the pillars of our first Constitution.
Those who emphasise the political factors, usually make references to the increasing use of religion as political capital. This reference is twofold. One is to the increasing influence of extremist forms of political Islam and the other is to the pervasive influences of global Islam in day-to-day life and living. This is linked to the deepening of otherness with which diverse and different cultures are treated.
Another aspect of the political argument is that minorities have been targeted as scapegoats for parties losing or even winning elections as they were perceived to be major vote banks of certain parties vis-à-vis others. The attack on minorities after the 2001 elections in Bangladesh was considered by many to have played an iconic role to subsequent incidents of violence against minorities.
Analysing the economic roots of violence against minorities has a steady following in the literature on violence. It is not necessarily related to minorities, but when minorities form a large part of the impoverished and vulnerable section of the population, grabbing of their private and common land is a syndrome that defies boundaries. The Vested Property Act which allowed minority-owned land to be usurped by the state has proved to be a model for disenfranchisement of the minority population in Bangladesh.
Finally, the issue of impunity in the political and judicial system as well as the slow process of justice with regard to crimes committed against minorities have been a major stumbling block in any attempt to assuage the crisis. As such there have not been any serious signals sent by the government or judicial system that there will be zero tolerance for such incidents.
These existing discourses attribute various causes for attacks on minority populations—some historical, others systemic, still others economic and ideological—but few dig deeper into the reasons for the "normalisation" of this violence in the mainstream politics and social fabric of Bangladesh in recent years. This is what I seek to do here.
Bangladesh has undergone socio-economic transformation over the last decades that has reflected on changes in class and property relations. A large part of the urban middle class of the sixties has sent their children to western countries for study or for work and rural-to-urban migration has increased in quantum leaps giving way to a new generation of "first urbanised". The intake of various national universities reflects that this new urban middle class has both conservative and liberal roots.
The conservative background comes from various tradition-steeped upbringing and schooling systems on the one hand and exposure to trends of global Islam informed by modernity on the other. The liberal roots which had flourished in the sixties in the form of Bengali nationalism in the context of the Pakistan state were supported by numbers (Bengalis being the majority) as well as by a politics of resistance which had diminished in current-day politics but is not totally absent.
From time to time it raises its head as it did during the Shahbagh movement. Secularism or at least a tolerance of all faiths and diversity was part of this liberal set-up. In contrast to global Islam it had very little international repercussions, until again, the Shahbagh movement helped to spread the ethos of Bengali identity among the various campuses of the world. But neither Shahbagh nor Hefazat's shaplachottor event are normal day-to-day events. They occur like a combustion but are gone again.
What, therefore, signifies day-to-day normality for people? In one answer, it is their livelihood and lifestyle, the relationships they forge or break, the technologies that inform them and the architecture of social living. What has happened here? Violence has always been lurking among the apparent peace of domestic and social life as has been discovered by feminists and rights activists. It has only become more visible in recent years due to a variety of reasons. But when it comes to violence against minorities a stark contrast is often drawn between the past and present.
People reminisce about the time when inter-communal cohesion existed and was reflected and celebrated among neighbours and communities. But what takes its place is a growing alienation, an increasing "othering" that has been exacerbated by extremist ideologies on all sides. Many analysts treat the growth of such ideologies as the main source of conflict. But it is important to ask when such ideologies become pervasive in society thereby setting the standards of the new normal. A key factor is the growth of the market.
Markets as opposed to resistance politics are becoming a site for negotiating and contesting values in society. The textbook version of the perfect market is a level playing field. In reality it is not. Those who have more property than others, those who have more capital than others have more staying power and hence control the dynamics of the market. Technically speaking, markets were supposed to free feudal relationships—everyone getting the chance of making it to the top. But that is not how it works. It depicts the survival of the fittest. Competition is the name of the game and it is this competition that breaks and makes relationships, corrodes and erodes community boundaries. Competition therefore legitimises violence and violence becomes the new normal.
It is this very competition that is said to fuel growth and hence violence becomes necessary for growth. This growth leads to the grabbing of land, the encroachment of forests and water bodies and eradication of community boundaries. Minorities, ethnic and religious, are the first to be stricken. Bengali nationalism cannot save them now as what in the past had been part of resistance politics is now part and parcel of the establishment, an establishment that preaches the laws of the market as the new norm.
Yet our Constitution preaches equality. Our history says that we see ourselves as a "people's republic". Have they then lost their relevance? Surely not! What are the institutions we should rely on? What are the ideologies we should turn to? Do they exist or should we revisit and reinvent them? And who will do that?
It is perhaps not enough to hold rallies and human chains in a reactive manner but to search for more visionary forms of resistance politics that unearths and reflects deeply on the violence in our society and then seek to change it.
Meghna Guhathakurta is the executive director of Research Initiatives, Bangladesh (RIB).