"It was an existential choice to join the Resistance"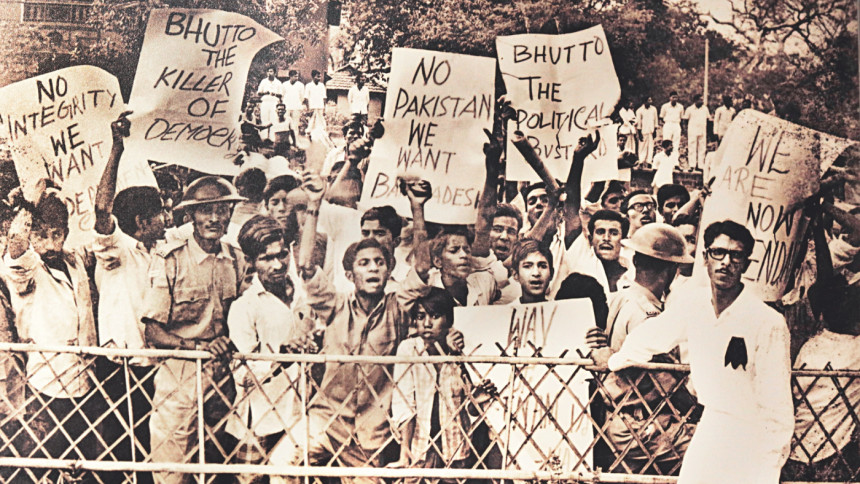 Kaiser Haq is a poet, translator, essayist, critic, academic and a freedom fighter. Currently, he is the Dean of Arts & Humanities at the University of Liberal Arts, Bangladesh (ULAB). In an interview with Eresh Omar Jamal of The Daily Star, Professor Haq talks about Bangladesh's Liberation War and its literary and cultural aspects.
At what point did you decide that you had to join the liberation struggle?
Soon after the crackdown I was supposed to go with a couple of friends to Chittagong, where Bengali soldiers and Rifles personnel were putting up a tough resistance. But I had to accompany my family to my maternal grandfather's and by the time I got back my friends had already left. Tragically, they disappeared without trace, presumably somewhere near Chandpur. Then my cousins who were the same age as I started following the news of the war and waited till the training camps had been set up and organised guerrilla warfare began. Small groups from the village started going across the border to join them—I was in a group of three cousins and two distant uncles who trekked across in May.
I heard some of my friends were in Calcutta, so I went there, and from there to West Dinajpur, where the headquarters of Sector 7 were located. By that time it had been decided that young men would be selected from the various sectors for training to be officers capable of leading companies in battle. Sixty-one in all were selected, and I happened to be one of them. Sheikh Kamal was another cadet. After 15 weeks of intensive training at a remote Indian military camp called Murti we passed out on October 9 and went straight to the battlefront.
The boys in my company were mainly village and small-town lads. They had been given a few weeks' guerrilla training, and a colleague and I trained them to operate as a 200-strong company. Their commitment to the struggle was absolute. What they lacked in training and weaponry, they made up in sheer grit. We kept biffing the enemy till they were forced to hole up in their fortified encampments. When the big push with our allies came the enemy simply crumpled.
How have you processed your experience and memory of the war in your work and personal life?
I don't know what processing the experience means. Given the crackdown, it was an existential choice to join the Resistance. We wanted the enemy out and the Bangladeshi flag flying over Dhaka. As soon as we achieved that I was ready to go back to my studies. A couple of articles and a few poems reflect my war experience.
Has Bangladesh been able to form its own national identity after independence? Do you see a reflection of it in our literature?
As soon as the independence war began everyone in this country became clear about their national identity. There is no doubt about that. But lately, with globalisation the search for multiple identities has become the norm. My generation did not feel this as much as the younger generation today. All my students would like to go abroad and acquire another passport. Transnationality is on the rise, and the trend is probably here to stay.
These developments are reflected in our literature. Think of all the expatriate Bangladeshis who come like migratory birds every February to launch their mainly self-published books. Well-known writers like Zia Haider Rahman or Tahmima Anam, just to name two, also reflect these trends.
Our independence struggle is clearly the most important event in the history of Bangladesh. Why is there still such a dearth of literary work (novels, short stories, etc.) on it? Do you think there have been enough attempts to present a nuanced, layered picture of that time, especially from a subaltern perspective?
Who says there is a dearth of literary works reflecting the independence war? The reverse is the case. Almost every novel or story collection of recent years touches upon the war in one way or the other. All our well-known writers have written about the war, Humayun Ahmed, Syed Manzoorul Islam, Moinul Ahsan Saber, Shaheen Akhter, Anisul Huq, Syed Shamsul Huq, just to name a few. The poems about the war have been compiled in a hefty anthology. Film makers like Tareq Masood, Tanvir Mokammel and others too have dealt with the war. It was a people's war and irrespective of the class identity of the writer or film maker, the true heroes are the common people who took part directly or in a supporting role.
You must have had an idea of the country you wanted to see after liberation. How does that compare with today's Bangladesh?
No, I had no idea what kind of a nation state would emerge after the war. I had no time to think about that. The important task at hand was to drive the occupation army out. Of course everyone believed we were fighting to set up a democratic country in which state and religion would be separate, and we hoped social justice would be a guiding principle. But there was no time to debate these issues while the war was on. These were there at the back of our minds.
There was something else that gave me cause for anxiety. The boys who fought under my command were mainly simple village folk who had a naive belief that independence would bring utopia, and solve all their problems. I knew this was a simplistic view and I tried to make them more clear-sighted, but I knew I couldn't alter their way of thinking. After the war I went back to my studies, but these poor boys were sent home with fifty takas each and left to fend for themselves. In a newly independent country with little resources the initial years were naturally marked by hardship, and many of the poor freedom fighters must have felt abandoned, especially because they were more than willing to take part in nation-building activities. It is only now that they get a fairly decent allowance from the government.
We talk a lot about the "spirit of liberation". What in your view is it? Have we been able to really imbibe it the way our freedom fighters envisioned it?
There is only one sense in which the phrase "the spirit of liberation" makes sense to me; and that is the national unity we experienced in those nine months. Of course there were the quislings and collaborators as well, but the overwhelming majority of the people were united in the struggle. They formed what Jean-Paul Sartre called a "fused group". This was the contingent outcome of a particular historical moment. We may be nostalgic about it but we cannot recreate it for we are no longer in the same historical situation.