Digitising our ports, embracing innovation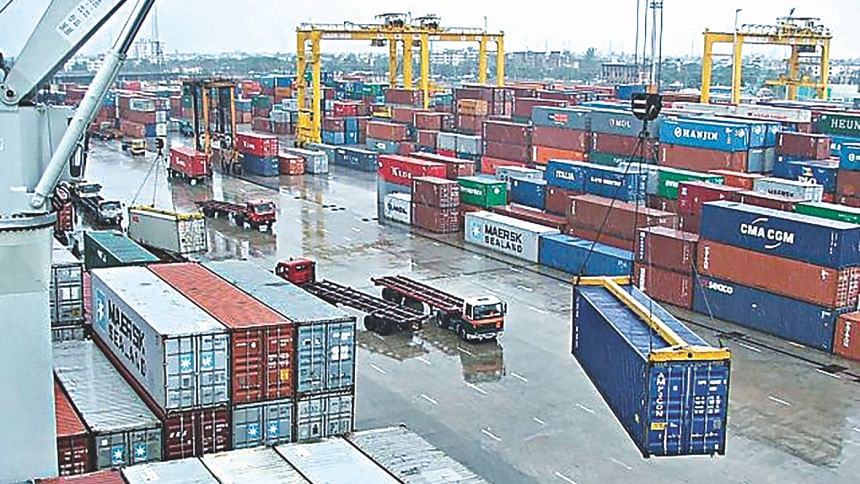 Bangladesh is a country of immense potential and possibilities. But the maritime sphere of the country has long been neglected and unexplored, despite the fact that Bangladesh is a maritime nation with a rich history of maritime trade. To sustain economic growth and national development, Bangladesh have to look to the oceans for new resources and opportunities. The Blue Economy Cell under Energy and Mineral Resource Division has already identified 26 economic sectors which are dependent upon the oceanic resources directly or indirectly. Many of these sectors are underdeveloped, under-invested and under-explored. Despite many obstacles, the blue economy sectors contribute USD 6.2 billion annually to Bangladesh economy and these sectors with proper planning and investment could transform Bangladesh's economic fortune. Ports are the fulcrum of the Blue economy ecosystem.
There are five major types of ports: inland port, dry port, fishing port, warm water port and sea port. In the earlier days, all ports were known as river ports. With the passage of time, the ports nearer to the sea started to operate sea going vessels; as such, they began to be called sea ports. Port of Chattogram is the oldest port of Bangladesh which was traced back to the travelogue of Ibn Battuta, a great sea traveller. Presently, Chattogram and Mongla ports are the two main ports handling our sea-borne trade, Chattogram being the main life line of sea-trade.
Payra and Matarbari are the two deep sea ports to handle large vessels. These are still being development by the Bangladesh Government. Besides sea ports, a good number of river ports are handling inland cargos through Port of Dhaka, Pangaon, Barishal, Narayanganj, Chandpur, Ashuganj are notable. The Pangaon Port is operated by CPA but the Muktarpur Port at Narayanganj is operated privately by SAPL. Our all ports are warm-water ports as the river water does not freeze during winter season. Dry port is an inland hub for handling cargo, directly connected to sea port through rail and road; such 23 dry/land ports are operating in Bangladesh of which 22 are connected to India and only one is with Myanmar. Besides, 19 off-dock are also in operation all around Chattogram Port, operated privately.
Sea port is considered to be the heart of a maritime nation's economy. The statement is equally true for Bangladesh. The Chattogram Port has been a lifeline to Bengal's economy for a millennium. Due to its commercial importance, the port has been mentioned in Greek, Arab and European chronicles and literature. Today, the economy of Bangladesh is totally dependent upon the port of Chattogram for 90 percent of its import and 85 percent of its export, out of which 98 percent containerised trade is handled by Chattogram Port alone. With the prudent planning of the government, Bangladesh would have at least two more deep sea ports by 2030 which would increase the country's international trade exponentially. However, focus should also be given on the importance of digital infrastructure in port management. Like other components of the economy, ports and related infrastructures are also facing similar trend of automation and digitalisation.
The advent of modern technologies is transforming the global industrial and production landscape. The introduction of technologies like Internet of Things (IoT), block chain, artificial intelligence and big data has touched every aspect of production and supply chain. These concepts have the potential to revolutionise the entire economy of the world. The implementation of smart technology solutions in port management is likely to increase the efficiency and environmental sustainability of port management. Such development would certainly create a new opportunity for a maritime nation like Bangladesh which depends heavily on international trade.
Bangladesh being a single port dependent country, several challenges need to be addressed. The existing infrastructure of Chattogram Port needs to be upgraded to meet the annually increasing demand of cargo container. Chattogram Port Authority (CPA) now has the capacity to handle around three million (Twenty-foot Equivalent Units) TEUs annually and the demand is increasing every year by 15 percent. The Strategic Master Plan 2013 of Chattogram Port says that by 2043, port needs to handle fourteen million TEUs cargo, said CPA Chairman Rear Admiral Zulfiqur Aziz. To accommodate the containers, the port limit has been expanded six-fold from 13 KM to 92.6 KM. Presently Mongla Port handles around 50,000 TEUs of container in a year but it has the capacity to handle much more than that.
The navigability of the Karnaphuli River allows up to a maximum draft of 9.5 metre pushing Chattogram Port's limit to allow vessels carrying around 2500 to 3000 TEUs. It would be worth mentioning that in pre 1970, the cargo vessel's width was less than nine metre s with draft of nine metre carrying 1,700 TEUs. With the advent of big ship concept and modern technology, the vessel's width has become more than 22 metres, draft more than 16 metres and cargo carrying capacity of 18,000 TEUs plus. The bigger vessels, ranging from 5000 to 18000 TEUs, usually known as "mother vessel" have to dock in deep sea ports like Singapore, Chennai or Colombo as there is no deep sea port in our country. The feeder vessels then transport the cargos from overseas ports to Chattogram or Mongla Port. Because of this capacity and draft limitation, Bangladeshi exporters and importers have to bear the burden of additional time and cost. Hence, huge investment is necessary to increase the handling capacity and also additional infrastructure of Chattogram Port. At the same time, for berthing mother vessels in Payra or Matarbari we need to develop all sorts of infrastructure.
Next, Bangladesh needs to make its deep sea ports commercially viable. The third port, Payra Deep Sea Port has already been put into operation since 2013, and started handling ships at anchorage since 2016 in a limited scale. The port lacks rail and road connectivity to hinterland. Most importantly, the operational performance of the port depends on capital dredging (Wallingford, UK report) of river throughout the year. This makes the economic viability of the port questionable.
The Matarbari port is suitable for liquid cargo (LNG and petroleum products) and coal which can be instantly used at power plants at Matarbari without rail and road connectivity. Unless rail and road connectivity to hinterland is developed, the economic benefit of the port will remain unutilised.
These two deep sea ports could potentially open up Bangladesh to the global market and make the country an international supply chain hub. While the Chattogram Port can only handle 9.5 metre draft vessels, the Payra and Matarbari can respectively accommodate 16 metre (if the river is dredged) and 13 metre draft vessels. The inland connectivity infrastructure needs to be further developed for smooth transportation of freights from Chattogram Port to the hinterland. Focus should be on building freight supporting rail infrastructure rather than road connectivity as it is a more convenient form of transporting cargo. The Dhaka-Payra rail link is already underway which could potentially transform the socio-economic conditions of the southern region.
Inter-port connectivity has to be increased to reap the full benefits of a deep sea port. The transportation link between Chattogram Port and Matarbari is especially crucial in making the latter port a profitable venture. The government has already planned to extend the proposed Chittagong-Cox's Bazar rail track to Matarbari to close the infrastructure gap. But the Chittagong-Cox's Bazar rail line is a single-track passenger route, not a freight transport route.
There is an urgent necessity to build double track freight transport capable railway network connecting these two ports, while taking technical details into account before the railway infrastructure planning. For example, the axle load of current passenger carriage of Bangladesh is about 17 tons and in some areas, it has been upgraded to 25 tons. The axle load indicates a railway track's ability to tolerate a certain weight. However, the standard axle load of cargo carrying carriages is about 32.5 Tons. The Padma bridge rail link is being built with axle load of 32.5 tons which would be a major cargo carrying route. However, no other major railway project has been designed with such specification. If all the major railway lines are constructed keeping minimum 32.5 tons axle load in mind, it would allow both passenger and freight carriages to pass through the same rail track. This would not only resolve the transportation limitations but would also deliver profit to Bangladesh railway.
The "smart port" approach has opened a new frontier in managing ports and inland connectivity. 
There is no uniform definition of "smart port". The term generally means the integration of modern technologies with port infrastructure to make it efficient. All the modern ports around the world have adopted different levels of technologies in their daily operations.
The concept of "smart port" is increasingly defined in terms of integrating block chain, artificial intelligence and internet of things (IoT) in existing port infrastructure. The backbone of smart port management is "data". The necessity of data in managing, utilising and mobilising resources is increasingly becoming the cornerstone of global supply chain. Data is a crucial driver of efficient port management. Port authorities have to rely on some specific information regarding nearby vessels, containers, meteorological data and the state of the sea for monitoring, maintenance and decision-making. These information are critical in managing the day to day activities of a sea port. Analysing such a large dataset has been a real difficult task for humans or even conventional computer systems. However, the emergence of "Big data driven computational architecture" has resolved the technical complexity of this entire process. Presently, Europe is leading the world in port automation and digitalisation. An example in this regard is the Las Palmas de Gran Canaria Port located in Spain's Canary Island.
The Rotterdam Port is developing sensor based IoT system that could decrease the average berthing time by an hour. The Port of Hamburg is currently testing a 5G based technology known as "Network slicing". Under the technology, multiple networks would be operated from the same infrastructure with "different characteristics tailored to meet the specific requirements of a particular application or user group". Because of the system, the operators now can remotely control the traffic in the port area through traffic light connected to mobile network.
The ports in Asia are not far behind the digitalisation and automation. Port of Singapore, ranked as the top maritime capital of the world and the world's second-busiest port, has made astonishing progress in this field.
As a nation that is heavily dependent on "maritime trade", Singapore has invested heavily in maritime research and development (R&D) and innovation. The Singapore government has initiated an organisation named Centre of Excellence in Modelling and Simulation of Next Generation Ports (C4NGP) for undertaking cutting edge research for modernising its port. The Maritime and Port Authority of Singapore (MPA) is pursuing digitalisation rapidly to meet the increasing demands and challenges of the future. The MPA is developing a "single maritime window" to process all port related transactions. Another key aspect behind Singapore's success is the policy of involving private sector entrepreneurs and businesses in the process of digitalisation. Since 2017, the Singapore Port Authority is organising "smart port challenge" to collect innovative solutions from young individuals and start-ups in different maritime industries.
Bangladeshi ports have also made significant strides in digitalisation. Presently CPA has installed Container Terminal Management System (CTMS), financed by ADB. CTMS is a modern container operation control system. The system can track containers in real time, control gate system, automated billing and online payment system. CTMS has the option to include Inland Container Depot (ICD), Pangaon Terminal, Pangaon River Terminal, and Bay Terminal. Vessel Traffic Monitoring and Information System (VTMIS) was also installed in 2013 and now CPA is planning further expansion up to the outer anchorage. The system can keep track of vessels' movement and provide navigation safety in congested port channels and at anchorage. CPA is also going to launch a digital system with the help of which ships will be allocated berth prior entering the harbour without wasting time in port building by shipping agent.
The adoption of various automation digital systems in CPA helped gradually helped the authority to build its container handling capability efficiently. However, Chattogram Port stands far behind its regional competitors in terms of automation and digitalisation. To achieve the target of container handling capacity to 14 million TEUs by 2043, the CPA needs to develop its smart port technology fast. Bangladesh has a unique opportunity to introduce advanced IoT based systems in the Payra and Matarbari Deep Sea Ports. As these two ports are being newly built, it would be easier for the port authorities to pursue digitalisation without any significant institutional overhaul.
There are some concerns about the impact of automation and digitalisation on employment. The ports employ a number of people in different levels of operation and play a significant role in the regional economy. The introduction of cutting-edge technologies and devices could decrease the necessity of human labour and reduce employment opportunities in the port. However, automation does not necessarily mean the loss of employment. American economist and automation expert David Autor showed in his study that automation is an employment augmenting process. While the process results in minimising low-skilled employment, it creates new opportunities for high skilled and middle-skilled workers, the employment decline in one part of the economy is substituted by employment gain in another. The automation and digital revolution in Bangladesh's port management would surely be a boon for the country's economy. It would reduce the time and cost of various operations, reduce bureaucratic complexities and increase the efficiency of the port management authorities. Data driven digital infrastructure would also help the authorities to take informed decisions in many crucial areas of day to day port operations.
Bangladeshi ports certainly have a long way to go to pursue full-scale digitalisation like its regional counterparts. But Bangladesh has all the necessary ingredients for joining the digital revolution: political willingness, local talents and a vibrant information technology industry. What it needs now is the right policy direction from the policymakers. Port infrastructure is connected to the wider economy of the country. Therefore, digitalisation of the ports cannot not be pursued in isolation from other industries. The process should begin with automating minor operations to test the applicability of the concept in context of Bangladesh. Besides, there should be more focus on building maritime institutions to harness the wealth of the oceans and dispel the "Sea blindness" prevailing among the general mass and policy makers alike.
Commodore Kazi Emdadul Haq (Retd) is Director General, Bangladesh Institute of Maritime Research and Development (BIMRAD).