Women's unpaid contribution to economy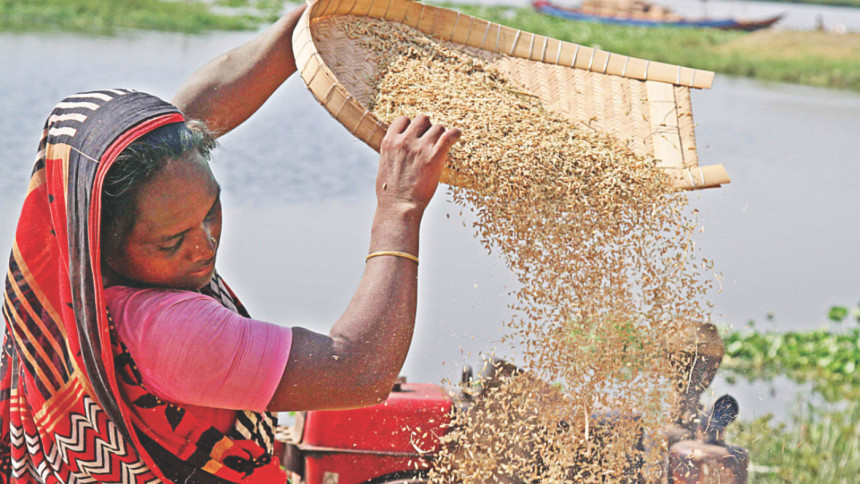 Awomen's worth in the society is likely to be recognised once their contribution to the economy in both paid and unpaid works is valued. The root cause of domestic violence lies in under-valuing of women's day to day productive activities.  Economic recognition of unpaid work including household chores is one of the ways to reduce violence against women. The household work of women is not assigned with a monetary value.
Bangladesh's GDP in 1989-90 fiscal year was USD 17.83 billion. This would have increased by 29 percent to USD 23.05 billion if unpaid work was factored in. Women's right to property and equal rights over economic resources must be ensured. Women's dignity and equal rights over economic resources must be insured. They can never achieve dignity without equal rights vis-à-vis men.
Women typically work 16 hours a day, most of them have no leisure, and bear most of the responsibility at home as well as engaging in some tasks related to income generation The household work is taken for granted by men with their patriarchal attitudes.
Men think that it is the women's responsibility to help men, to do house hold work, even women with jobs outside the home typically must still do the household work. This is discriminatory. The total domestic work carried out by women in Bangladesh is equivalent to 10.75 percent of the gross domestic product (GDP) of the country.
Women also take up the main responsibility for helping children with their school work, including arranging outside tutors and escorting their children to all appointments. They ensure children's welfare including their moral and physical well-being. Women are also responsible for keeping track of every family members' needs and meeting them.
Caring for domestic animals - feeding, cleaning and other kinds of care again falls on women. She takes the chickens and ducks out to feed. Virtually all household chores are performed by them. As a result, many women complain that they have no free time. Even when they are sick they may have to work.
At a commercial laundry the cost of washing and ironing is Tk 12-30 per item.  In many household it is for women to undertake the job and save money for the family. The worth of such contribution would be around Tk 1680 per month.
Women also bear chief responsibility for caring for the sick. If a family were to hire a trained nurse, they would have to pay Tk 15,000 to 18,000 per month. Rates for cooking vary widely, but a cook in a small restaurant might earn Tk 200 per day; in other words, Tk 6000 a month.
Day care centres for the care of young children are extremely rare in Bangladesh. Many middle class and wealthy families hire young girls to look after their small children. In addition to providing housing, clothing and food for her, the families generally pay the girl Tk 3000 to 4000 per month. Once again, as with nursing, no paid servant will look after a child with the same love and care as a mother.
The household work performed daily by women without pay is absolutely essential to the family, society and the nation. There is no visible return from it. If their contribution is monetised, their status in society would be raised with the result that they will be inspired to devote themselves to national development.
If the household work were paid, the additional value of the works done by women would be equivalent to 87.2 percent of GDP of FY 2013-14 as they spend on an average eight hours a day in household chores. Contribution of women to economy remained unaccounted for due to the non-recognition of this work under the current system of national accounting.
We need to take action for a society in which the work of both men and women is respected and we need to change our own attitudes so that we can achieve a more equitable society. The government should undertake programs which may contribute in decreasing the work load through increased accessibility to drinking water, natural gas for cooking and setting up of day-care centres for children for working women. Policies should reflect the important services women (and men) provide in the domestic work and a shared approach and division of labour should be adopted.
We could rather refer to most women as working women, and use the term 'formally employed' to those with a formal job. Similarly, the term 'house-wife' may be converted into 'home-manager'. As a result, the status of women would increase and the treatment of women by their family members as well as by officials, would likely improve, contributing to a more  gender-equal society, as well as a wealthier nation.
The writer is a women's rights activist.