Dysin Texbiz 2018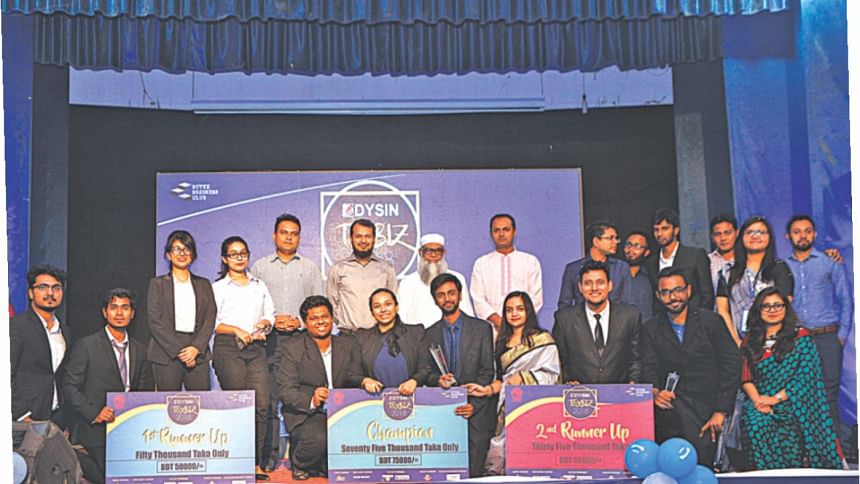 BUTEX Business Club set the stage this time even better and bigger for students from different universities all over the country by launching "DYSIN TEXBIZ 2018" collaborating with their Title Sponsor, Dysin-Chem Ltd, by creating a case solving competition to broaden the horizon for the young aspiring minds. This textile based business case competition is the first of its kind in our country, and on April 16, 2018, its Grand Finale took place.
Team Lajuk from IBA-DU became the TEXBIZER 2018. Tycoons from BUET became the first runner-up and the Team Valyrian Steelers from BUTEX secured the third position. The final round was followed by the closing ceremony, where Professor Mashud Ahmed, Vice Chancellor of Bangladesh University of Textiles, was invited as the Chief Guest. He handed over the winning cheque and crests to the Champion team, who received BDT 75,000 as the prize. Also, cheques of BDT 50,000 and BDT 35,000 were handed over to the first and second runners-up respectively.
BUTEX Business Club was highly appreciated for taking this initiative, which spurge from the belief that students should be trained to become competent entity having skills beyond their educational knowledge to excel in their future careers and entrepreneurial ventures.
Other partnering organisations of the event were Star Youth, The Daily Star, as the Youth Engagement Partner; Jago FM 94.4 as Radio Partner; Dan Cake and NESCAFE as Food Partner; ATN BANGLA as Media Partner; and Samakal as the Print Media Partner.