Prague Bohemia's Rhapsody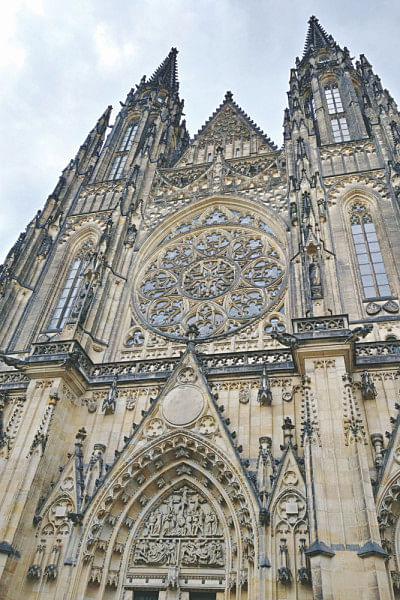 After the most traumatic academic year of my postgraduate legal studies, I decided to reward myself with a budget friendly Europe trip. Being a borderline obsessive meticulous organiser, I had my trips planned down to the last minute. All my buses, flights, and hotels were booked. I knew every step I was going to take, leaving me more prepared for that trip than any law school exam.
What I didn't foresee was Prague blowing my mind.
I got on a bus from Vienna which arrived in Prague at 6.30am in the morning. When I figured out how to reach the hostel, I made my way towards the metro station. Less than an hour into Prague and things started going downhill as I realised the metro ticket kiosks don't accept anything but Czech koruna, to make matters worse, you have to insert coins to get tickets even Czech banknotes will not work. I was exhausted and quite paranoid at that point as I went from shop to shop trying to purchase a breakfast sandwich so that I could get some loose change. No one at the crack of dawn wanted to sell a small item for euros or 2,000 CZK banknotes. So, I did what I had to do—but I will not be confessing that here. All I can say is that there were no CCTV cameras right above where one has to punch in the ticket. Desperate times, indeed.
My enthusiasm about Prague was exponentially decreasing with each passing minute. I had to stand for some time before I could check into the hostel where the manager was unimaginably rude to a group of teenagers who arrived a couple of minutes after me. I checked in, went to the washroom, freshened up and left to explore the city. But first, I made a stop at the town's tourism centre to see if there were any guided tours I could join. Personally, I think guided tours are a great way to know about the history of a city unless you are staying there long enough to immerse yourself in the local culture.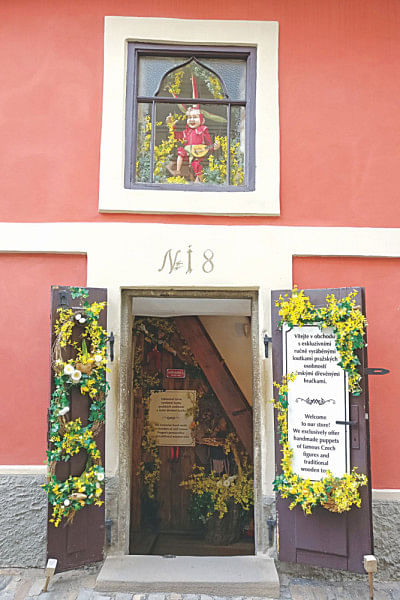 Then I made my way towards Prague Castle complex. Up a long flight of stairs on the right are the castles and if you continue walking towards the left, you will see the signature red roofed Prague houses down below. The whole area was flooded with tourists. It's no exaggeration when I say that, Prague is probably the most crowded city I have visited on this trip.
There was a tremendously long queue inside the castle complex for tickets. Starting from the security checks to finally obtaining a ticket took me about an hour. After that some more waiting for the guided tour to start. Initially, I was a little confused about how the tickets worked. There are numerous churches, halls, towers, palaces and gardens inside the area. Depending on which ticket you buy, you have access to some specific places. St. Vitus Cathedral and the Old Royal Palace can be taken with the licensed castle guides. Due to my love for guided tours, I went ahead and got another look at the St. Vitus Cathedral, having already explored it by myself.
Dedicated to Saint Vitus, it magnificently stands containing the tombs of numerous Bohemian kings and holy roman emperors. By that point on that afternoon, I was struggling to get through the day. So when I went to St. George's Basilica, I sat down on one of the many wooden benches to rest my feet, trying not to fall asleep. I spent a long time viewing the permanent exhibition called the Story of Prague Castle, which is situated in the old royal palace and documents the thousand-year-old Bohemian history. It covers the infrastructural developments of the castle at various points in history, the stories of the churches and cathedrals, Czech patrons and holds valuable artefacts ranging from those of pre-historical times to the modern era. My last, yet the most interesting, stop at the castle complex was Golden Lane. Built in the 16th century to originally accommodate the castle guards, it eventually acquired that name in the 17th century when goldsmiths started living there. A home to rather financially depraved individuals than those who lived up there in the castles, Golden Lane wasn't part of the castle complex initially. After World War II, the houses were finally transformed into small shops and the street was incorporated as part of the complex.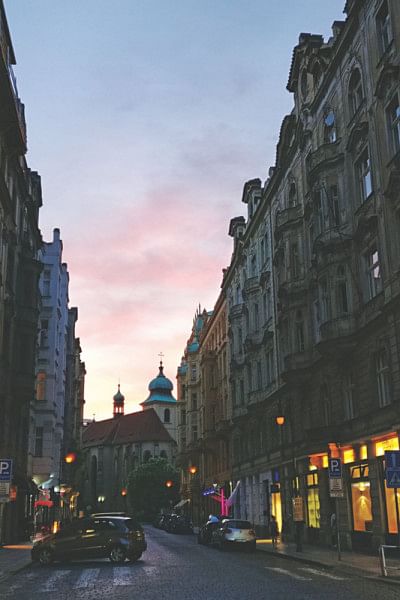 Golden Lane would probably seem like an ordinary street with small brightly coloured houses until you know the myths about the alchemists who lived there and the medieval torture chambers, the latter of which still stands and is entirely equipped with the paraphernalia of torture. Franz Kafka resided in house no. 22, his sister's home, for two years between 1916 to 1917 in Golden Lane. Despite now being brightly coloured, the tiny houses look eerie and unsettling as the sun is going down.
I left the castle complex with the remnants of the strange yet extraordinary experience at Golden Lane and went back to the hostel to take a shower. At night I had a ticket for "Prague Ghosts and Legends of Old Town" walking tour for which I was absolutely stoked. I reached the old town square some time before the tour was about to start. The square was filled with people, relishing the last moments before night came over this ancient, mysterious town. The tour was worth every penny. A lovely British tour guide led us through the narrow, cobbled streets, lit in spooky yellow lights to various spots while theatrically telling us the myths and legends surrounding that place. I did not expect to have a supernatural experience, but the whole setting was spellbinding. And if I was skeptical as to whether I loved this town, that tour through the phantom-like streets handed me the love potion that Prague had been brewing for me. There's an adage that all European cities look the same. But the gloomy, otherworldly yellow lighting in the old town creates an aura unmatched by any other city I have ever been to.
---
---
Extremely tired, I sat down on the Square and breathed it all in. My legs were tired, but my heart was full. I shed two actual tears thinking how I was not going to experience one more night in this spooky, unnerving mystical town of Bohemia because the rest of my planned trip would fall apart like a domino. But sitting on that town square, I promised myself to come back once more before I die. It was 11pm but I had to take a walk through Charles Bridge at least once at night. And so, I did. I stood looking at Vltava river in semi-darkness, the ancient stony town stretching on both sides, with people as awestruck as myself, or so I like to think.
Before getting on the bus next afternoon, I went to the bridge once more, having bought a painting of Charles Bridge itself. I held it right before my eyes comparing it with the reality, trying to fathom whether it would summon the magic this city exudes, when it hangs on the wall of my mundane bedroom. 


Photos: Anupoma Joyeeta Joyee


Anupoma Joyeeta Joyee is a Barrister-at-Law who spends her time devising plots to hold evil corporations accountable for climate change. Tell her how to do that at [email protected]
---