event
DU organises second conference on Rohingya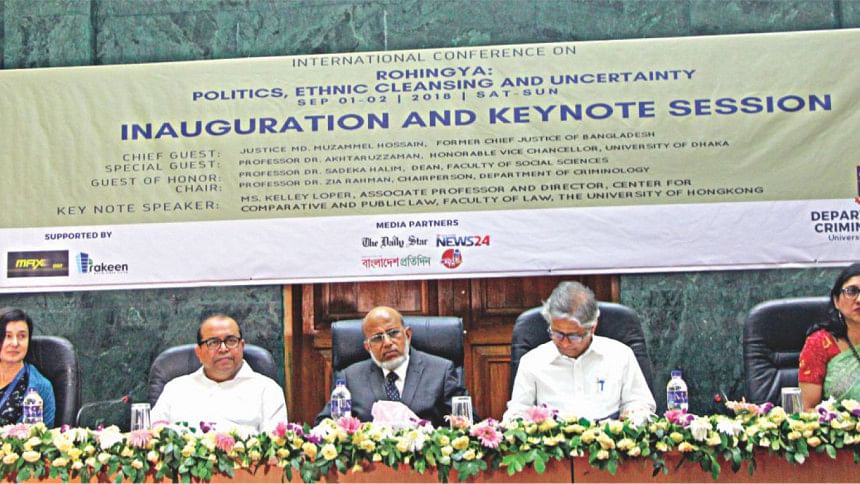 A three-day international conference on the Rohingya crisis, which came to an end earlier this week, was organised by the Department of Criminology at the Nabab Nawab Ali Chowdhury Senate Bhaban at Dhaka University. It was entitled: "Rohingya: Politics, Ethnic Cleansing and Uncertainty."
Various dignitaries present in the programme voiced their opinion regarding the ongoing crisis. Former Chief Justice, Mohd Mozammel Hossain said that he was doubtful about the success of the repatriation agreement signed between Myanmar and Bangladesh as Myanmar had the authority to decide whom to take back under the agreement.  
University of Dhaka Vice Chancellor, Professor Dr Aktharuzzaman said that the Myanmar government's response to the initiatives of the Bangladesh government for repatriating the Rohingya was frustrating and it was clear that the Myanmar authorities did not want to take the Rohingyas back. Referring to a recent statement of Myanmar's de facto leader Aung San Suu Kyi, in which she alleged that Bangladesh was prolonging the repatriation process, Akhter said that Suu Kyi was making fun of a serious humanitarian crisis.
Professor Salimullah Khan also took part in the conference. He opined that the Rohingya persecution has been taking place over the decades and there has been a complete denial of their citizenship in the process. International recognition of a "Rohingya state" is a prerequisite to resolving the crisis according to him.
Dr Abul Barakat, Department of Economics, University of Dhaka, said the root cause of the crisis is that the economic transition of Myanmar has turned into a political transition. "Myanmar is one of the richest countries in the world in terms of natural resources. 90% of the resources are in the hill tracts area where Rohingya minorities live. Most of the resources are in Rakhine state. So, to grab the land or property – the best way is to erase their existence and this is what is happening there," he said.
Praising the Bangladesh government's efforts in giving shelter to the Rohingya, Papa Kysma Sylla, deputy representative of UNHCR, said to resolve the crisis its challenges have to be addressed properly.
The conference witnessed scholars, academicians and stakeholders from the USA, England, India, Nepal, Brunei and Bangladesh. A total of 70 papers were presented at the conference.  The goal of the conference was to address the historical, political reality, gender and environmental issues, persecution and the atrocities that have taken place against the Rohingya community and find out solutions to the crisis.
Ms Kelley Loper, Associate Professor and Director, Center for Comparative and Public Law, Faculty of Law, The University of Hong Kong, was the keynote speaker.
Content by Department of Criminology, University of Dhaka