Medvedev foils Djokovic's record bid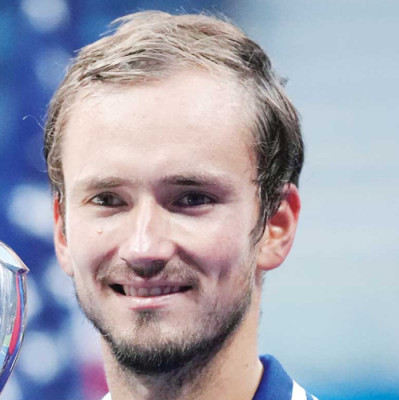 Daniil Medvedev shattered Novak Djokovic's Grand Slam dream with a straight sets victory in the US Open final here Sunday, denying the world number one a record-breaking 21st major men's singles title.
Russia's second-ranked Medvedev dominated Djokovic 6-4, 6-4, 6-4 to prevent the first calendar-year Grand Slam since 1969 and keep Djokovic level with Roger Federer and Rafael Nadal atop the career Slam title list.
"Sorry for you fans and Novak because we all know what he was going for," Medvedev said.
"What you have accomplished in your career... for me, you are the greatest tennis player in the history."
Medvedev, the 2019 US Open runner-up, captured his first Grand Slam title in his third Slam final, a rematch of February's Australian Open final, won in straight sets by the 34-year-old Serbian to launch his Slam quest.
"Congratulations to Daniil. Amazing match," Djokovic said. "If there's anyone that deserves a Grand Slam title right now, it's you."
Djokovic's bid to sweep the US, French and Australian Opens and Wimbledon in the same year for the first time since Rod Laver did it 52 years ago collapsed at the last hurdle, with 83-year-old Aussie legend Laver among 23,700 watching at Arthur Ashe Stadium.
"Simply stunning Daniil Medvedev, you stopped one of the greatest tonight," Laver tweeted. "To win your first Grand Slam title is always special, to do it against a champion like Novak Djokovic is something else. Take heart Novak, the quest continues. Best wishes."