Will stopgap 'power-hitting' solution steady the ship?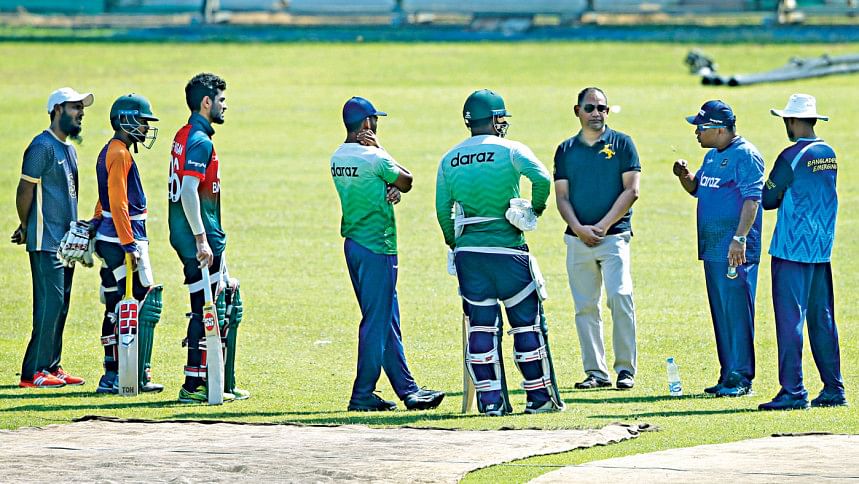 In the aftermath of most debacles, Bangladesh Cricket Board typically comes up with something out of the blue and the latest being the search for power hitters after Bangladesh failed miserably in the ongoing T20 World Cup. 'Power-hitting' has been the buzzword after the Tigers' lacklustre batting display in the power plays, and especially in the latter stage of their innings, throughout the mega event.
Apparently, the BCB is looking to hire a power-hitting coach, a seemingly unusual move at face value. Since Khaled Mahmud has been assigned the role of the team director for the upcoming Pakistan series, set to begin on November 19, the former captain has already started working with some of the young players at the Sher-e-Bangla National Stadium in Mirpur.
Batter Yasir Ali, who faced the media yesterday, informed that the power-hitting aspect is a priority for the upcoming days.
"We are working under Sujon sir [Khaled Mahmud] mainly on range-hitting and bat swing. If the team want me to play the role of a power hitter, then I'll try to prepare myself accordingly, even though I'm not a power hitter as I want to play in all three formats," said Yasir. 
According to the 25-year-old, the lack of aggressive batters had placed Bangladesh behind teams like England and Australia in the shortest format and the need to work on this aspect is important, in order to compete with the best teams. He also expects that the pitch for the upcoming series against Pakistan will be a true surface, which assists both batters and bowlers.
"I think it's important for a batter to have courage, otherwise it's difficult to clear the boundaries," Yasir added.
It will be interesting to see whether the incentive of integrating power hitters brings the national team back on the right track or will there be some other new areas that the Tigers' think tank would prioritise in the foreseeable future.