Desert fest: Confident Brazil move along amid mayhem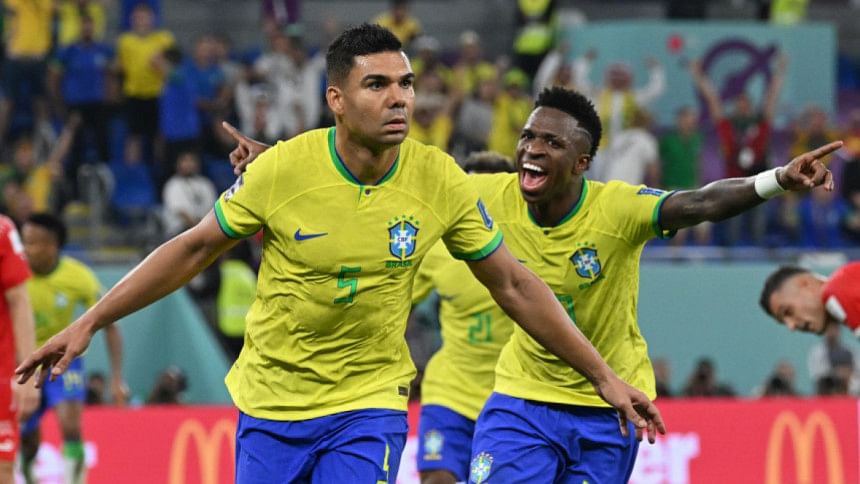 In what has so far been a roller coaster World Cup, record five-time champions Brazil remain unscathed after victories against two feisty European sides.
While the 2-0 win against Serbia in the opening game was more about Jogo Bonito -- a demonstration of the beautiful game associated with Brazil -- the second, against a deep-defending Switzerland, was something of a chore before a sublime late strike from the omnipresent Casemiro sealed the game 1-0.
That victory took the Selecao to the last 16 with a group-stage game in hand and the Brazilians could not have asked for a better start to their fresh pursuit for the Hexa (sixth), which has eluded them for two decades after their World Cup triumph in 2002.
The Switzerland match was a tough test for Brazil, doubly so without inspirational playmaker Neymar, who missed the match due to an ankle injury sustained against Serbia. Right-back Danilo also missed the game due to an injury.
But though their talisman's absence was felt, Brazil were hardly made to look uncomfortable after the injection of some exciting players into the side.
With Real Madrid forward Vinicius Jr providing the firepower from the left and his young teammate Rodrygo oozing flair down the middle after coming on as a substitute for Lucas Paqueta at half-time, this Brazil team at least dispelled the disturbing notion of 'Neymar and 10 others'.
There were patches of sharp, slick and imaginative passes and improvised one-twos, but the final ball lacked incision against the deep‑sitting Swiss. Besides that, the attack, mostly spearheaded by Vinicius, did not work as the forward was constantly marked by two Swiss defenders.
Brazil coach Tite compensated for the loss of Neymar by advancing Paqueta into the front of the midfield three, with Fred joining his Manchester United teammate Casemiro further back in Paqueta's usual position.
However, Casemiro, famous for his defensive exploits during his glorious Real Madrid days, has been a revelation for Brazil with his attacking exploits in this World Cup so far.
Incidentally, Casemiro's switch to Manchester United ahead of this season allowed him to express the attacking instincts that the 30-year-old had repressed at Real Madrid, when he played in the shadow of eagle-eyed passers like Luka Modric and Toni Kroos.
His 78th-minute winner, a half‑volley with the outside of his right foot at Stadium 974, might not have been as spectacular as Richarlison's bicycle ballet against Serbia, but it was another strong statement from an ever-evolving midfielder.
Sitting in the stands, the great Ronaldo -- the last Brazilian No. 9 to have led the nation to the World Cup with a brace in the final against Germany -- did not hide his admiration for Casemiro's brilliant goal. El Phenomenon was seen clapping with a trademark toothy smile on his face.
Brazil were eliminated from the 2018 World Cup in Russia after a 2-1 defeat to Belgium in the quarterfinals. Fernandinho headed the first goal into his own net off a corner while Belgium's second goal originated from a rampant Romelu Lukaku run against little Brazilian resistance in the middle. They desperately missed Casemiro in that ill-fated game due to a yellow card suspension, especially considering his awareness during such key defensive transitions.
Brazil will take on Cameroon in the last group game on December 3, a fixture where Tite has the liberty to give his strong reserve bench players a chance to have a feel of the World Cup, with a big loss the only way they could relinquish top spot in their group.
Encouragingly, the Selecao are yet to concede a goal. To be more precise, Alisson Becker under the bar is yet to be summoned to save a goal-bound shot. But it does not mean the Brazilian defence is water-tight. Actually, in the last two games, the opposition somehow did not venture to exploit those apparently vacant spaces behind the fullbacks.
Beyond the Cameroon game, Brazil's quest for the Hexa resumes on December 6, when they play the round 16 game against a yet-to-be-determined Group H runners-up, which could be any one of Ghana, Uruguay, South Korea and, although a long shot, Portugal.
Brazil are a more mature and resourceful side now than they were four years ago in Russia. Tite is wiser and so is his key player Neymar. Despite all those intimidations on and off the pitch, they are keeping their composure intact -- a virtue that Brazil desperately need more than anything else if they are to go all the way to glory.