'Tamim looked like Angelo Mathews'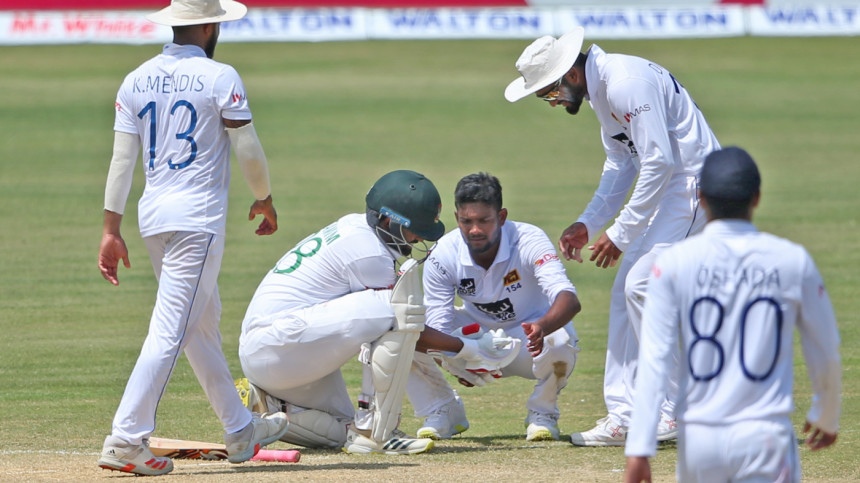 Bangladesh batting coach Jamie Siddons highly praised the disciplined effort from opener Tamim Iqbal after the lefty had scored a scintillating hundred in the first Test against Sri Lanka at the Zahur Ahmed Chowdhury Stadium in Chattogram today.
Tamim had hit his 10th Test ton and was unbeaten on 133 off 217 balls before the left-hander had to leave the field retired hurt after suffering a cramp on the third day's final session today.
"It was a great knock. Tamim was very disciplined today and he didn't try and go fast and he looked like Angelo Mathews actually," Siddons said after the day's play today.
"Just very patient and taking runs whenever there [was opportunity] and only hitting fours that were handed to him on a plate with bad balls. Didn't take the bowlers on like I've seen him before. Thought he was very disciplined.
"[Mahmudul Hasan]Joy just did his job and didn't take the new ball on and put a partnership with Tamim, breaking a record."
On day two yesterday, Angelo Mathews anchored the Sri Lanka innings with a mammoth 199-run knock.
"I think it's a real good batting wicket. All I'm worried about is how we bat and we batted with discipline, which they need to do in every test match, whether be in South Africa or New Zealand or here," the Australian coach continued.
"We need to bat with that discipline and then results would come like they have today. It's our conditions and Dhaka will be a little different I imagine and a little bit harder to bat on.
"We need to bat with discipline so we can outscore the opposition and play the game as it should be played in Test cricket," Siddons said when asked about how he rated his side's batting effort today.
Regarding Tamim's cramp, he said: "I think after two days in the field and batting like he did, running between the wickets and the heat, it just takes it out of you. If you've been outside in the last three days, it's been really hot and it just drains you.
"I can understand that he cramped up. I think he will be fine tomorrow after a good night of taking some food and some fluids."
Siddons also heaped praises on the opening partnership.
"I think Tamim and Joy batted beautifully. Opening the batting is not an easy job and the job that they did yesterday, set us up today.
"Yesterday was very tough after almost two days in very very hot conditions. They went none for 75 yesterday and then continued on today. Tamim's performance was fantastic and plenty of more runs left. He's not out now and can come back when we think he's fit. The discipline today is exactly what we asked for."