'Even AB finds it tough to get down to Shakib'
There was a wonderful trajectory to Shakib Al Hasan's deliveries and he kept Bangladesh in the game on a day largely foiled by rain. Ebadot Hossain got nightwatchman Kasun Rajitha out early with a delivery that took the off stump and Bangladesh were looking to get deeper into that Sri Lankan batting line-up but things did not go as they had hoped for as rain took away more than one session.
In between, the pacers did not do as much as had been hoped after Sri Lanka pacers did remarkably well on the Mirpur surface over two days. Sri Lanka's compact middle order also ensured they did not give Bangladesh enough of a sniff to cut into the tail.
While the Lankans will be hoping to surpass Bangladesh's lead, the hosts' camp will be hoping for some more precious deliveries from Shakib similar to the one that got the scalp of Sri Lanka opener Dimuth Karunaratne.
The delivery came in with a drift from an angle and drew Karunaratne slightly forward. There had not been much turn on offer but Shakib's intention was to create the gap between bad and pad with that elusive loop. The ball pitched in the rough just outside the crease, with Karunaratne playing down the wrong line. He might have been able to escape by getting an inside-edge, but the delivery pitched and just turned enough to beat the bat and clip the middle stump.
Karunaratne left for 80 and Bangladesh would have felt more was to come. In the end, only one more fell, with Shakib also getting Dhananjaya de Silva out with another very good delivery.
Bangladesh were left slightly disappointed but pace bowling coach Allan Donald was impressed with Shakib's abilities. The all-rounder now has three for 59 runs from 26 overs.
"What more can you teach a bloke like him?  It's like Shane Warne … the guy is so experienced. He is well travelled, he just keeps churning them up, he lands them on a string," Donald said of Shakib's guile with the ball yesterday.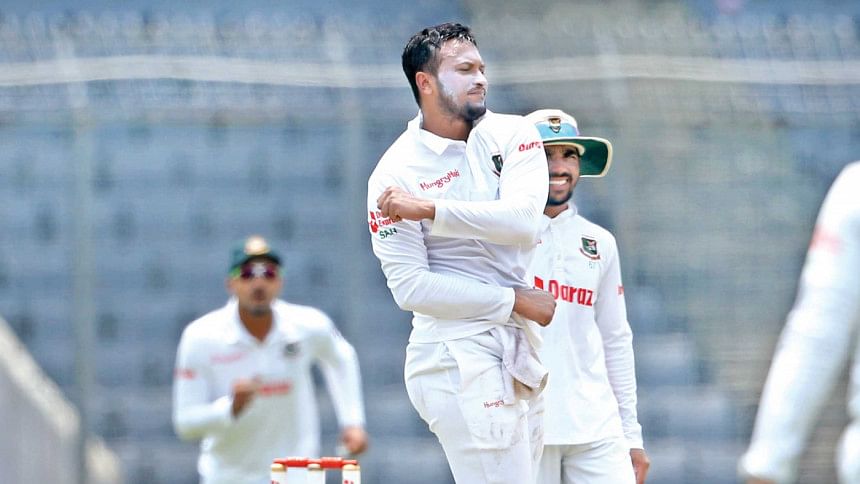 "I was sitting in the dugout today and telling a few of the guys that when AB de Villiers says it's tough to get down to Shakib, it really must be tough to get down to Shakib. You know he's such a smart operator. He changes his pace really subtly and he really showed again. Hopefully he walks away tomorrow with a five-wicket haul," he added.
While the young pace attack did not find it easy, Donald hoped that they would understand the mindset and process of playing Tests as time passes. Ebadot bowled a few fiery spells while Khaled Ahmed got the second new ball to swing but was not always in the zone.
"Test match education or nous…you take the Sri Lankan opening bowler [Asitha Fernando] who's been used as a battering ram. That's how I see a guy like Ebadot at the moment. That's why I went to him before tea and after tea so he asks for the ball again," Donald said, pointing out that Angelo Mathews had almost been done by a short delivery.
"I think Ebadot's starting to figure out his role. Khaled as well. Test cricket bowling on flat decks is about aggressive bowling and putting thoughts of getting thrashed out of mind," he said.
Donald was aware that more was needed with the new ball and hoped the fourth day would see something better.
"We haven't asked enough questions of South Africa with the new ball in South Africa and here against Sri Lanka. We're working on that skill and that attitude. Our process in not to look for a outswinger, outswinger and then inswinger. The process is to find Liton's gloves and that's the Test match process I grew up with and that's how you build that pressure," he concluded.