Clement powers to 400m hurdles gold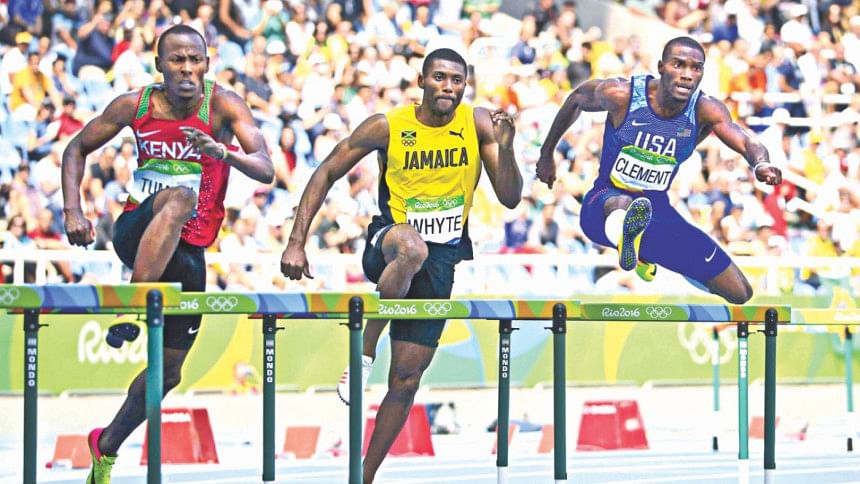 Kerron Clement of the United States stormed to victory in the men's 400m hurdles on Thursday, holding off a furious late challenge from Kenya's Boniface Tumuti to take gold.
Clement powered over in a world leading time of 47.73sec, just ahead of Tumuti in 47.78.
Turkey's Cuban-born Yasmani Copello claimed bronze in 47.92sec.
Ireland's Thomas Barr narrowly missed out on a podium finish, just behind Copello in 47.97sec.
The win comes eight years after the Trinidad-born Clement won a silver medal in the 2008 Beijing Games and a gold medal in the 4x400 relay.
Injuries disrupted his career in the intervening period and he finished outside the medals at the London Olympics four years ago as he struggled to regain his peak.
However he had signalled his readiness to take advantage of a wide open field in Rio, qualifying for the final with the fastest semi-final time on Tuesday.
On Thursday Clement set off at a quick pace and built up a healthy lead heading into the home straight, digging deep to hold off the fast-approaching Tumuti over the closing metres before being congratulated by US decathlon star Ashton Eaton as he crossed the line.
Clement said he had been determined to make the podium in Rio, targeting 2016 as a redemption year after his problems in 2012.
"I had one goal in mind and my mindset was to come here and get a medal," Clement told reporters.
"In 2008 I fell short and got a silver. In 2012 I was battling injuries and surgeries. I was just happy to make the finals in 2012," added Clement, who underwent hernia and adductor muscle operations before the London Games.
"Coming out here in 2016 for me was a redemption year. I'm just honored to get a gold medal."