Rybakina, Khachanov first into Australian Open semi-finals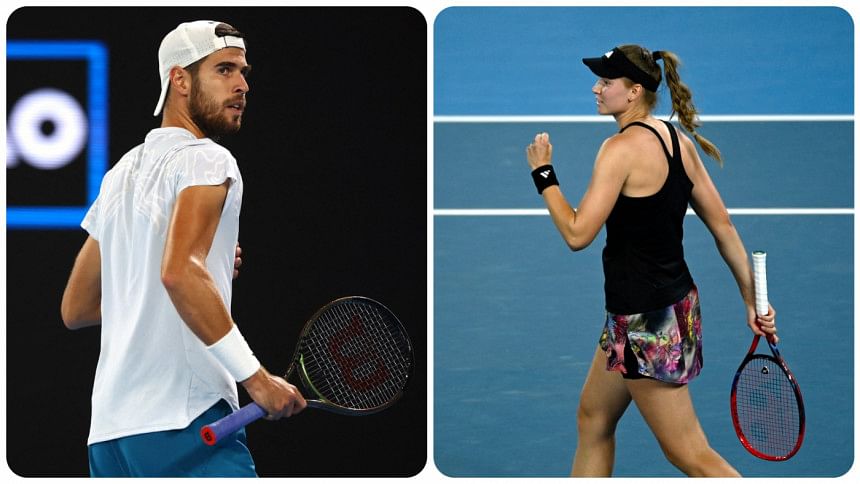 Big-serving Elena Rybakina blasted her way into the Australian Open semi-finals on Tuesday, while Karen Khachanov followed suit in the men's draw after Sebastian Korda suffered a wrist injury.
In the first quarter-final on day nine at Melbourne Park, Moscow-born Kazakh Rybakina stepped up her bid for a second Grand Slam title with a ruthless 6-2, 6-4 win over Jelena Ostapenko.
She will face American third seed Jessica Pegula or two-time Australian Open champion Victoria Azarenka in the last four.
The 23-year-old Rybakina sent down 11 aces to blow former French Open champion Ostapenko off Rod Laver Arena in 79 minutes.
The 22nd seed has blasted 35 aces so far, more than any other woman at the tournament.
Ominously, she said her serve is better now than when she won Wimbledon last year.
"I gained even more power. It's my weapon on the court and of course we are trying to work on it," she said, before adding: "Always a lot to improve."
The first men's quarter-final had been warming up nicely until Korda hurt his wrist against Russia's Khachanov.
The 18th seed went through when the young American retired in the third set, down 7-6 (7/5), 6-3, 3-0.
Khachanov's reward is a clash with either Greek third seed Stefanos Tsitsipas or unseeded Czech Jiri Lehecka, who play later, for a spot in Sunday's final.
Tsitsipas is the highest remaining seed in the draw after a series of shock exits.
The 22-year-old Korda, who had been attempting to emulate his father Petr's Australian Open victory in 1998, said afterwards that he could barely hold the racquet.
He said he first felt the injury while playing the Adelaide International this month, where he made the final and forced a championship point before being beaten by Novak Djokovic.
But it had not bothered him in the opening four rounds at Melbourne Park until he hit a return in the second set.
"I had it in Adelaide and then it went away completely. Now it just came back out of nowhere," he said. "I have never had any wrist issues before.
"I knew kind of what it was right away, right when I hit the return. I kind of felt that spot that I was feeling before.
"Some forehands I couldn't even hold the racquet. Volleying was almost impossible for me, so it was a little tough."
For Khachanov it is a second consecutive Grand Slam semi-final, having reached the last four at the 2022 US Open.
Nine-time Melbourne champion Djokovic is still on the scene, with a quarter-final against Russian fifth seed Andrey Rublev on Wednesday, but otherwise the draw has opened up.
"I'm feeling good, to be honest, and really happy about the way I'm competing," said Khachanov, ranked 20th in the world.
"I'm looking forward to the semi-finals here in Australia for the first time."