Medvedev halts Murray heroics to take Qatar title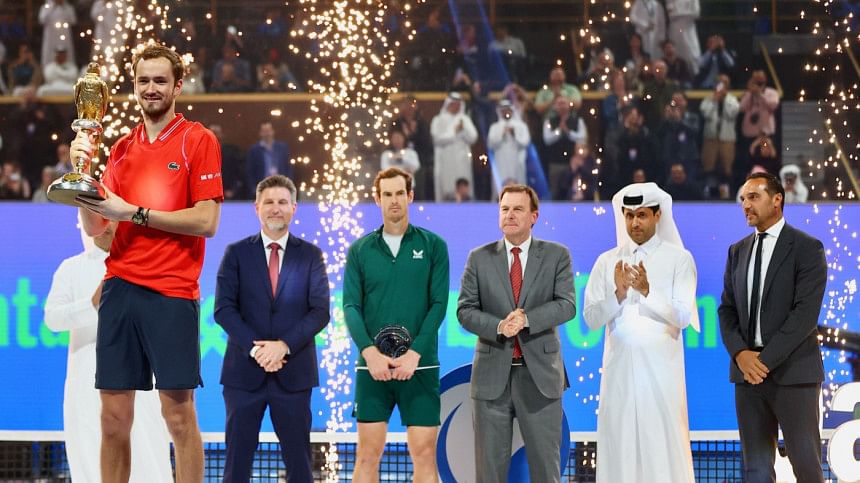 Daniil Medvedev beat fellow former world number one Andy Murray 6-4, 6-4 in the Qatar Open final on Saturday to win his second ATP title in a week.
The 27-year-old, who won in Rotterdam last Sunday, convincingly ended his 35-year-old opponent's comeback heroics that saw Murray fight four three-set battles and overcome eight match points to reach the final in Doha.
Medvedev broke Murray's first serve in each set as he remained unbeaten in three encounters between the two. His 17th career title should see him move up one place to seventh in the new world rankings.
Medevedev said both players struggled to find their rhythm in the wind but also complained about new match balls used on the tour,
"Honestly now I can say this now that the tournament is over, and also I won, I think that these balls are not good for hard courts," said the Russian.
"They changed something this year and I don't like them. I heard a lot of other players are struggling with shoulders, elbows and wrists.
"Myself I had wrist problems in Australia. Generally I think I was struggling all week to find the perfect rhythm with these balls, but I am happy to win."
Medvedev fired down five aces but also committed six double faults.
Murray repeatedly shouted at himself and his support team after errors.
Medvedev had seemed to be cruising to victory in the second set until he was serving at 3-2 up with two game points. Murray fought back and produced a brilliant backhand winner to surge back into the clash at 3-3.
At 4-4, Murray was leading 40-0 in a bid to produce another shock, but the Scot let Medvedev get back into the game for the key break that decided the title.
"Daniil is one of my favourite players to watch and one of the best on the tour," said Murray, who acknowledged he had been through an "amazing week".
Murray is expected to rise from 70th to 52 in the world rankings. But he said that after his gruelling week he would speak with his team before deciding whether to compete in the Dubai tournament this week.
Murray saved three match points in his first round game and five against Czech challenger Jiri Lehecka in his semi-final.
He spent more than 12 hours on court during his week in Doha and conscious of his 2019 hip replacement surgery and will see what toll that has taken.
"All were pretty tough matches physically so at my age and with the conditions I do have to be mindful of those things," he said.
"Definitely there are some things to work on but I am proud of my week and the work that me and my team have put in to get me back to this stage."
Medvedev said he would fly to Dubai on Sunday to prepare for an event boosted by his second straight title but wary of the fact that he could meet world number one Novak Djokovic in the semi-final.
"It is all about confidence and as it can come really fast it can go away really fast with one loss. I feel really great right now but next week is a new challenge."