Women's U-16 Football
Go and buy a 50 Tk ticket
Bangladesh v Chinese Taipei match at 6pm today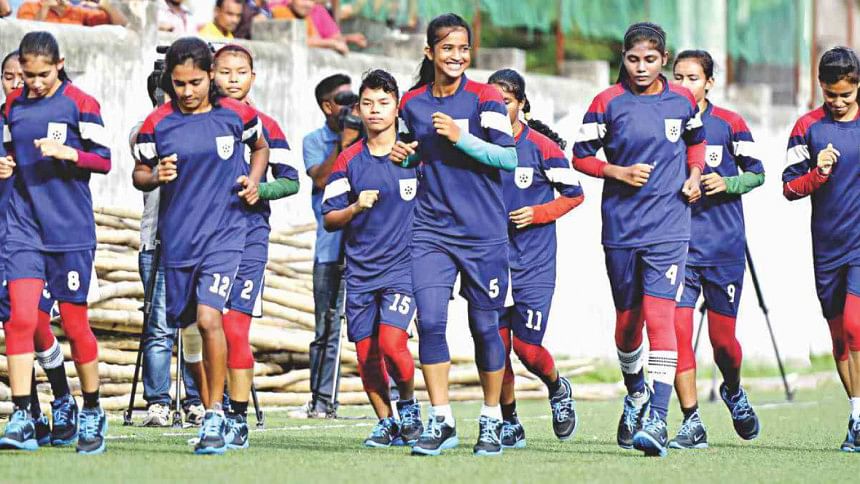 The spectacular journey of the Bangladesh girls on a football plain is not a story of rags to riches. It has so far been a story of overcoming adversities ranging from not having proper diet to not owning proper kits. It has been both an individual and a collective struggle of some determined girls, whose parents can hardly maintain a family, let alone enable their daughters to go to school with proper dresses.
And those girls, who have started kicking a football only five odd years ago in a country where there is no proper structure for women's football, are on the verge of making the strongest statement yet in Bangladesh's sporting existence at the Bangabandhu National Stadium today, where they will take on Chinese Taipei in what is billed as the unofficial final of the AFC Women's Under-16 Championship's Group C Qualifiers.
The country's premier venue is a witness to many success stories of national football and cricket teams and some other fields, but at 6 pm today the 'Big Bowl' will endorse the first batch of homegrown warriors who have come all the way with sheer will power, dedication and sacrifice and that too at a very tender age.
Sports fans of the country have not only taken note of their successes of late, but have also started loving them. And with the game only a few hours away, many feel it would be fitting for sports lovers of the country to rally behind them.
And the best possible way would be to turn up at the ground after buying a gallery ticket with a face value of Tk 50. This may be a small amount of money, but if we consider 20,000 paying fans at the stands this will constitute a gate receipt of Tk 10 lakh. The money will definitely go to the BFF coffers.
But if we think on a broarder perspective, this will be considered as something the girls have earned and a reward they have never received before. Besides, we all know deep in our hearts how desperately these girls need financial support to continue on a path that will bring the nation glory and joy.