Will Madrid 'madness' deny 'City Goal' again?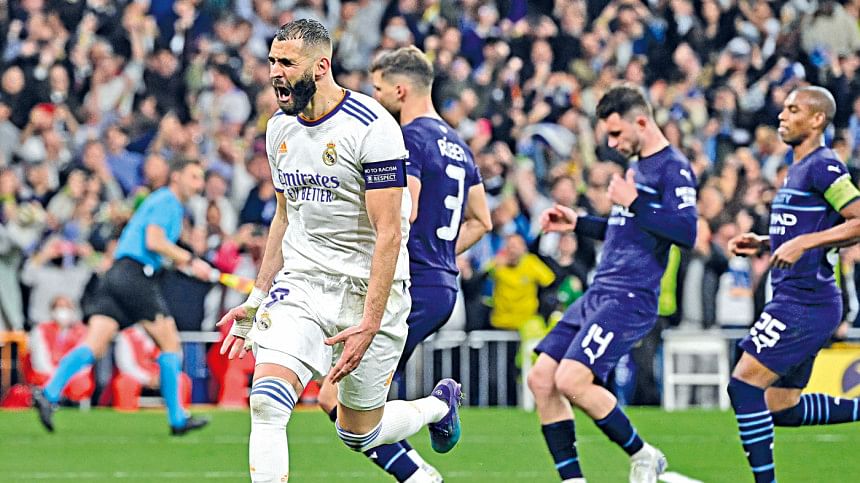 Depicted on the wall of Manchester City's treatment room, 'Our Goal' is written over a picture of the Champions League trophy -- a silverware that has eluded the blue half of Manchester despite billions of dollars splurged into shaping up their squad over the years.
The aforementioned picture uploaded by Jack Grealish on BeReal, a French social media app, might have laid bare what could have remained concealed but it is hardly a surprise to see the Champions League being City's primary objective for the season.
However, blocking their path at the penultimate hurdle are a Spanish giants in Real Madrid, a side that went on to lift their record-extending 14th European silverware by crushing hopes of City players and fans in the cruellest fashion just about a year ago.
In a repeat of last season's Champions League semifinal, Carlo Ancelotti's Madrid once again face Pep Guardiola's City in the last four. This time though, the first leg will be hosted by the defending champions on Tuesday midnight.
When the Cityzens walk through the tunnel of the Santiago Bernabeu, surely, they will be reminded how despair and disbelief had eventually engulfed them a year ago at this very arena despite having been the superior side for around 180 minutes across the two legs -- both in terms of goals and overall chances created.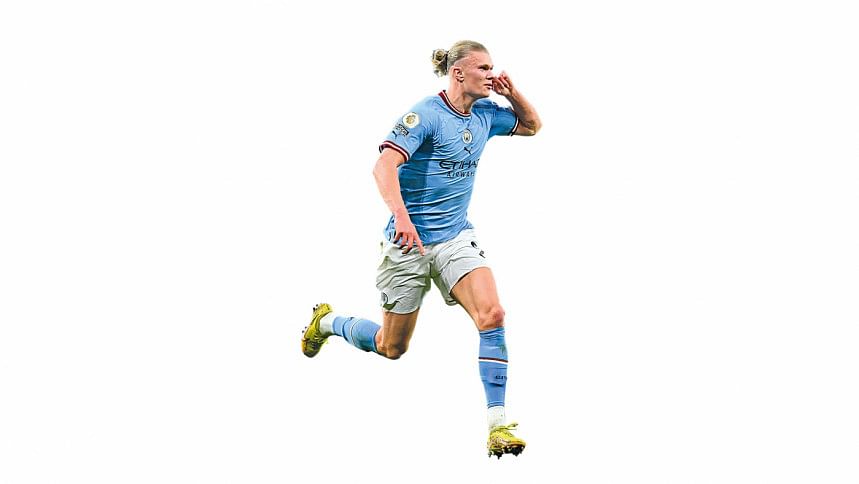 But as Los Blancos made it a habit of conjuring astounding comebacks with moments of sheer 'football madness' that season, they had reserved the most enthralling one to break City fans' hearts at the eleventh hour -- turning the game around in the six-minute stoppage time of the final leg to have Guardiola and his men befuddled and walk away with a 6-5 defeat on aggregate.
Even though it had backfired on Liverpool's Mohamed Salah quite miserably, City's Bernardo Silva did not hesitate to fire a revenge warning to Madrid after confirming their third Champions League semifinal on the trot -- their fourth overall -- following a convincing 4-1 aggregate win over Guardiola's former club Bayern Munich in the quarters.
The Haaland factor
Silva, however, has every reason to boast confidence. On paper, City were leagues ahead in quality and depth than Madrid last season and they look far more refined and intimidating this time around -- especially with the addition of goal-machine Erling Haaland.
Not only has the 22-year-old long-haired Norwegian brushed aside any doubts of his ability to perform at arguably the toughest league in the world, his phenomenal numbers appear as statistical outliers in comparison to those tallied by other seasoned strikers in the Premier League.
In his first season for the Cityzens, Haaland has already surpassed Alan Shearer and Andy Cole's single-season Premier League record total of 34 goals. Next to Haaland, who now holds the new Premier League scoring record with 35 strikes, in the top scorer's list is England number nine Harry Kane, who sits at a distant second with 10 fewer strikes.
Of the 51 goals Haaland already scored throughout the season, 12 were in the Champions League. A five-goal haul scored inside an hour against RB Leipzig in the Round of 16's return leg saw him equal Lionel Messi and Luiz Adriano's record of scoring five in a game in the prestigious competition.
If anything that Manchester City had lacked the previous season was the dearth of a proper number nine in their already vastly resourceful squad. The onboarding of Haaland, and also World Cup winner Julian Alvarez who pops up with goals whenever called into action, have not only solved City's one glaring issue from the past season but did so in such a fashion that it has now turned Guardiola's team to one of the most fearsome sides, if not the "best in the world," as said by Barcelona coach Xavi Hernandez on Monday.
Haaland's goal-scoring prowess could still not be Madrid's only cause for concern. The way he recently set up Kevin De Bruyne for two goals during their potential title-deciding clash against Arsenal in the Premier League and his perfectly weighted cross to Silva in the quarterfinal first leg against the Bavarians are ample proof that the Norwegian is more than just about scoring goals.
Haaland's chemistry with De Bruyne, the top assister of the ongoing Premier League season, and the in-form Silva could be the difference between the wasteful City that missed a host of opportunities to put the game to bed in the first leg of last year's semifinal and the City that could pile up misery on a domestically struggling Madrid this time around. 
Haaland factor aside, City of late have looked more composed over their control in the midfield, with Guardiola using a central defender by profile in John Stones as part of a double pivot in a 3-2-4-1 system. If the Whites let the Sky Blues dominate the midfield for too long, the reigning champions might not repeat a miraculous comeback this time.
The treble-chasing City -- they would only be the second-ever English club after Sir Alex Ferguson's Manchester United in 1998-99 to do so if they succeed in this regard -- also now have the momentum on their side. They hit the form at the right moment and now look favourites to win the Premier League for the fifth time in six seasons.
Of the 51 goals Haaland already scored throughout the season, 12 were in the Champions League. A five-goal haul scored inside an hour against RB Leipzig in the Round of 16's return leg saw him equal Lionel Messi and Luiz Adriano's record of scoring five in a game in the prestigious competition.
Madrid cannot be underestimated
Meanwhile, Madrid have already relinquished the La Liga title to arch-rivals Barcelona, but it is the growing injury concerns that pose Los Blancos the biggest threat for what is arguably their biggest challenge of the season. Midfield maestro Luka Modric is in a race against time to recover from his leg injury that he picked up in an embarrassing 4-2 loss against Girona in La Liga late last month while Ancelotti had to pick and choose matches for star forward Karim Benzema and Vinicius Junior owing to their fitness issues.
As things stand, if logic and pure sporting sense are allowed to make the case, Ancelotti and his side will once again concede the favourites tag to City. More so, with the first leg being at home, the adage '90 minutes at the Bernabeu is a very long time' might not have the same effect as it would have had if the second leg was at the iconic stadium. Also, as opposed to last season when Madrid did not have to worry about La Liga at the same stage as they had already won it by that time, this time they will have to bear the burden of a potential trophyless season -- if they slip up against Osasuna in the Copa del Rey final tonight.
But still, even with all the odds stacked against Madrid, very few would be willing to bet against the Champions League specialists in their 34th semifinal of the tournament. Los Blancos have a special bonding with this competition, unparallel in nature. Three remarkable successive comebacks in the last season -- against star-studded PSG, Chelsea, and City -- are only a speck of the unthinkables achieved by Madrid in this competition over the years. Thus, ruling out Real Madrid based on mere calculations and statistical analyses would be akin to building castles in the air.
As it seems, come May 10, the equation might boil down to one question: Will goal-machine Haaland be able to propel Manchester City towards their ultimate 'Goal', or will Real Madrid live up to their reputation and again have one hand on the most coveted trophy in club football?