Leagues Cup title would be 'incredible' for Inter Miami, says Messi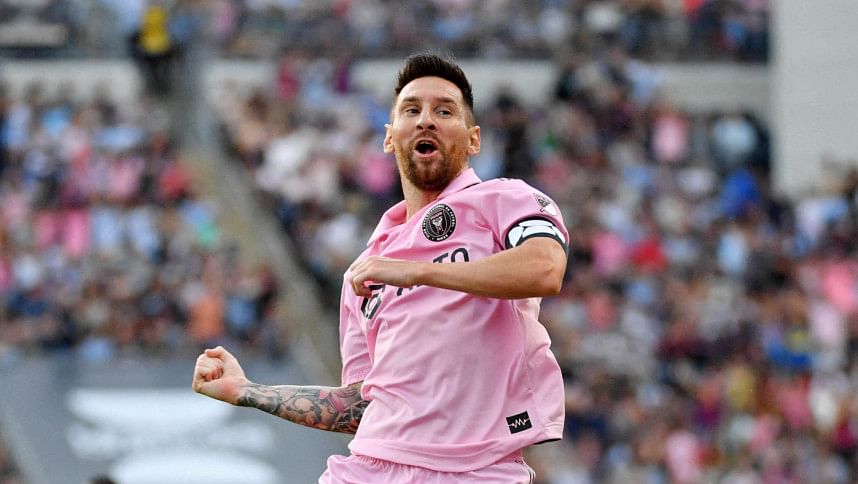 Lionel Messi has won just about everything there is to win in soccer but said on Thursday that bringing Inter Miami their first ever trophy would be "incredible" and "a beautiful thing".
Languishing at the bottom of Major League Soccer's Eastern Conference standings there had been nothing pretty about Inter Miami's season until Messi's arrival in South Florida last month.
But now things could not look any brighter.
The seven-time Ballon d'Or winner has been a terror from his first game scoring nine goals in six matches powering Miami into the Leagues Cup final on Saturday where they will face Nashville SC.
"Well it would be incredible wouldn't it? Both for me and for everyone who supports the club," Messi told reporters through a translator. "For everyone who's brought the big changes to this club and has been helping it grow and make the team a global reference point, winning a title would really help with that.
"It would be really impressive.
"Coming off the bad results we'd had (winless in their last 10 league matches) and seeing where we sat in the league, we knew that we had a nice opportunity to change things."
After two seasons with French champions Paris St Germain and leading Argentina to victory at the Qatar World Cup in December, Messi has brought a winning culture to Inter Miami while putting the soccer spotlight on a club co-owned by former-England captain and Manchester United great David Beckham.
While the sudden turnaround stunned many, Messi said it was no surprise to him or the team.
The Miami club, who appointed Argentine Gerardo "Tata" Martino as coach last month and signed Messi's former Barcelona team mates Jordi Alba and Sergio Busquets, have secured a CONCACAF Champions League berth with their Leagues Cup run.
The top three finishers in the Leagues Cup earn a place in the CONCACAF Champions League and the champions qualify automatically for the round of 16.
"I came here with the desire to get the same results I'd achieved previously in my sporting career," explained Messi, whose trophy case also includes 10 La Liga titles with Barcelona, UEFA Champions League and Copa America victories and an Olympic gold medal. "But the fact that we're now a few days away from playing in a final is only a surprise for the people who don't see us train and don't see what happens day to day.
"From our perspective, we feel that we're prepared for this.
"We feel ready to compete and win this title."