Kings start AFC Cup mission today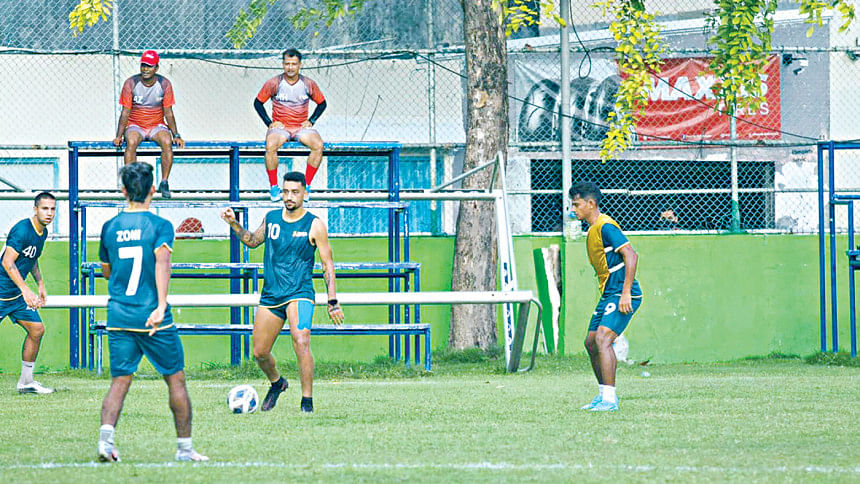 Bangladesh Premier League champions Bashundhara Kings will hope to repeat their 2020 AFC Cup performance when they begin this year's campaign by taking on hosts Maziya S&RC in a Group D encounter at the National Football Stadium in Male, Maldives today.
The match is scheduled to kick off at 10:00pm (BST) after the group opener between ATK Mohun Bagan and JWS Bengaluru FC.
Kings had made a dream start with a 5-1 win over Maldivian outfit TC Sports Club in the previous edition of the continental tournament, but could not play any more matches due to the pandemic, which forced the cancellation of the tournament.
Bolstered by the signings of Argentine, Brazilian and Iranian players, Kings are in even better form currently as they have already bagged the league title with 19 wins in 21 matches. Now they are looking to take that form to Maldives.  
Kings may not have former Argentina international Hernan Bercos, who scored four goals against TC Sports in last season's AFC Cup but they have Raul Becerra of Argentina and Robson Da Silva of Brazil, who together scored 35 goals in the league.
"We had a good start in the last AFC Cup and as it is all set to begin again, we are really ready and eager to play the tournament," Kings' captain Tapu Barman told reporters in a pre-match press briefing yesterday.
Coach Oscar Bruzon believes there is no clear favourite in Group D and the real strength of the participating teams will only be known after the two matches on the opening day.  
"I have full respect for Maziya, whom I know well because I had been here for some years. The main point of Maziya is coach Risto Vidakovic who has a lot of experience playing in the La Liga for Real Betis. I think the Maziya are a very solid unit and they will trust him to settle the team. I have all the respect but on the pitch we have to be the best team and take the opportunity in our favour," Bruzon said. "We are looking forward to securing all three points. If we drop points against Maziya, it is going to be very tough for us against the two other strong teams of the group."