A bastion of sporting courage
Referee Abdul Aziz died on Tuesday afternoon. He was suffering from multiple diseases. He was 68.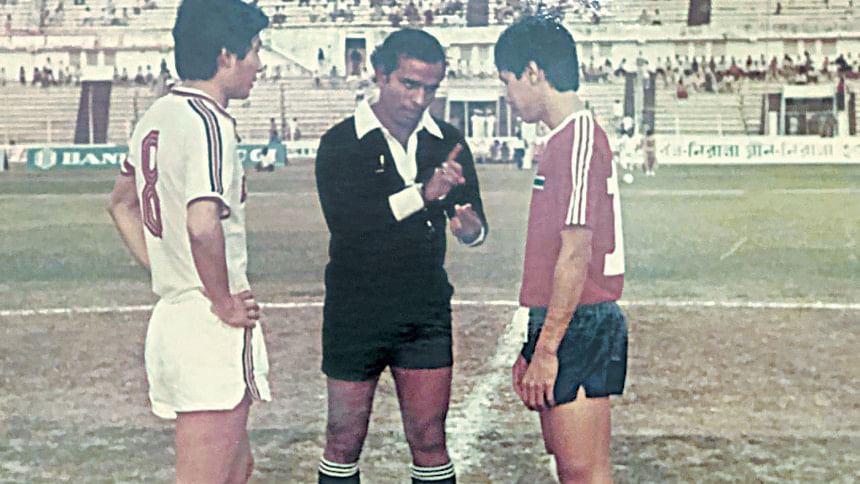 Referee Abdul Aziz died on Tuesday afternoon. He was suffering from multiple diseases. He was 68.
As he left us silently, he left behind a legacy of a superstar referee that many of the current generation may not know. But for those who have grown up watching domestic football from the 1970s to early 1990s, Aziz was the most decorated referee the country has ever produced.
His courage and determination in domestic football, especially when it came to the Dhaka derby involving Abahani and Mohammedan at that time, was discussed in the same breath as the game itself.
His iron-fisted handling of the game in that volatile atmosphere in front of over-capacity crowds at the Bangabandhu National Stadium is still fresh in the memories of regular visitors to the country's 'theatre of dreams'.
He was jeered as theta (stubborn) Aizya (Aziz) from the stands. It was actually a compliment for his courage. Be it an important game or a less significant fixture, or any game he was conducting across the country, he was never too far from the centre of attention.
His popularity as a referee was unmatched. Many letters he received from his followers were addressed just to "Referee Aziz, Gandaria".
"Still, we got those letters at our address from the postman," said Aziz's daughter Maksuda Aziz.
She also said how troublesome those years were for her father.  "My father used to ride a Vespa. Before every big game he brought us back home from school early as a safety measure. My father received many unnamed letters before every big game with various kinds of threats, like we will be attacked at night and so on," Maksuda said while recalling those heady days.
Referee Mozaffar Hossain often acted as one of the two deputies (linesmen) in those big games. "He was an extraordinary person. Before a big game he always told us don't be afraid, I'm with you. Let's do our job," Mozzafar Hossain told this reporter on Wednesday. Referee Rafiqul Islam was one of the few who tried to emulate Aziz. "I have always tried to follow his style, like rushing to the spot immediately after a foul," said Rafique.
He however admitted that he never dared to return objects hurled from the stands as Aziz often did. Referee Mahabubur Rahman Mukul said there are many stories that speak of Aziz's courage.
"Fans advanced up aggressively towards him when he was conducting a game in Mymensingh. But he stood firm against all odds with a flag stand in hand. Besides, as a FIFA referee he also conducted games with distinction and there were instances when he overruled the referee's wrong decision as his deputy," said Mukul, adding that Aziz was a true follower of Bangabandhu Sheikh Mujibur Rahman and his ideology.  Aziz was not just a referee but also a very good organiser. As an officer of Agrani Bank, he played a key role in making its football and cricket teams popular.
What was perhaps lesser known was his more defining contribution as a physical sports teacher before becoming a banker. Aminul Islam, one of the finest athletes and the sole centurion in the country's first-ever Test, knows it better than most.
"Aziz sir was our physical teacher in Gandaria High School. It was the '80s and our annual sports ran for seven days at that time. He was the key person and my brother was with him during that festivity, from which athletes like us emerged. Those sporting activities in schools and localities acted as the base for producing quality sportspeople," Aminul told the Daily Star from Melbourne.
"Unfortunately, that is missing now. His honesty earned him everyone's respect. He has always been our family friend. With his departure the country has lost a great sports personality," Aminul concluded.