What a waste!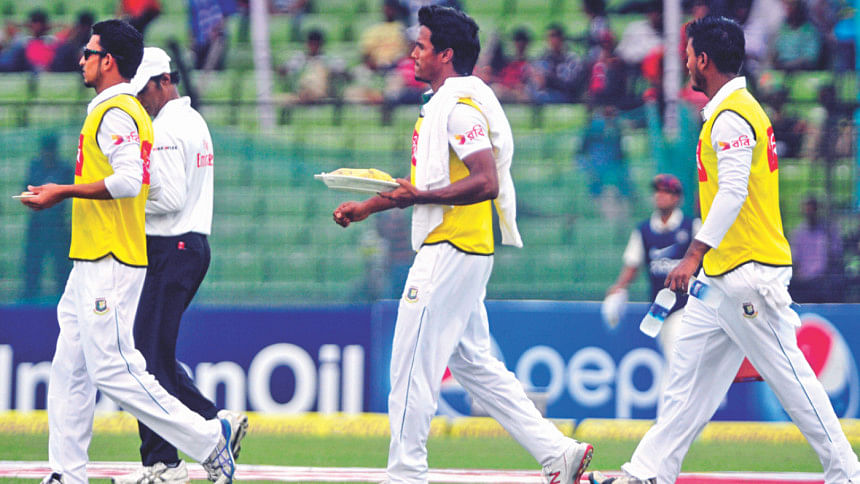 Surprise, surprise! The Bangladesh think-tank on Wednesday decided not to field its top bowler Rubel Hossain in the one-off Test against India at Fatullah. The mooted rationale behind the wild idea, which reportedly popped up just the night before the match, was that Rubel should be protected for the best part of the series -- the three ODIs after the Test.
The decision to drop Rubel from the Test that started yesterday was the most discussed subject throughout the whole day and there was hardly anyone who wished to buy the weirdly enterprising idea. And if it is true that the team management did not want to expose the pace bowler in what it deemed a flat track then this is a bad advertisement Bangladesh wanted to sell to the cricketing world that has been very critical of the tenth Test playing nation's progress in the five-day game.
Well before the India series, which is a dream for any cricketing nation on financial terms, a certain section in the Bangladesh Cricket Board had advocated for more ODIs by cutting the Test from the roster. That wish might not have been fulfilled but Wednesday's decision gave an indication regarding how obsessed Bangladesh cricket is with the one-day version.
For a team which is yet to make any sort of impression in the longest version at the world stage ever since it won Test status in 2000, this kind of a whimsical decision has not only put Bangladesh in a spot of bother but also gave a wrong signal to an increasingly growing list of players -- do not play the ever demanding Test cricket.
And if this trend continues you never know what may happen. The next in line could be Shakib Al Hasan, Tamim Iqbal et al.
Without Rubel, Bangladesh captain Mushfiqur Rahim was left with one decent pace bowler in Mohammad Shahid and two spinners -- Taijul Islam and Jubair Hossain -- to try his luck against a solid Indian batting. Some may argue that Mushfiqur has two more bowlers in his armoury -- Shakib and Shuvagata Hom. But the fact remains that in Test cricket an all-rounder is never bracketed as a bowler.
After watching India piling up runs on the first day one may ask what difference Rubel could have made on this non-responsive wicket. The argument against that notion is that it's not about how many runs you concede; rather it is about going out there with the right frame of mind and with a proper set up to play proper Test cricket.
Unfortunately Bangladesh have certainly not turned up at Fatullah to play a Test match.