The sweetest win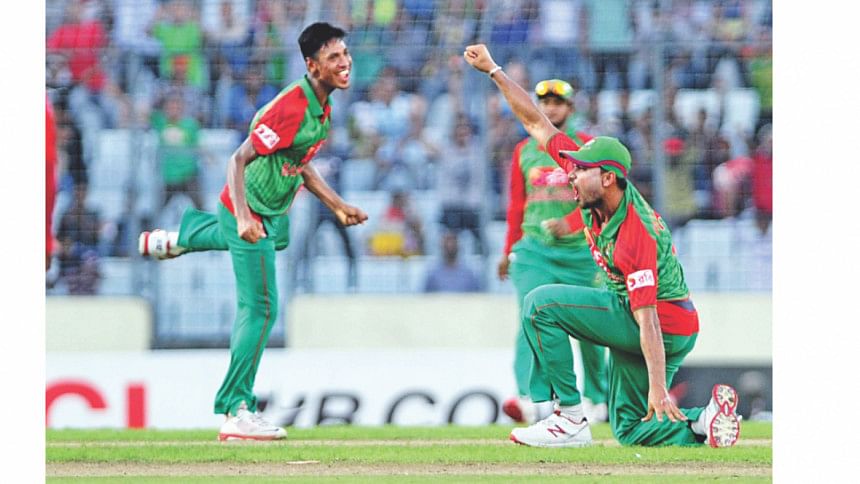 Ah, the sweetness that envelopes victory that you know has been your due. Has been coming. Somewhere in cricket's great ledger, the monumental euphoria of Bangladesh's first series win over India that came on Sunday had been marked down to match the monumental injustice they suffered in that World Cup quarterfinal just three months ago. It is a credit to how far the Tigers have come in the one-day format, that the transaction was completed before the wound festered for too long without redress. Above all, it allows us to focus on some of the more joyous aspects surrounding the team's performance in the series that have captured the imagination of an entire nation.
For which we can only start in a remote corner of Satkhira, the troubled district in the country's southwest that has endured untold sufferings over the last two years in the face of a government crackdown on alleged Islamist militants, for whom it is said to be a stronghold. In the aftermath of the series win, Satkhira presented us with the face that crowned every banner headline of every newspaper in the country.
In his formative years, Mustafizur Rahman would cover the 40 kilometres to cricket practice every morning on the back of his brother Mukhlesur's bicycle. It is then not surprising that last Thursday, after he sent five Indian batsmen, as cricketers would say -- 'on their bikes' -- back to the pavilion, it was his brother that he recalled first. But who are we to take anything away, from the love that has nurtured such rare talent, love that can be all too rare itself? So today even as we celebrate Mustafizur, and tear our hairs out over just how he manages to exercise such immaculate control over that off-cutting-not-that-slower ball, let us hear it for Mukhlesur Rahman as well.
There is then the sheer audacity in the team's play, that has lent a breath of fresh air, truth be told, to cricket as a whole at a time when there aren't too many of the 'first nations' as they were, really quite thriving today. Perhaps reflecting the rather barren landscapes, is there any team really adding a bit of colour to cricket these days, in the way that Pakistan did in the  second half of the 80s, then Sri Lanka in the 90s, before Australia's domination set in? The Tigers with their fearless approach, that gels better with their naturally counter-attacking instincts, come closest I would venture to say. And here we must reserve a special mention for the lionhearted leadership of Mashrafe Bin Mortaza, in this his second stint as captain. What a legend.
It is not just his attacking field placements, his lusty blows late down the order (that were crucial to crossing 300 on Thursday), and his daring yet calculated team selections (how about this 4-pronged pace attack? The Indians must already envy it!). In his second spell as skipper, Bangladesh's greatest fast bowler despite a career ravaged by injury, has orchestrated the perfect marriage of his team's strengths to its outlook. And so when Tamim Iqbal, the dashing opener who has revelled in this period, is telling us the team's new mantra under coach Chandika Hathurusingha is to 'express yourself', Mashrafe, along with one of the stable of young pacers he is so clearly nurturing, is just as likely to be perfecting dance steps, or some other raffish celebration. Some people might knock it. But there is something inherently positive about practising a celebration routine. Top-level footballers do it all the time. So don't knock it till you try it.
Because when our beloved Tigers roar these days, it resonates far beyond the field of play they're in. Here is a team that can truly inspire a nation. A team that enriches its landscape. A team that has it in itself to suffer injustice, bite the bullet, and at the very next opportunity set the record straight. Against the biggest and strongest. And all the time while doing so, really enjoy themselves. No time to wallow and wonder about what might have been. There is much to achieve yet. This is just the beginning.
The author is executive editor of the Dhaka Courier