Taskin injured, Jubair called up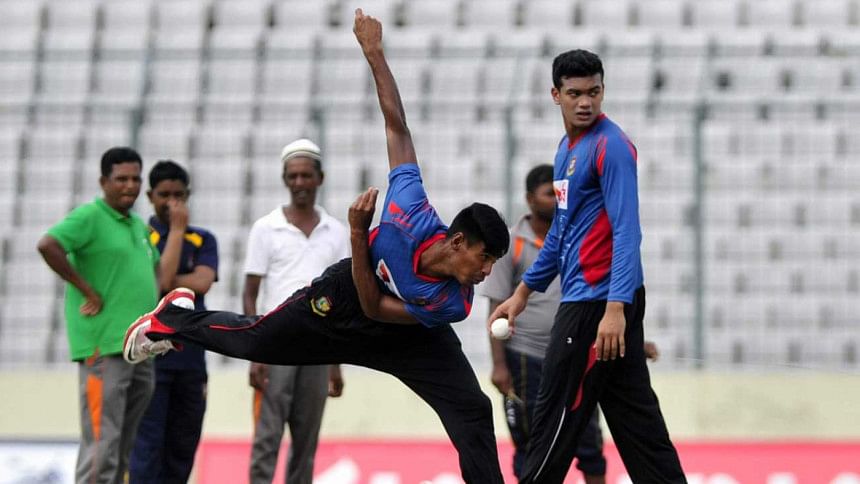 The Bangladesh camp received their first bad news of the series as pacer Taskin Ahmed's injury issues resurfaced yesterday. The pacer, who took two crucial wickets in the first ODI, was diagnosed with a side strain. The diagnosis has hampered Taskin's chances of playing in the third and final ODI against India in Mirpur today.
Taskin's injury prompted BCB's selection committee to include leg-spinner Jubair Hossain in the squad yesterday. The 20-year-old pacer underwent an MRI yesterday after training and the team management received the report at night.
According to sources, a final decision regarding the pacer's inclusion in the side will be taken today morning. He is likely to be rested if he complains of any kind of pain today. The bowler had earlier faced the same problem in November 2014 and was forced to the sideline for two weeks.
With the South Africa series scheduled to begin on July 5, the team management may not want to risk Taskin. The first phase of the series will include the limited-overs matches. The T20Is will take place on July 5 and 7, whereas the three ODIs will be played on July 10, 12 and 15. As a result, after tomorrow, Taskin will barely have two weeks to get ready for the South Africa series.
While Mustafizur Rahman scalped a five-wicket haul in the first match, the much needed breakthrough in that game came through Taskin. He had first removed Virat Kohli and then bowled a brilliant bouncer to remove the settled Shikhar Dhawan. Those two wickets opened the floodgates for India. He was however, limping towards the end of the first match and that was perhaps the reason why he wasn't given more than six overs.
The new inclusion in the side, Jubair, has played two ODIs, both against Zimbabwe, and has scalped a total of four wickets. The leg-spinner did impress in the lone Test against India. While there were debates between the selectors and the coach regarding the inclusion of Jubair, he eventually did make it through to the squad. The leg-spinner, who has often been ignored by domestic teams, has played just two limited-overs games this year.