'Regained our confidence'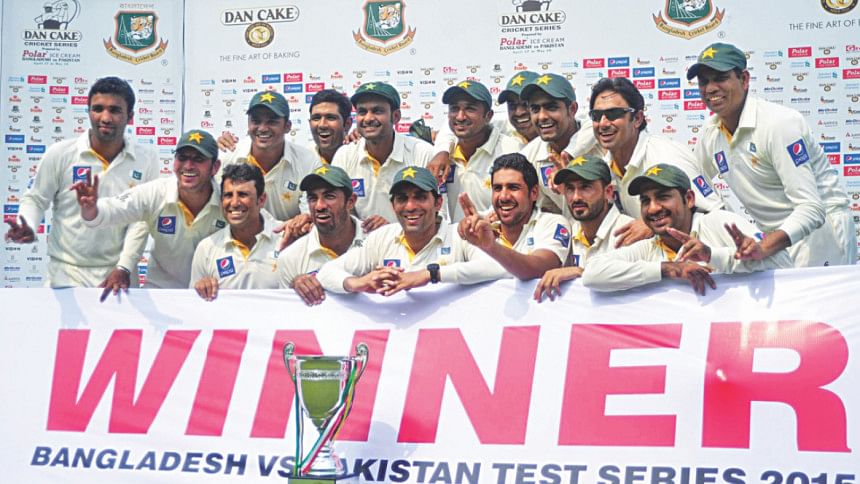 Pakistan skipper Misbahul Haq felt the Test series win against Bangladesh has helped regain the team's confidence following defeats in the ODI series and the lone T20I.
Speaking to reporters after the end of the second Test in Mirpur yesterday, the 40-year-old batsman said it was really important for his side to regain the confidence themselves and also the confidence of their supporters.
"I think overall it was a good performance. I think we dominated throughout this Test series. Even the first Test was pretty much in our hands but there was a really good performance by Bangladesh to save the match. But I think overall if you see it in both the Test matches, we dominated throughout," said Misbah.
When asked if it was a 'face-saving' win, Misbah replied in the negative. "I think we should be aware of the fact that there has been a lot of changes. Bangladesh team was more experienced in the T20 and one-day cricket. They have been playing with the same team for the last four or five years. So they were having that edge and I think they deserved that victory."
But in the Tests, everything was the other way round. We were the more experienced team; we were doing really well, so I think we proved that again," said the 40-year-old.
Misbah's decision not to enforce the follow-on on Bangladesh raised quite a few eyebrows. He however cleared his stance by saying that he did not want to give Bangladesh any chance at all.
"To me, you sometimes take decisions if you have the chance, to totally take the opposition out of the game so that there is no chance whatsoever for the opposition to get back in the game. When you have that much time, and you have the opportunity to rest your bowlers and you know the pitch will deteriorate every hour every session, the sensible decision is to first take your opponent out of the game, and then take your time to bowl your opponent out by exerting pressure," said Misbah.
Pakistan coach Waqar Younis, who was equally happy with the win, believed that the more experienced side had aced the series.
Waqar, however, reckoned that the hosts had begun the second Test 'on the backfoot'.
"I got this feeling that they (Bangladesh) did not come hard in the second Test. They did not really look to win the Test. They were probably thinking to draw the match and that's why they were left behind," said Waqar.