CRICKET IN MYMENSINGH
Pandemic widening the chasms that already existed
Is cricket in Bangladesh really as glamorous as it seems? Those who harbour the notion that a career in cricket will always offer a glorious life will be dumbfounded when they dig deeper into the matter. While cricket in Dhaka has flourished over the years -- especially due to the board's efforts in organising tournaments and leagues that offer decent financial stability to players and other stakeholders -- the most loved game of the country is in the death throes in some other districts.
Mymensingh is such a place where once the craze about cricket knew no bounds. The Circuit House Playground in Mymensingh was the place where all of Mymensingh's cricket lovers used to gather -- some were even crazy enough to climb treetops adjacent to the field -- just to witness a local cricket match, a source of major entertainment back in the day. From thousands flocking to the ground to see a local match to cricket fanatics engaging in lively debates over which team played better in tea stalls, the whole of Mymensingh would be spellbound.
Unfortunately, Mymensingh, from where players like Ram Chand Goala -- a legendary name in the country's domestic circuit -- and current stars like Mahmudullah Riyad and Mosaddek Hossain emerged, has over the years seen the slow death of the sport.
According to Jahirul Hasan, a former cricketer who played local cricket for 21 years and was a first-hand witness to the glory days of the district's cricket, the blame for such a plight of Mymensingh's cricket mostly lies with local organisers, who usually back away at the very last moment. Jahirul said Mymensingh's local league has been cancelled a number of times in the last 15 years mostly because of the organisers' unwillingness and their dirty politics.
"100 per cent it [cancellation of local leagues] is due to the laid-back attitude of the organisers. The elections in the district sports association remain halted year after year. The ones who run the association usually come to power through political influence and it really does not bother them much if a cricket league is being organised or not. They do not even feel guilty about not holding the yearly tournaments," said Jahirul, who has found ways to stay connected with the sport even after his playing days as he is now also a registered level-2 umpire under the BCB.
"Even the club directors and workers delay holding local leagues. Every year, the club officials are initially very pumped up about participating in the domestic leagues for some political benefit. However, when the time comes, the officials come up with excuses like not having the financial capability to pay the players' fees or much time in hand to prepare for a tournament. They keep doing this till the rainy season arrives. Then it becomes impossible for a tournament to be arranged by the local sports association, which lacks the resources usually needed to arrange a tournament during the off season," continued Jahirul.
With Mymensingh's cricket already struggling for survival due to corruption at different levels over the years, the recent coronavirus outbreak has exposed the fault lines more vividly than before. Police Super Club Premier Division Cricket League, in which 13 teams take part, was successfully completed on March 21 after being arranged by the integrated efforts of a few cricket-loving local authorities. Since then no tournaments of any type have kicked off in Mymensingh.
First Division Cricket League, sponsored by the mayor of Mymensingh municipality was scheduled to start from April 1 this year but was suspended due to the coronavirus pandemic, leaving players who depended heavily on their income from such tournaments high and dry.
Sometimes, the junior players from the locality also used to go for trips outside town and earned their bread by playing matches as hired players but now they have to stay put at home due to the pandemic.
It was also learned that local coaches, just like players, are facing extreme financial difficulties as the ground activities are now totally suspended. There are about 12 professional coaches -- six of them run coaching academies -- now in serious financial crisis due to the pandemic.
"The amount that the local coaches here get throughout the year is very negligible. This amount only helps them to barely get by. This can actually not be called a profession but still, there are a few people who make their living doing this and now even this limited source of income has been forced shut due to coronavirus," Jahirul said.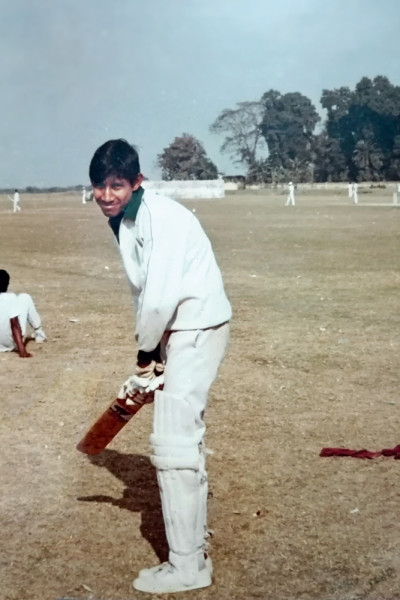 Jahirul, who has also served as an age-level coach, also mentioned that the low remuneration of local coaches actually discourages any able individual to take up coaching as a profession, which immensely hinders the growth of cricket in the locality. 
The harsh reality of Mymensingh's cricket -- a sport that is the most followed and deemed as a great choice for a flourishing career -- is that it can barely provide its stakeholders a decent lifestyle, prompting many former cricketers of the area to switch professions. 
50-year-old former cricketer Santosh Sutradhar, who once played for different clubs in Dhaka and Mymensingh and made a decent living, now works as a carpenter, barely earning enough for the survival of a family of four.
"I played for different clubs in Dhaka, including Dhanmondi Krira Chakra, Dhanmondi Progati, Udichi, Victoria, Hatirpool, Bangladesh Railway from 1993 to 2001 and earned a handsome amount per year," said Santosh.
But times had changed for Santosh in the ensuing years. Santosh, who started his cricketing career playing for Mymensingh Mukul Fouj team, decided to become a carpenter 15 years ago when he felt the sport that he played for over 22 years could not provide him financial security.
Unfortunately, the ongoing coronavirus pandemic has created more cases like Santosh's. Tapon Chandra Das, a 22-year-old cricketer, was somehow able to support his family by playing cricket for different clubs but he too had to become a salesman as his only source of income was halted in the wake of the pandemic.
"My two younger brothers are in school and to support the family amid the pandemic, I started a new job as a salesman at a sweetmeat shop in the city," said Tapon, who received an incentive of Tk 5,000 from Cricketers Welfare Association of Bangladesh (CWAB) and an Eid gift from District Sports Association (DSA).
Chandan Pal, a former cricketer and now director of Robi-Chand Cricket School in the city, said his academy has been closed since March 17, leaving him in serious financial strife. 
"It is difficult to narrate how the days of a five-member family are passing and I also have to pay Tk 6,000 as rent and other bills," said the 55-year-old Chandan, the former manager of Mymensingh district and divisional cricket team.
Perhaps, after witnessing the plight of the cricketers in Mymensingh as a local, Jahirul, who has been closely related to cricketing activities in Mymensingh for more than two decades, was left saying in agony that he is rather lucky to not have a son as there is nothing that would hurt more than having a son but not being able to give him the proper facilities to play cricket, a sport that is very close to the former cricketer's heart. 
It is however true that the decline in Mymensingh's cricket came to the fore long ago, but the ongoing coronavirus pandemic has just widened the pre-existing cracks.