'Mushfiqur cannot talk in the manner he did'
Bangladesh Cricket Board's director and former Bangladesh captain Khaled Mahmud, bestowed with the duty of the team director to play a big role in restabilising the team following the T20 World Cup debacle, talked to The Daily Star's Bishwajit Roy ahead of the T20I series opener against Pakistan yesterday, during which he expressed his views on the immediate objectives of the team and also on Mushfiqur Rahim's outburst in the media. The following are some excerpts from the interview: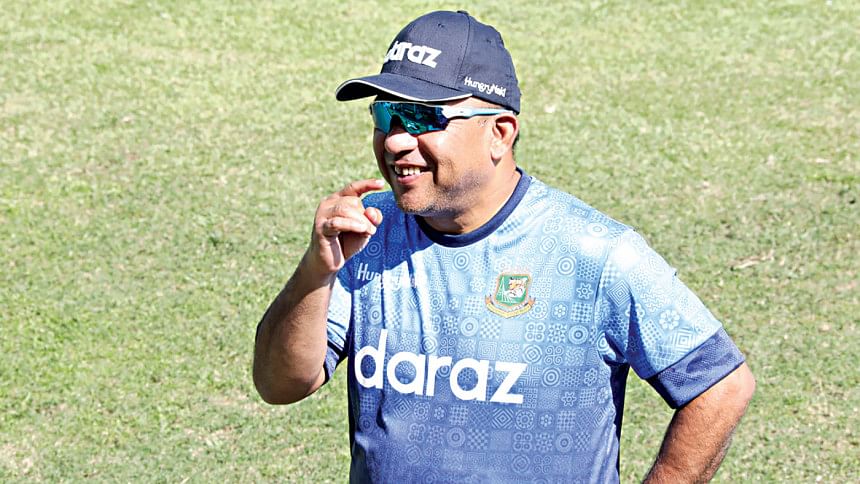 The Daily Star (DS): Is this going to mark a new beginning for the T20 team?
Khaled Mahmud (KM): Not really. We wanted to try out giving exposure to new players and for us in the T20 format, where we are still not settled as a team unlike ODI and Test, this series presents us the opportunity to try some of our young talents.
DS: Do you think the exclusion of Mushfiqur Rahim alongside Liton Das is justified?  
KM: Look, both Soumya and Liton are highly talented players and I have full faith in them. I think they have a lot to offer for Bangladesh in the coming days. And as far as Mushfiqur is concerned, he has absolutely nothing to prove. However, the reality is that they are not performing in the shortest format and now if they continue their off-form, it can hamper their confidence even further. Besides, we need their services in the Test series, which remains our top priority, especially considering we are missing the vast experience of Tamim Iqbal and Shakib Al Hasan.
DS: How big of a challenge will it be to play with a new-look side against an in-form Pakistan?
KM: Definitely the challenge is huge with a new-look team with Pakistan enjoying a tremendous run of form. But I can assure you that we aren't going to settle for anything other than a win. I reckon our new inclusions are more than capable to perform at the highest level as they have arrived here on the back of following a process.
DS: Will the new faces be turned into scapegoats, in case the results in the series go against our favour?
KM: I don't think so. I feel the need for patience is vital for us at every level, especially while approaching T20 cricket. Everybody should understand that we are not that good in the T20s yet, so we need to go through a series of trials and errors before finding our desired rhythm. I want to make one thing clear here, that those who are missing out from this series, the likes of Soumya, Liton and of course Mushfiq, are very much in consideration for the future of our T20 cricket and now it's important they all come back rejuvenated. It must be said that the decision to leave out certain players was not based on criticisms, rather the team management had to take the tough decisions keeping in mind that we have several Test matches in store in the near future. 
DS: What outcome do you want to achieve from this series?
KM: You can think of it as an investment series for us. If we can win matches, nothing can be better than it. But the most important thing is whether the players are able to express themselves and live up to their true potential. 
DS: Finally, what's your take on how Mushfiqur reacted in the media following his exclusion from the T20 squad?
KM: I think it's a combination of misunderstanding and miscommunication. But the thing is, Mushfiqur cannot talk in the manner he did. Again, we want to clarify on the fact that he was not dropped, rather we decided to give him a resting period to come back for the Tests in the best possible shape. What he told the media, that he was dropped even though he wanted to play, is under false assumption and it's frustrating to hear such reactions from such a senior player, who even said that the team management didn't have the courage to communicate with him regarding the selection process. Mushfiqur should understand that those he has accused have come this far from playing years of cricket for Bangladesh as well. It must be said that Mushfiqur had arrived from UAE on the 13th, after which he didn't communicate with anybody and as a contracted player of the highest level, the onus was on his part to let the team management know as well. Finally, the players must also understand that when they, like Shakib for example, can apply for a period of rest against the team management's will and receive it, then the understanding should be mutual when the role is reversed, that is, when the team management enforces the resting period.