'I prioritise keeping a smile on my face'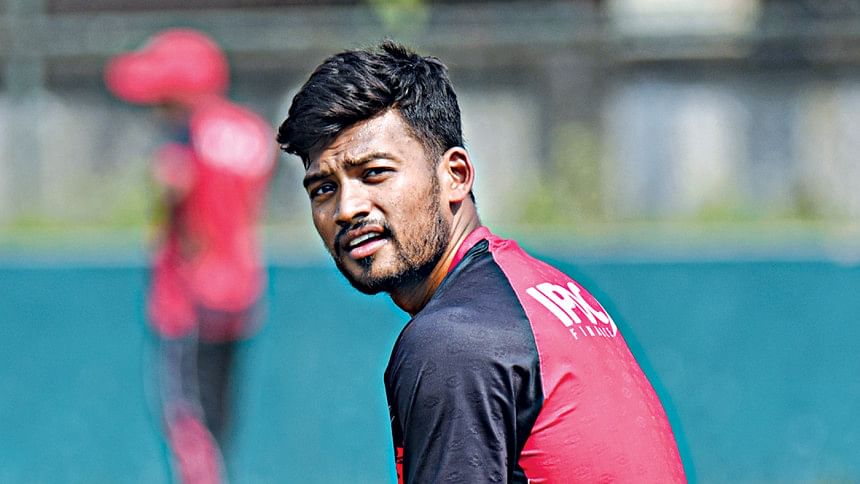 Najmul Hossain Shanto has managed to navigate troubled waters with perhaps the best tool there is: performance. The 24-year-old was the highest run-getter for Bangladesh in the T20 World Cup and followed that up by becoming the player of the tournament in the recently concluded Bangladesh Premier League. The southpaw caught up with The Daily Star's Mazhar Uddin and discussed his return to form and how he brushed off the weight of criticisms. The excerpts are below:
The Daily Star (DS): Did you have a specific goal for the BPL?
Najmul Hossain Shanto (NHS): No, I didn't have any particular goals leading up to the tournament but I wanted to take the team to a good place. It was something that I always had on my mind. My plan was to contribute to the team in any capacity. I was able to do it so it was a good tournament for me.
DS: You were very consistent throughout the tournament. Was that ingrained in your mind?
NHS: I think what played a big part in that was my level-headedness. When I scored runs, I didn't get too happy about it and when I failed to score, I wasn't that upset. The idea was to perform in every game. There was a hunger, which is why I was successful in scoring regularly.
DS: You were solely thought of as a Test batter. But you came back and scored the most runs for Bangladesh in the T20 World Cup. How are you adjusting to all three formats?
NHS: The goal since childhood was to play all three formats for Bangladesh and play well in all formats. Although I am not happy with my international career so far, the plan and effort in terms of training and preparation is always to take my game to a solid platform. When I train, I practice accordingly with the format, situation and opponent in mind. There is still a lot of room for improvement because we are playing so many games these days, which wasn't the case in the past.
DS: You have always been rated very highly and even as a future captain. Do you feel that now you have made that push to utilise all that potential that people believe there is? Has maturity played a part in that?
NHS: It's difficult to say because other than my performance in the T20 World Cup and a few knocks in Tests, I don't think I have had that many standout performances in the international arena. But, yes, in the domestic circuit, I have done well. I believe that I will be able to take this form to the international arena as well because I feel that I've been able to bat with a lot of thought and with the understanding of different situations.
So far, I have learned that my practice patterns should match those challenges that are there in international cricket. Though it's very difficult to create that match environment in practice, I still try to create it in training.
DS: There hasn't been much change to your technique, but there definitely has been in your mindset. How did you manage that?
NHS: It's a misconception that we, including myself, have very good technique. People think I have good technique but I have had to work on it a lot. Compared to earlier, I think I have a much wider range of shots in my arsenal now. I can perhaps now hit a boundary at will or rotate the strike easily. These things have improved which is why I've been able to score runs in those two tournaments.
DS: You have received more than a fair share of criticism online and on social media platforms. How did you overcome this and perform?
NHS: In all honesty, I focused on my game. I believed that if I could perform then these things wouldn't be there. Another thing I realised was that it is nothing new. It happened to all cricketers, some more and some less. I may not score runs at times but I prioritise keeping a smile on my face and enjoying my cricket. We play cricket because we have loved the game since childhood. So when I think along those lines, thoughts (of criticism) don't really bother me.