'Need to patronise less popular sports'
WIM Rani Hamid is a household name in the country as the veteran sportsperson still continues to play top-flight chess for 43 years with an undecayed enthusiasm since she first set the pieces in motion at the age of 34. From having clinched an overwhelming 20th National Women's Chess Championship title in 2019 as a 75-year-old to eyeing a Guinness Book of Records next year, the living legend talked to The Daily Star's Anisur Rahman about the past, present and future of chess.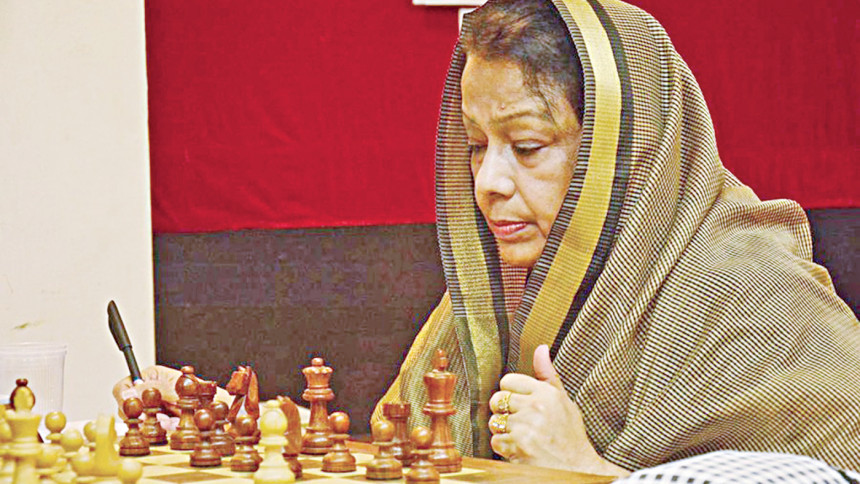 The Daily Star (DS): How much do you enjoy still playing chess at the age of 77?
RH: I love playing chess, that's why I am still playing it. While it is true that I'm taking on many budding players or even the third generation, but they get opportunities we didn't have during our childhood. We were asked to play outdoors instead of sitting in front of the chess board. Chess was once a game of aged players but it has turned into a game for children. I am playing chess with the same enthusiasm I had from the beginning mainly because I have nothing much to do at home.
DS: In your view, how has Bangladesh's sports progressed in the last 50 years?
RH: I don't have in-depth awareness on other disciplines but what I understand is that chess could not progress much here. We once fought on level terms against the Indians but now we can›t compete against them and beating them is beyond possibility. Back in the day, I had beaten a top Indian player to secure the title of British Women's Championship. However, Bangladesh Chess Federation is currently trying to groom players from the grassroots. Let's see what happens in future but one thing is certain that no athletes can improve unless they receive proper training and financial support. If we can't produce results in the next four to five years, I'm afraid we can›t do it ever.
DS: How much the country's chess infrastructure evolved over time?
RH: Like I said, country's chess has not flourished in the past 50 years. We have talented players like Mohammad Fahad Rahman, who was highly taken care of, but he couldn't thrive as expected. However, a cause for optimism is that development works in chess is recently going on with budding players being trained by Grand Masters and the young players are also bringing medals from abroad. Moreover, a couple of academics have been established to groom up the players.
DS: You have witnessed the transformation of two different environments since you embarked in chess. Do you see any difference between past and present scenarios?
RH: Playing environment of past and present is almost similar but commuting has become troublesome for the players, who have to spend hours on road for daily practice even though there exists opportunity to practice online. Also, the social restrictions had remained the same, I think. In some cases, the restrictions became tighter as these days the parents don›t want to keep their daughters out of their sight due to poor social conditions, whereas we had played freely in the past.
DS: Has the quality of players raised proportionally with the quantity of women athletes?
RH: Again, I'm not aware of other disciplines but I can tell you that the standard of chess players hasn't lived up to the promise. Mainly the lack of patronisation is the reason for the bleak circumstances.In India, sponsors invariably come forward to promote the talented players by ensuring their participation abroad while also providing monthly honorariums that reduce pressure off the family. Schools also allow the opportunity to sit for exams without attending classes but in Bangladesh, junior champion Noshin Anjum is seen struggling to get such a clearance from school. Our general environment is not fully equipped but there have been instances of success stories of women, such as the one of U-19 women's football team.
DS: You once regularly featured in the women's chess championship in England and earned the title of WIM in 1985. Do you regret of not achieving the prestigious WGM title yet?
RH: Firstly, I never desired to be a GM [Grand Master] or that the chess federation pushed me for GM title. I just play chess for the love of the game and the WIM title had arrived spontaneously. I used to practice with the then champion Dr Akmal Hossain, who was also my neighbour. But after he left for Dubai on professional ground, my regular practice took a hit, which had stagnated my performance growth and I'm still stuck to that point. But I don't have any regret because I didn't make any effort to get the WGM title.
DS: Could you briefly relive the event when you came close to winning a gold medal in the Chess Olympiad?
RH: I participated in all Olympiads for Bangladesh so far but I can't recall the year of that particular Olympiad. I usually played on the Board 1 for Bangladesh and that time I was on top at the close of the sixth round with six points as the world's top players dropped one or half points within six games. I required only two points from the remaining six matches and a gold was likely on the cards if I had played against a couple of selective weaker opponents.However, the then chess president kept playing me in the first board of the rest of matches for the national team. In the end, I could not achieve it.
 
DS: How do you tackle the challenge of facing promising players at this age?
RH: I always wanted new players to emerge on the horizon. After becoming champion nine times, my husband had forced me to write a chess book titled 'Mojar Khela Daaba' [Chess is Fun], so that others can be inspired to venture into chess. I wasn't enjoying that time because there was nothing else to achieve. But of late, I really enjoyed beating strong players. Besides, there is the matter of the Guinness Book record. If I can seal the ongoing national women's chess Championship at the age of 77, I will topple a certain 76-year-old woman who holds the record as the oldest champion in a national women's chess championship. However, I reckon I will face stern tests from the promising girls in the championship since recently, due to my sickness, I am prone to committing errors despite finding myself in a winning position.
DS: Where do you want to see the country's sports in future and what initiatives need to be executed by the organisers and even the government?
RH: We are lucky that our Prime Minister [Sheikh Hasina] loves sports and that›s why we are also drawing a few sponsors. The Prime Minister is cordially trying to take the country upward in every sector and we, the athletes, also have some responsibility to shine on the ground.
Unlike cricket and football, the other fields of sport don't get the same attention, so the government need to intervene to patronise the less popular sports directly.