'I see myself as Bangladesh's future Grandmaster'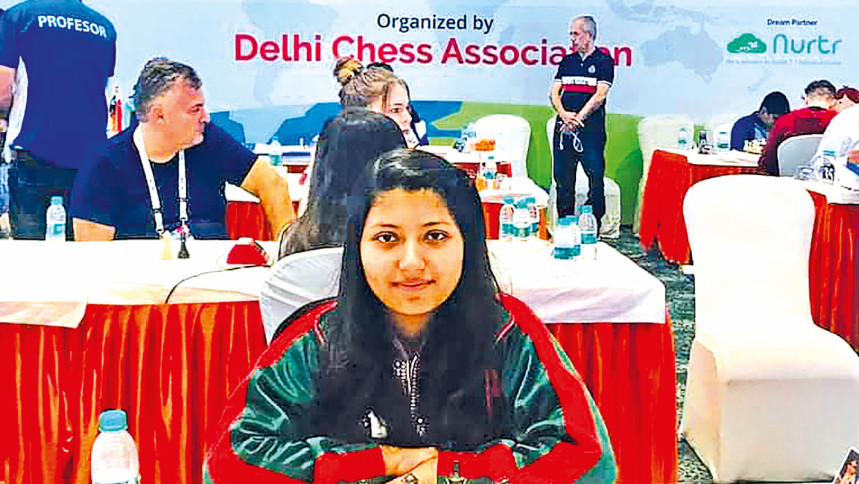 Noshin Anjum, an 18-year-old chess player who dared to defy the odds by competing against 80 boys and two girls, finished second in the 2022 National Junior Chess Championship despite not losing to eventual winner Subrata Biswas, a fellow FIDE Master, in the final. With the support of her family and friends, the youngster aims to represent her country at higher levels. Anjum shared her goals and backstory with The Daily Star's Ashfaq Ul Mushfiq in an interview, the excerpts of which are below:
The Daily Star (DS): Tell us about your journey into chess.
Noshin Anjum (NA): The entire credit goes to my mother. Although my father had taught me how to play chess, it was my mother who pushed me to start playing properly ever since we moved to Dhaka. She always wanted me to do something alongside my studies and has been guiding me all along.
DS: It must have been some experience as you broke barriers while playing alongside boys in junior level chess, having finished second amongst 82 other participants.
NA: I got to play in the open division in the National Junior Chess and I felt really good. I always wanted to compete with boys and also, through this tournament, my rating went past 2100. So overall, it was a great experience.
DS: How did your family and friends react to your success? And did you receive any form of support from your school?
NA: My mother is very happy and my friends are very proud and supportive of me and they often come forward to help me with my studies when I have to miss classes due to tournaments. Currently, I'm a higher secondary student at Viqarunnisa Noon College, where the academic session was yet to begin when I participated in the National Junior Chess. Back in school days, I was granted leave when engaged in international tournaments. This one time, I was even sponsored by my school during an India tour.
DS: Any notable facility you are getting from the federation right now? And what are the challenges you face?
NA: The federation has organised a group training for us under the supervision of Grandmaster Ziaur Rahman. Also, before the pandemic, I was a student at the Elegant International Chess Academy. In future, I may partake in some international tours, which I see as my next challenge.
DS: What sort of assistance do you think you need in order to keep improving at the sport?
NA: I think, if I get the chance to privately train under a coach and get sponsors to play more overseas tournaments, I think the journey towards my goal will reap rewards.
DS: Speaking of personal goals and ambition, where do you see yourself as a chess player in the long run?
NA: My future goal is to become a good quality chess player and I want to see myself as Bangladesh's future Grandmaster.