Shakib doubtful for Nidahas Trophy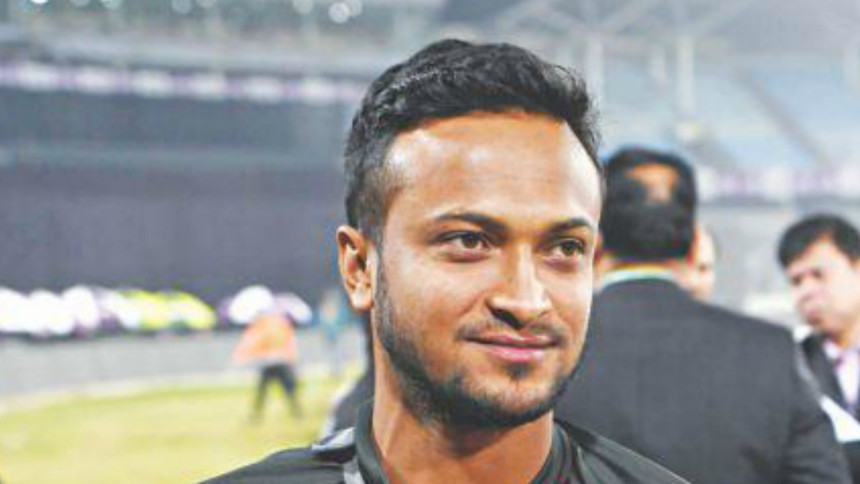 Chances are slim that Bangladesh's T20 skipper Shakib Al Hasan will play in the upcoming T20I series in Sri Lanka.
Bangladesh Cricket Board physician Dr Debashish Chowdhury told The Daily Star today that Shakib has been advised to administer physiotherapy for a week by specialists in Thailand.
"The doctors in Bangkok said the same thing that the doctors here had earlier said.
"Shakib will arrive tomorrow and after a week of physiotherapy, his condition will be assessed," Dr Debashish Chowdhury informed. In the likely case that Shakib undergoes physiotherapy, his chances of travelling with the squad for Sri Lanka look slim.
Earlier, chairman of Cricket Operations Akram Khan suggested that the chances of playing the first Nidahas Trophy match is '50-50'.
The ace all-rounder injured his little finger during last month's tri-series final and missed the consequent Test and T20 series against Sri Lanka. Shakib was however, included in the squad for the T20I tri-series set to take place in Sri Lanka.
There had been ongoing talks regarding Tigers acquiring Michael Bevan or Neil Mckenzie as batting coach.  Akram khan confirmed the news that talks are ongoing but did not open up further regarding the news.
"We are continuing our efforts and talks are ongoing. There are some formalities left. Maybe it will be accomplished within a few days. That cannot be said [who we are getting] at this moment, because there is a restriction from their side about this going to the media.
Walsh in Kolkata
Meanwhile, Bangladesh's interim head coach Courtney Walsh is in Calcutta to deliver the 2018 edition of the Tiger Pataudi Memorial Lecture – an initiative by The Telegraph.
Walsh will hold a lecture this evening for the event. "I couldn't see much of the skyline, but the city's traffic has certainly increased," Walsh told The Telegraph on Tuesday evening.
Bangladesh will hold a training camp on March 2 before the squad flies out for Colombo on March 4. Walsh went back to Calcutta after 22 years after he last visited for the opening ceremony of the 1996 World Cup. He last played in Calcutta at the Eden in 1994.