Chandika happy after plans work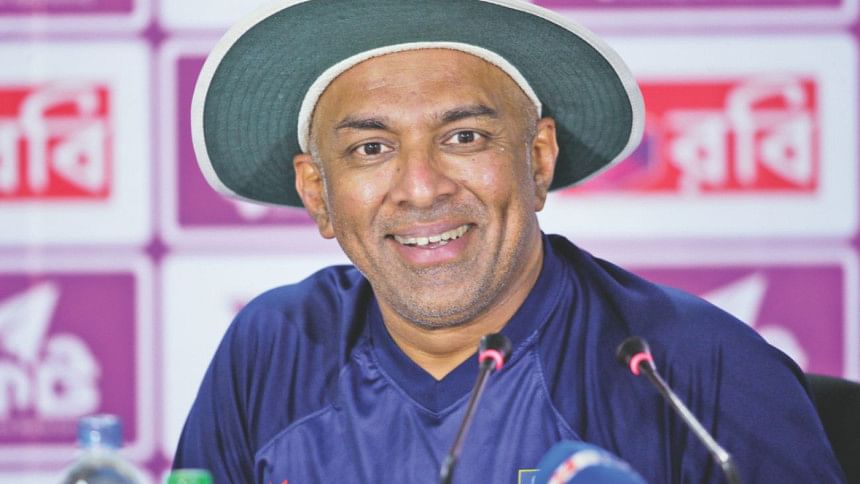 Chandika Hathurusingha had his first press briefing when he arrived in Dhaka in the second week of January with a mission to change the fortunes of his native country Sri Lanka. He had probably had his last encounter with the press in Sylhet yesterday and the Lankan coach made no secret about how fulfilling the Bangladesh sojourn has been for him so far.
Chandika, who made a sudden exit as head coach of Bangladesh after the South Africa tour, certainly felt the punch when he landed in Bangladesh, where many felt his sudden departure disturbed the balance of the Tigers. And after a month-long tour, when his team won the tri-nation ODI series and the Test series, Chandika has unwittingly proved that notion beyond any doubt.
"All in all it's a satisfying tour for me personally. I'm happy about it and then I'm happy about how we came back," Chandika told reporters ahead of the second and final T20I against a battered home side that lost the opening fixture of the two-match series despite posting their highest T20I total a few days back in Mirpur.
He also said that he wishes his talented young side can finish the tour by winning the final game at the Sylhet International Cricket Stadium.
"Ideally, that's what we are here for. Winning the next game is most important for us. We need to win the next game and the rankings and other things will take care of themselves if you execute your plans well," the soft-spoken tactician told reporters.
He said he was a bit surprised with the way his former charges performed in the series so far.
"Yes, I'm surprised. They really played well at the start. They put both teams under pressure in the triangular series, playing what they know how to play. Actually they let up on the gas after a few games. And to go down that quickly I was surprised," said the Lankan coach while reflecting on Bangladesh's performance that started with three wins but has been on the decline ever since.
After refuting claims that his inside knowledge of the Tigers tremendously helped the Lankan in his previous two bouts with the press, Chandika acknowledged it yesterday.
"I think yes to be honest. We had certain plans for some of the players and knew how they react under pressure. If you look at the first two games they played very hard; I expected that. If that does not happen that's disappointing for me," he observed.
He was also a bit surprised that it was his first visit to Sylhet, which he termed as a beautiful ground.
"This is the first time I'm at this ground. The wicket is still not hundred per cent prepared. So we have to come tomorrow and see how the wicket looks. But it's a beautiful ground. I'm surprised that I had not been here in the last three years," he said with a smile on his face.
Chandika was also happy to have the opportunity of using the centre wicket ahead of the home side for the first time on the long tour.
"In Mirpur, they practiced in the middle. We did not get it. So, that's why we have come here early," Chandika, who has always been very articulate about those small details, said tacitly.
Chandika, who has always cherished leading his national team, also showed his patriotic zeal when he said: "When I leave here I want Bangladesh to do well."