Can't go in with doubts: Riyad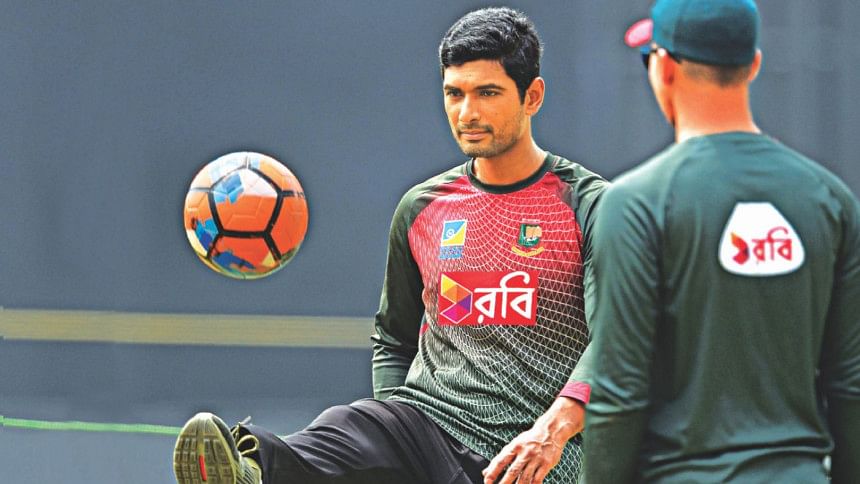 T20 cricket demands decisiveness in the fine balance between risky play and responsible cricket. It is in that aspect where Bangladesh have often failed, which is reflected in a 21-48 loss-win record and a 1-9 disadvantage in their last 10 matches. In stand-in skipper Mahmudullah Riyad, however, they have a clear-thinking leader who, much like injured regular skipper Shakib Al Hasan, seems to be urging his team to move past their recent results, forget about that uncertainty and grab the bull by the horns.
"It will be exciting to see how we go tomorrow and looking forward to take a few chances, take the risk and take responsibility individually to do something good," said Mahmudullah yesterday ahead of today's Nidahas Trophy match against India in Colombo. "I am not saying that we are the favourites but we can stick to our processes and play some hard cricket tomorrow; that's what we can ask for from the team.
"There have been a lot of questions raised about our capability in T20s. We can't go into this tournament with any doubts in our ability. We have to forget about our last T20I series [A 2-0 loss to Sri Lanka at home in February]. I think the boys are looking very good, the boys had a good practice match [a 41-run win over SLC President's XI on Tuesday] and we know the conditions here."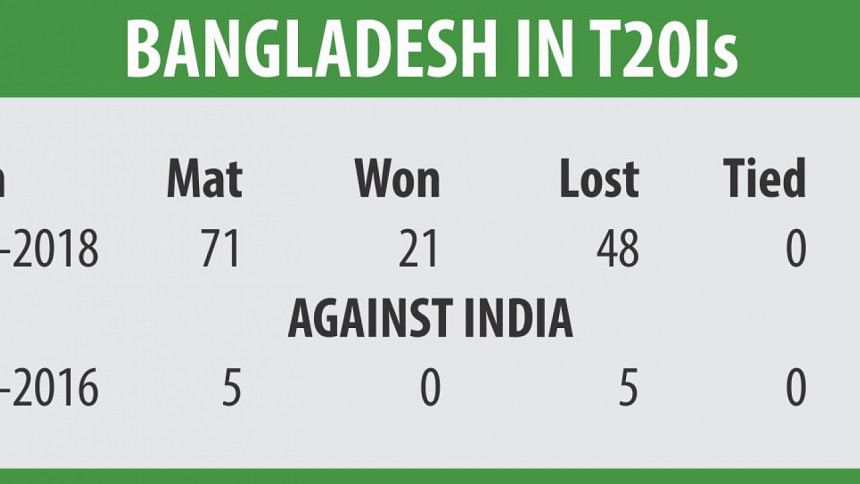 It has been less than a year since they left Colombo with a share of each of the series during a full tour in March-April 2017, and it was also during that tour that they won their last T20I, coincidentally in the same venue where they will play today -- the R Premadasa Stadium.
If that is a good memory, they will not have many as such to call upon to draw inspiration against today's opponents. Not only are India the number one T20I side in the world -- albeit a slightly weakened one through the absences of key players including regular skipper Virat Kohli -- but the last match between the two sides ended in the Bangalore heartbreak in the 2016 World T20 when Mahmudullah and Mushfiqur Rahim took Bangladesh to a point where they needed two runs from three balls for victory before inexplicably losing the match by one run.
"The Bangalore match was over that day," Mahmudullah shot back to a question about that match. "Accidents occur in cricket. There's no point brooding on it. It is better to learn from it.
"I want my team to play good, hard cricket. Let's stick to our processes and strengths; it's good to know your own strengths and weaknesses rather than thinking of other things. They are a very good side and we do have that respect. I am hopeful in every game and although some of India's experienced players are not here, they play IPL and they are experienced in the T20 format."
Mahmudullah was keeping things close to his chest regarding the playing 11 that he said was not yet settled. He did provide some hints however. "We have been mulling the No 3 position. Sabbir [Rahman] was doing well in that position but he hasn't been scoring runs recently. We are backing him, as any batsman can go through such a phase. Tomorrow you will see who gets to bat at No 3... Liton [Das] has done well in the practice match.
"[Nurul Hasan] Sohan is batting well, and I am glad he has returned to the team. I think he can add strength to our lower middle-order, as he now possesses a greater range of shots."