Bangladesh gaining respect among peers: Hathurusingha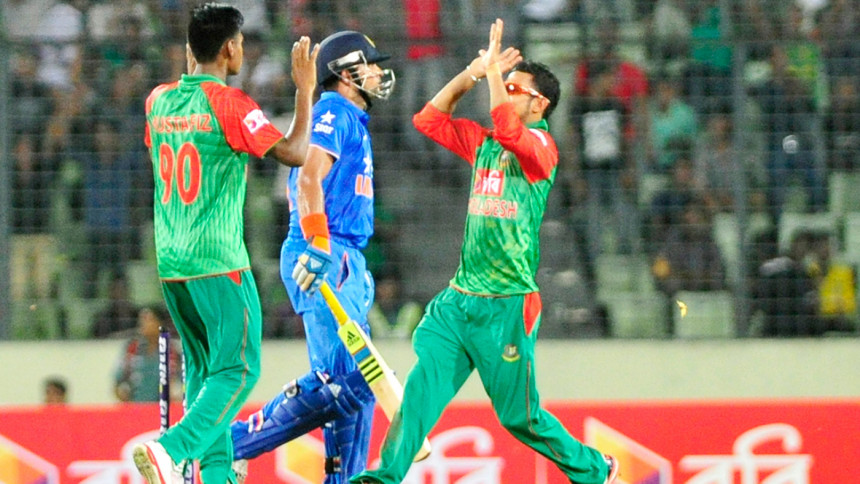 Bangladesh coach Chandika Hathurusingha has said that India sending their best team for the ongoing ODI series is an indication that they regard Bangladesh as a stronger unit than last June. He was, however, not entirely satisfied with his team's performance on Thursday despite them posting their biggest win against India.
"The best example (of the change in the Bangladesh team) is that India is sending their strongest team," Hathurusingha said.
"It speaks for itself, how far we have come from that series to now. It is always good to gauge your success or what you are doing, by how your peers are looking at you. I think it is a big rap for our boys that India came with their full strength. Our confidence is high, the way we are playing now is also a bit different."
During last year's three-match ODI series, India were without regular captain MS Dhoni, Virat Kohli, Shikhar Dhawan, Rohit Sharma, R Ashwin, Ravindra Jadeja, Bhuvneshwar Kumar and Mohammad Shami. But Suresh Raina's side won 2-0, including the one in which they bowled Bangladesh out for just 58 runs.
It was also Hathurusingha's first assignment as head coach and it was a tumultuous time after Shakib Al Hasan had got into a fracas with a fan during one of the matches.
Bangladesh turned around their fortunes remarkably since the Zimbabwe series last November, winning nine consecutive ODIs at home on either side of a decent World Cup campaign. This time India are only without Shami who is recovering from a knee injury.
Hathurusingha, however, was not pleased with the Bangladesh batsmen giving away good starts in the first game.
Tamim Iqbal and Soumya Sarkar got to fifties but didn't push on despite looking comfortable. Debutant Litton Das and Mushfiqur Rahim fell early before Shakib Al Hasan and Sabbir Rahman got them back into reckoning with a strong fifth-wicket stand.
"I am not happy at all with the last game," Hathurusingha said. "That's the scary part: we still can improve in all departments. We played better against Pakistan. I think we are looking to improve from the next game.
"When you get a start, we always talk about going big in partnerships. We talk about simple things, which we did well against Pakistan. I want them to do that in the middle. We had three-four hundreds against Pakistan. If one of the top batters get set and go for a big score. it helps us to score big runs," he said.
On Mustafizur Rahman, who took a five-wicket haul on debut in the previous match, Hathurusingha said it helped him that he is an "unknown factor" but his job would only get challenging as teams would start preparing for his kind of bowling.
"Definitely for any bowler, when you come into international cricket, because you are unknown factor, it is a big plus," he said.
"Nowadays even before that, they can look at videos and be prepared. For Mustafizur it is going to be a challenge because people get to know more and respect him a bit more. But again, he has to execute well, so has the batsmen. We expect the Indians to come hard at us."