Rescue operations halted as building marked 'risky'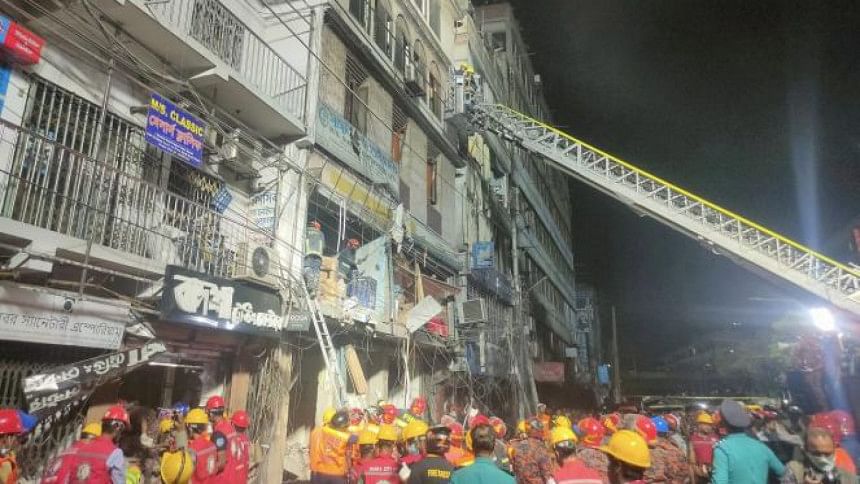 The fire service halted their rescue operations at the affected building in Gulistan around 8:00pm after it was marked as risky due to the damaged columns in the basement.
"The basement and ground of the building have collapsed and the columns of the building were damaged severely following the explosion," said Brig Gen Md Main Uddin, director general (DG) of Bangladesh Fire Service and Civil Defence.
"We took the opinions of experts from Rajuk and Bangladesh Army and deemed the building risky. We are refraining from trying to enter the building in this state. We will try to stabilise the building before resuming the operation there. Meanwhile, we are continuing our operation at the adjacent building," he told journalists after visiting the spot.
Replying to a query, the DG said they spoke with the building owners' association and learnt that there was no gas line under the building. 
"So we could not identify the reason for the explosion right now."
Meanwhile, firefighters, using loudspeakers, were asking people to maintain a safe distance saying that the building is risky.
The explosion at the Gulistan building has caused widespread panic among the local residents. The entire area is currently without electricity and all shops and stalls in the vicinity of the damaged building have been closed.
Residents have come out of neighbouring buildings and gathered on the street.
Vehicle movement has also been halted on the North South Road in the Siddique Bazar area.
The cause of the explosion is not yet known. Government officials have urged all to stay calm and cooperate with the rescue efforts.
Abdul Motaleb Mintu, a shopkeeper, said his sanitary ware store was located on the ground floor. "At the time of the explosion, there were three employees inside the store, but they have not been found yet."
"I couldn't believe my ears when I heard the explosion. It felt like the whole world was shaking. I rushed to the window and saw that the building had been damaged. I can't even imagine the trauma that the people inside went through," said, eyewitness Alauddin Hossain.
Dildar Miah, a local, said, "I live just a few blocks away from the site of the explosion. The noise was so loud that it felt like an earthquake."
Aftab Uddin, a shopkeeper, "I was walking down the street when the explosion happened. I felt the shockwave and saw the smoke rising from the building."
"I heard a loud noise that shook my windows. When I looked outside, I saw a huge cloud of smoke rising in the air," said Labib Uddin, a local resident.