Azizul Hakim
The noted actor, Azizul Hakim has been well-received and loved by his audience for about half a century now. Through his acting finesse and versatility, he has left his mark in all forms of media, be it theatre or television. He is the recipient of several prestigious awards, such as, 'Jay Jay Din Award','Cultural Director Association Award' and 'Bangladesh Television Journalist Award', among others. In an interview with Star Showbiz, he talked about his memorable moments in the entertainment industry.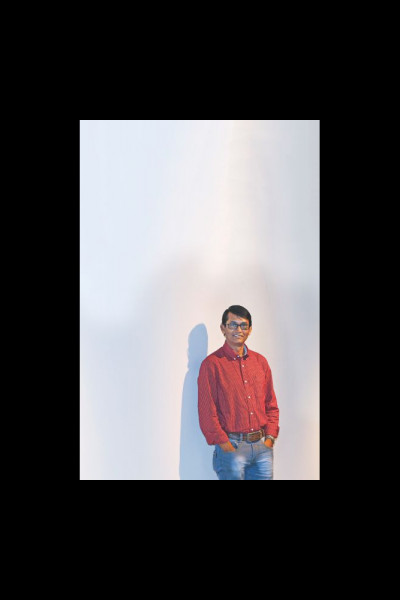 Beginning with performing arts
My fondness towards acting goes back to my childhood. I used to act from a very early age as I would participate in many cultural functions at my school. Later, I got involved with a theatre troupe Aranyak Natyadol and since then, my career as an actor evolved. I think this chapter of my life is the foundation for my profession.
Fond Memoirs
My debut theatre stage show was titled, Ora Kadom Ali. As this was my very first live recital, I have many pleasant memories, and I really enjoy recalling them.  The character that I played was quite distinctive and unusual for me as I had to impersonate the role of an old person. I still look back to that time, and reminisce how I pulled off playing an elder persona. Besides this, my debut television drama, Ekhane Nongor has a special place in my heart as well. I look back to all these days with great warmth, happiness and pride.
Career Climax
The turning point for me in my career would be the television drama, Kon Kanoner Phul.  I portrayed the character, named Oli for this drama, and I received immense adulation from the audience for the role. Soon enough, everyone started calling me by that name, and I was recognized by many with the name, Oli. 
A Dreamer
Everybody is a dreamer and there is no limit to dreaming. If not an actor, I always dreamt of becoming a professional footballer. I was a football player and I used to play for the first division of Victoria Sporting Club. I still enthusiastically watch football matches. My favourite team is Germany, and favourite player is Cristiano Ronaldo.
The Bookworm
I like reading all kinds of books – be it a travelogue, book of essays, novels, short stories or poetry. I read to gain knowledge, so I read everything I can get my hands on; my list of favourite writers is thus pretty diverse. These days however, I am reading a lot of Harishankar Jaldas. I also like reading the books of Azizul Haque, Syed Shamsul Huq and Shahaduzzaman.
on arts & Artists
In order to do anything, one needs adequate preparation; it is just not possible to do something suddenly, on just a whim, and the same goes for acting. The young aspiring actors must realise that acting is an art, and they must empower themselves with knowledge and skills before stepping into this world. One must master certain skills to portray a character, and the new actors must learn the skills they need to get into the depth of a character. One must pay attention to the nitty-gritties of a character before they go in front of the camera to play it.
Encouragement
My father always asked me to be sincere towards my work and encouraged me to be who I am. Later in my life, my wife played a major role in encouraging me to follow my passions. She was involved in writing herself, and her encouragement has been very helpful for me. All the members of my family are very close to my heart – my parents, my better-half and my children are the centre of my universe. I believe that my in-laws are also a part of my family, and I love them dearly.
Incomplete creative desires
I believe that people working with the creative arts are bound to bear a sense of unfulfillment in their hearts. For instance, after completing a project, one might feel that it could have been better. The measuring scales are open-ended, so the feeling is only natural. I have my share of dissatisfactions as well, and there will always be a lingering sense of it.
Interviewed By Robiul Kamol
Transcribed By Joana Nomrata Mazumder