Television of a lifetime
Chemistry of Television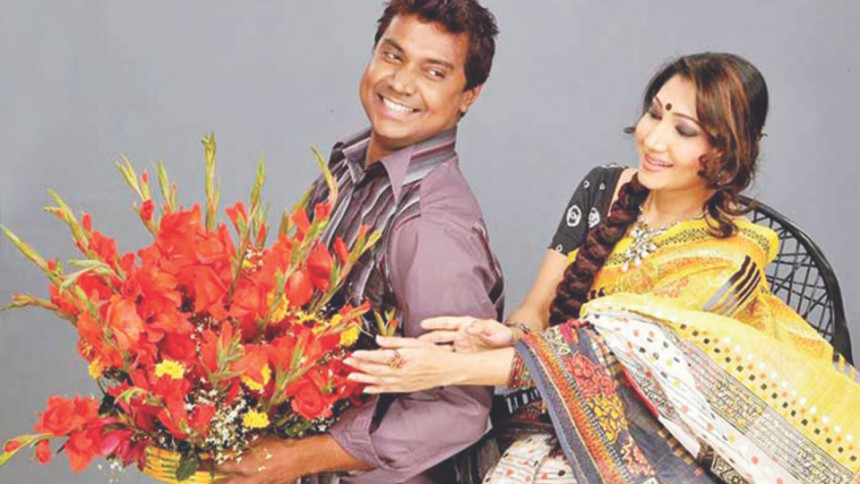 [Continued from Last Issue]
Back then the news of Afzal Hossain's wedding was published in the front page of newspapers. It has to be mentioned that the wedding ceremony of Abhishek Bachchan and Aishwarya Rai has been telecasted live in the channels.
The pairing of real life couples was not restricted to dramas only. There were occurrences of real life couples beyond the world of television drama. These couples did not act together in television but due to participation in television programs they got to know each other well. Due to their involvement in working in the same medium, they got to know each other and fell in love with one another.  One name that comes to our mind is that of the real life pairing of famous dance artist Mou and actor/director Zahid Hassan. Amy Rahman, who is best known for acting with Afzal Hossain in one of his dramas, is married to television news reader Shamim Ahmed. Another dance artist Priya Dias is married to actor Tony Dias.
The most talked about couple in television is Progga Laboni and Kazi Arif. This pair has participated in lots of different programs.
There were also cases of real life pairings who became a pair before participating in television programs. Sanjida Akhter has acted as a host in many television programs. She acted as a host for the musical program "Bornali" for a long period of time.
Sanjida Akhter used to host a show called "Dompoti" with her famous journalist/editor husband Abed Khan. Apart from that they have also hosted a program for Eid called "Anondomela". Both the programs "Dompoti" and "Anondomela" had similar theme called love. Abdullah Abu Sayed made a program about this theme. Another host of Anondemela called Kumkum Hasan later on acted as a host in lots of episodes of "Chayachondo". Her husband Hadi Hasan used to act in television dramas. TV producer Riaz Uddin Badshah's elder sister Roushan Ara Hossain and her husband Jamal Uddin Hossain had been working in television for a long period of time. Their children Topu and Lipi used to participate a lot in children's programs. Riaz Uddin Badshah also used to participate a lot in programs. He got married to another Television news reader Nasrin Riaz. There is also another news broadcaster couple in television that is currently living a happy conjugal life. This couple is known as Munmun Ahmed and Mahmudur Rahman. Ali Zaker and Sara Zaker are known as an artistic couple as well.
There can be many examples of couples such as these. Audiences can readily remember about playwright Akhter Ferdous Rahman and Daliya Rahman. They also remember about seeing host Annisul Haque with Rubana Haque in many programs. Later on this pair got married to one another. The pair Dr. Enamul Haque and Laki Enam or the pair Rahmot Ali and Wahida Mollik Joly is quite popular among the TV audience. The pair Dr. Enamul Haque and Laki Enam's daughter Hridi Haque got married to a popular name in television drama Litu Anam.
Through generations, television personalities are getting bound in the holy matrimony of marriage and also entertaining us with their heartwarming performances. A producer named Hridoykesh Mukhopaday produced a movie called "Obhiman". This movie is about 2 singers who suffer from conjugal problems after their marriage. But in the end he showed that no matter what the circumstances at the end love always wins. And finally both the singers were happily able to maintain their marriage life. At the end, these words remain true that we don't know with whom we might fall in love with. When Abdullah Al Mamun used to act in many TV dramas, his daughter was about to give her S.S.C examination. During the interval between his daughter's exam, people used to see Abdullah Al Mamun waiting for his daughter in front of the school carrying food in one hand and a coconut in his other hand. People around him in those times used to think that he was shooting for a drama or something.
Such is the love that an artist receives from the people. General people try to find out among artists whether they are a good actor or a good human being. As there is no answer to this mystery, there are also no boundaries of television artists falling in love with one another. Love never ends. And so the love story of our television artists will also never end. Words fall short in comparison to their love.
The writer is Managing Director, Channel i
Translated by Imtiaz Salim