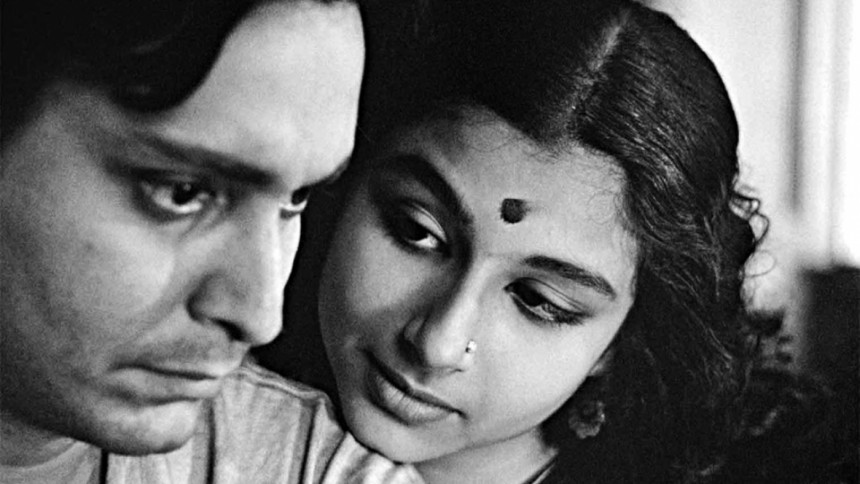 Director: Satyajit Ray

Screenplay: Satyajit Ray

Cast: Soumitra Chatterjee, Sharmila Tagore, Alkoe Chakravarty, Shapan Mukherjee

Duration: 107min
PLOT: Graduate but jobless Apu is writing a novel based on his life. One day his life takes a sudden turn when he meets his old friend Pulu. He takes Apu to his village to attend the wedding of her cousin Aparna. On the wedding day the bridegroom turns out to be a mental patient and the wedding gets cancelled. Apu, out of sympathy, agrees to be the substitute groom. Thus begins a love story that eventually ends up in tragedy.

REVIEW: Apur Sansar is adopted from famous novelist Bibhutibushan Banerjee's 1930 novel based on Indian lifestyle. It is the final movie of the 'Apu' trilogy; which consists of Pather Pachali, Aparajito and Apur Sansar; all legendary movies in their own rights. Also, all three of them are directed by Satyajit Ray.
This film is a masterpiece of Ray. Apu leads a vagabond life who wants to be famous by writing his own novel. One day he gets married to his friend Pulu's cousin Aparna and the story goes on in a dramatic fashion. It is a very simple story, but the wonderful portrayal by Ray made it a very enjoyable watch. This movie had everything in it. It had dreams of two people who are madly in love with each other, tragedy and a powerful ending. The actors bring reality into the movie. In the role of Apu, Soumitra Chatterjee is timid and superb. He is the perfect extension of Apu as a grownup. Sharmila Tagore is without a doubt a powerhouse actress. This film introduced her to cinema. The plot conveys in simple symbols of the unbending swing of life and death. Last but not least, the music of this movie is composed by none other than Pandit Ravi Shankar. Apur Sansar is one of the most legendary evergreen Bengali movies ever made. It is a must watch for all types of movie lovers.



Reviewed by Saqiba Nawshin Junnurine