The graceful tagore singer
Shama Rahman, a leading Rabindra Sangeet singer, echoes devotion and passion for the art of singing. In this interview, Shama shared about her inspirations and her musical journey so far.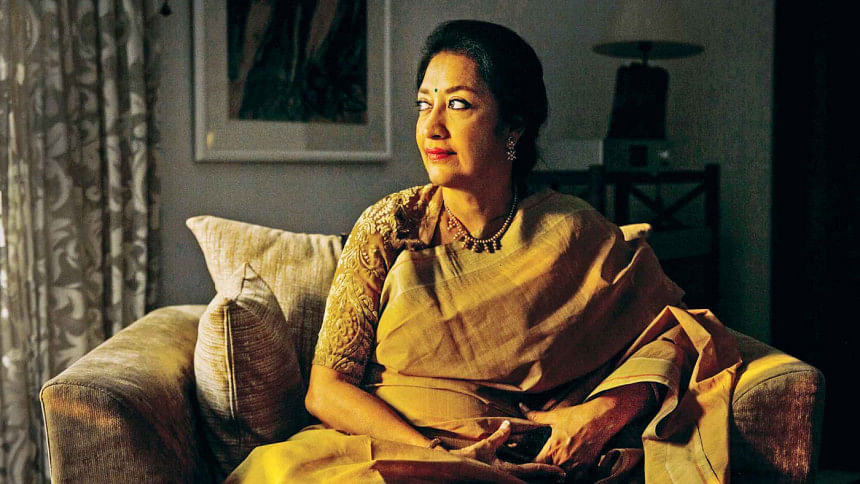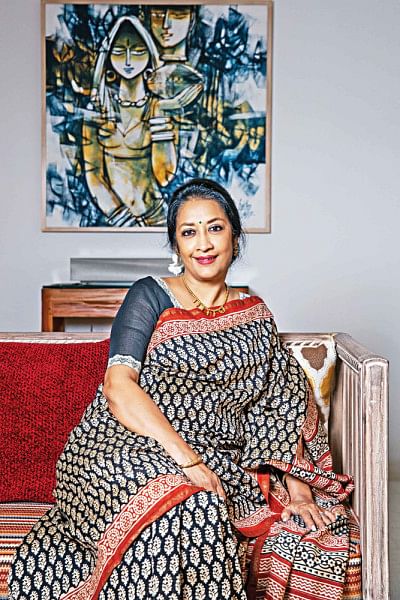 Rafi Hossain: Today we have with us, Shama Rahman. Do you want to tell me about some of your mentors?
Shama Rahman: I have had the opportunity to learn from several mentors. I first started learning under Ustad Fazlul Haque, completed my 5-year diploma in Finance at Bulbul Academy, and then under Kalim Sharafi, whom I call Kalim mama. I was also a student of Sadi bhai in 1991 when I was abroad. There is no end to learning music, and nowadays, with so many resources like Youtube, I believe there is still much to learn.
Rafi Hossain: What do you think is unique about each of your mentors?
Shama Rahman: I am fortunate to have been a student of Sadi bhai. I have seen very few people teach with such patience and perfection. The most important aspect of his teachings was that he would motivate me a lot by saying that I should sometimes sing in my style and that my voice suits certain songs better. He was not only an exceptional mentor and artist but an amazing man in general. On the other hand, Kalim mama would encourage me to try harder until I could perfectly sing certain parts of the songs. I believe it feels more fulfilling to learn under a mentor you look up to and admire.
Rafi Hossain: Would you say Rabindranath Tagore's work has influenced your day-to-day life?
Shama Rahman: Certainly, to an extent, his work lives within us. I learned to sing because of my mother, and when I was young, music was ever-present in our home as people would come over very frequently, sit down with a harmonium, and sing. My mother used to dress very simply and would often wear white sarees along with a flower. I started wearing sarees when I was in class 8 since our family was involved in politics. I love flowers myself, and I love wearing them. Even when I am abroad, I usually pick out flowers on my way to events. I believe Rabindranath and his work had some influence on these things.
Rafi Hossain: At what point did you start to feel passionate about Rabindra Sangeet?
Shama Rahman: When I was young, I used to be fond of all kinds of music, including Hindi songs. My mother used to tell me that if I ever really got into Rabindranath's music, even if I would like other things very much, his work would feel like my own. I first realized this when I was in London one time for my husband's PhD and back then, I missed my country, home and family greatly. I felt like music was my shelter and one of my greatest gifts.
Rafi Hossain: Do you think artists influence the tone of their song covers?
Shama Rahman: Us classical artists frequently sing the same songs, but for example, from my own experience, the feel of the music may change depending on my mood. It will not feel the same every time, even if the notes and the scale stay the same. It will sound different depending on whether you feel happy or sad, or if you are performing in a studio or at a small event. I believe music is a lot like a painting. It has different layers and takes new, unique forms depending on what you add to it.
Rafi Hossain: What kind of environment do you like best when it comes to performing?
Shama Rahman: I like small venues with a good, attentive audience that feels homely. It creates a certain kind of ambience, and when you feel connected to the audience, it is an enjoyable experience and motivates me to sing. I am not the biggest fan of big venues as there is more room for errors like unbalanced mixing of the instruments, and it is hard to fix such issues right away. I do not feel as comfortable singing classical songs when there are too many electronics around me either, although I have gotten slightly used to it by now. During the pandemic, I had performed in only one event with around ten people, and it felt amazing being able to perform after so long. I miss the bond between an artist and the audience. I think we should be grateful that even during this pandemic we are still able to sing to them.
Rafi Hossain: Tell me about some of your favourite singers.
Shama Rahman: I used to enjoy Kalim mama's singing very much. He told me about how he used to be friends with an actor from Kolkata. He sang to him in a few different ways and asked which parts he liked the best. I have always admired everything about his singing, from his strong vocals to his accurate enunciations. Besides, there are many eminent singers such as Subinoy Roy, who is one of my favourites. There are many of our national singers whom I enjoy listening to as well. I especially like listening to such music during the night, and I think everyone prefers listening to music at different times. Recently, during the pandemic, I have had the opportunity to listen to various songs by several artists.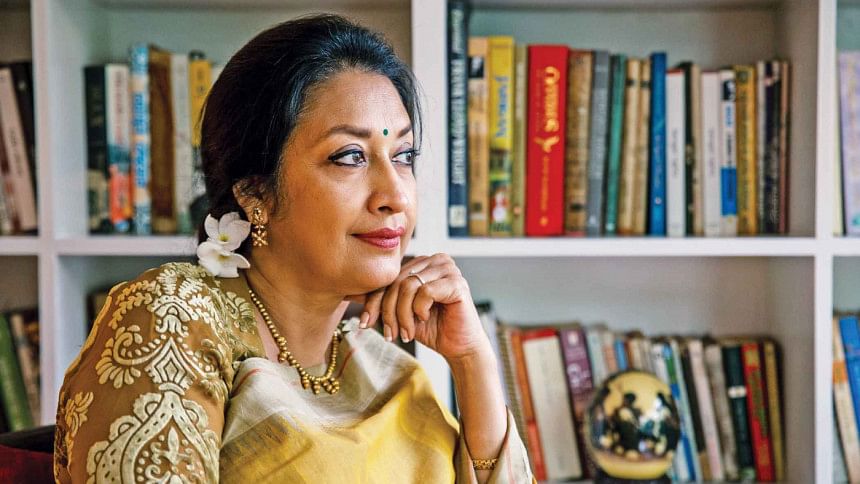 Rafi Hossain: In recent times, we do not see many classical musicians gaining popularity. Why do you think this is?
Shama Rahman: I believe nowadays people want to achieve things relatively fast. When we practised singing, we did not think much about whether our songs got released on CDs or cassettes. Instead, we hoped that we could properly and thoroughly learn the art. There is no shortcut to becoming an established artist. Even though several singers perform very well, the competitive nature that has developed in online platforms holds some of them back. Furthermore, there are fewer live platforms nowadays. Becoming an artist is not an easy task either, since you have to make a considerable number of sacrifices and be willing to improve constantly. I see nowadays many artists take it very lightly and, as a result, may feel lost.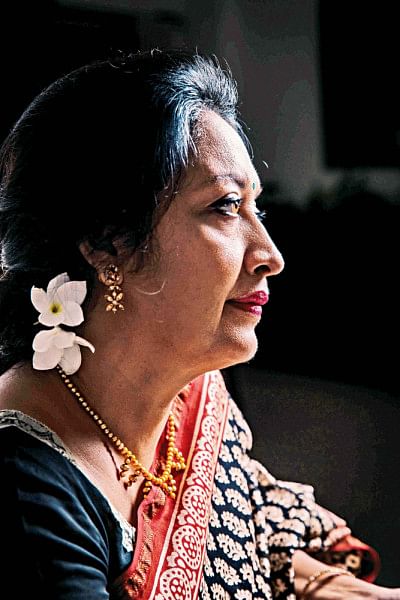 Rafi: Is there anything the modern media can do to promote classical musicians like yourself?
Shama Rahman: I hope to see such platforms be more diverse and have more singers perform. During these times, a lot of people may sometimes feel frustrated and empty having to adapt to a new lifestyle in the pandemic, and I feel like music during these times is very important. Certainly, there are still some platforms that provide these opportunities, and I am grateful for them.
Rafi Hossain: Do you think you are currently satisfied with yourself as an artist?
Shama Rahman: I think every artist should always feel like they have room to do better. There is a constant feeling in my mind that I have scope for improvement. It is not that I ever feel completely dissatisfied and, in fact, sometimes I say I have performed very well. My audiences, however, quite often say that I do perform well, and I am very thankful to them because they give me a lot of motivation.
Rafi Hossain: As an artist who primarily performs Rabindra Sangeet, do you ever wish to do other kinds of music?
Shama Rahman: Certainly. I listen to several other kinds of music, among which Nazrul Sangeet is one of my favourites. My mother has always wanted me to release a Nazrul record. I have plans to do such projects, not only because I want to do it for myself but also in hopes that my fans will like them.
Rafi Hossain: Thank you so much. Is there anything else you want to say to the audience?
Shama Rahman: I urge everyone to try and stay cheerful and have hope during these difficult times. Staying safe and wearing masks is very important, and as always, please do keep listening to music.