RAINARC: Taking E-learning to the Next Level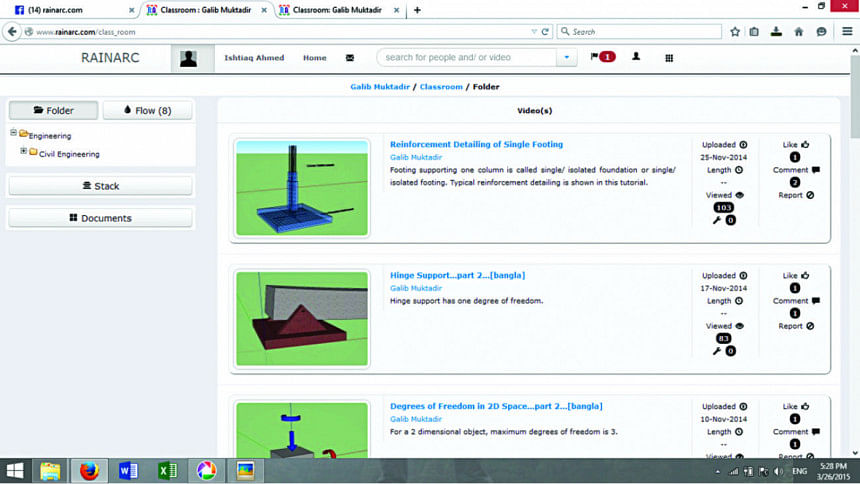 The mechanism of learning and knowledge sharing is gradually becoming diversified with the spread of technology. Thanks to World Wide Web, the scope of teaching and learning has leapt out of the constraints of a classroom and has become accessible to anyone willing to learn, anywhere. Thus, E-learning based websites have flourished over the past decade globally. Thankfully, Bangladesh is not lagging behind much either.
Rainarc.com was one of the first of its kind to realise the utility of E-learning based social networking website in the context of Bangladesh. It was the brainchild of Galib Muktadir, a lecturer at Department of Civil Engineering, Ahsanullah University of Science & Technology (AUST), and three of his friends – Shajid-Ul-Alam Shishir, Moshiur Rahman and Nayeem Hasan. The idea of creating such a website dawned upon them back in 2012. After overcoming many difficulties and with quality technical assistance, together they launched www.rainarc.com from the studio of Rainarc at Katashur, Mohammadpur, Dhaka in February, 2014.
Inspired by the experiences from their student lives, the idea of creating a social network devoted to sharing knowledge had occupied the minds of Galib and his friends. They wanted to overcome the limitations of classroom education and create an interaction based learning experience. They said that to make the education system more interesting, was the main inspiration of this project.
Let's now have a look at how rainarc.com is to be used to maximise your learning experience. What's good about the website is its basic function, like just another social network. You can login from your Facebook, Google Plus or Twitter account and sync your rainarc.com account with those. It's a place for both who want to teach and who want to learn. 
One willing to share knowledge can either upload documents or video tutorials. One advantage of this website is the structured learning mechanism that helps a student build his basics and gradually enhance his/her expertise on the subject matter. This mechanism is facilitated by the arrangement of lectures in someone's "Classroom", which is supposed to act as a virtual room where he/she will upload video tutorials specifically categorising them into "Folders", "Flows" and "Stack". "Folders" contain lectures classified according to broader subject matter whereas "Flows" is the preferred learning order of the topics that the teacher thinks you can follow to better understand the topics. 
Anyone can upload videos and classify them into specific categories while uploading. The learners can communicate with the teachers through the "Comments" section if they have any queries. If anyone has any objection about the video content, they can easily "Report" it or "Suggest a change" if necessary. While watching a video, a "Related Video(s)" list pops up that can also prove to be useful. 
At present, rainarc.com offer contents relevant to different fields of engineering, but they hope to expand to cover all sectors of knowledge. 
Rainarc.com also realises the importance of developing the mobile version of their website so that students can access it via their handsets or tablets. Their goal is to serve the students at all times. Also, they are planning to launch an Android app in near future, to make the mobile browsing more comfortable and easy.
The site has a distinguished advisory panel with teachers like Dr. Raquib Ahsan (BUET) and Dr. Charisma Choudhury (University of Leeds).
Galib and his friends believe that if students get to visualise class lectures with better presentation, they will stop memorising without having the clear concept, and will develop a better reasoning capability. At present, very few websites do that. Rainarc.com promises to be one of those few.