Rakib Erick AS INDIE AS IT GETS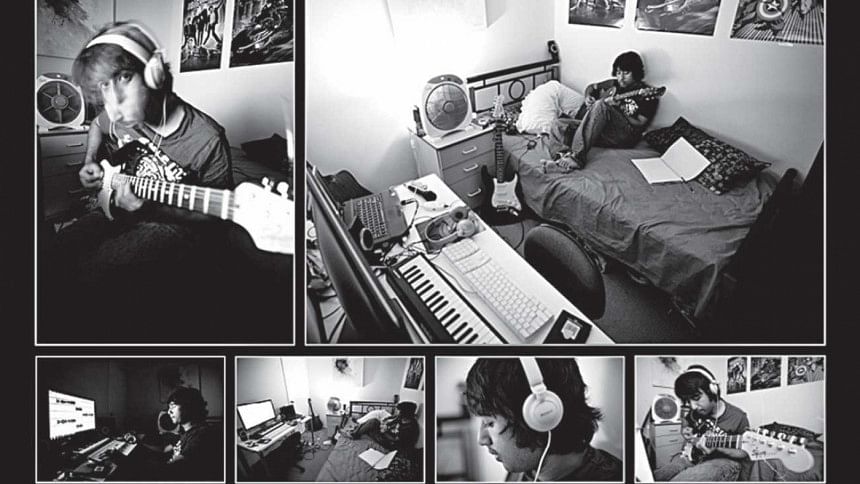 Despite being inspired by bands such as Green Day, Bloc Party and Arctic Monkeys, he sounds nothing like them. He's released three EP's so far and in a scene diluted with the same old, 23-year-old Rakib Erick is a breath of very fresh air.
He started playing the guitar after Green Day's "American Idiot", and to quote him it "blew his mind away."  He then joined a metal cover band named "Septentriones", with whom he played in Dhaka for a few years before the inevitable happened, he had to move overseas for higher studies. But it was when he was locked in his room in Perth that a new musical journey seemed to take off. He started experimenting with different sounds and moved beyond just the rock/metal spectrum. The results of those explorations have certainly been special.
His very first project was an EP titled "Middle Earth." No points for guessing what this is about. This is also the "easiest" listen of his three EPs as the music is slightly more straightforward, at least compared to his other projects. The tracks are ethereal, haunting even. His music really leaves you to interpret it in any way you like. It's also quite the "audiophile" experience, so do get those special headphones out. Nuren Mahnoor offers vocals throughout the EP and although vocals never really get a lead role, the bits she does get are executed to perfection. 
There's a thing about musicians who do "Space/Alternative" music or similar genres; their tracks seem inaccessible or like they're from a far off place that is beyond our grasp. Rakib's music doesn't do that. It holds its artistic integrity but also lends itself easily to every listener. The EP's third track "700 Years" is a great example of that.
Rakib's next two EP's take two different directions: a statement of his versatility. "Dhaka City Riverfront" has a more urban sound while keeping the ethereal feel. Rakib describes it as "Indie/Alternative/Orchestra". You put those three together and you realise you can't predict anything. But that's just characteristic of his music and it carries onto his final (thus far) EP, "Perfume Lake." Rakib describes this as "experimental," as if to say the earlier projects weren't any less experimental.
One thing that came to my attention is that Rakib did all this within the resources available in his room. You can expect some rich aural experiences once he gets his hands on a fully fledged studio. He says he does it all just as an experiment. But if what he has produced so far is just an "experiment," I'd love to see what we get when he devotes himself completely.
Film being another passion of his, Rakib is directing his own short film called "Stella Nox" right now. 
All three of his EPs can be streamed for free on his SoundCloud: soundcloud.com/rakib-erick