WHIPLASH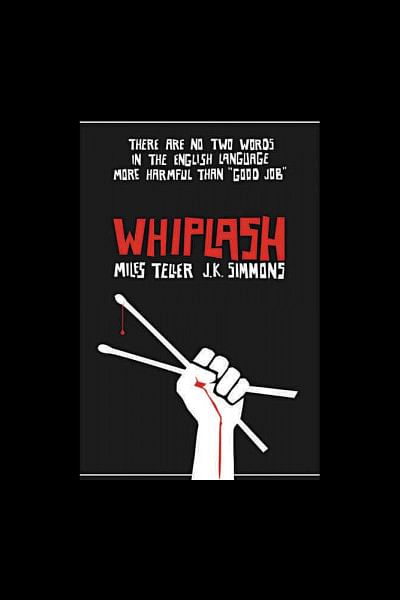 "Whiplash" follows the story of an ambitious 19-year-old music student striving to achieve greatness as a jazz drummer. As he enrols in the Manhattan-based Shaffer Conservatory, Andrew Neiman (Miles Teller) meets music teacher Terence Fletcher (J.K. Simmons). Fletcher, seeing potential in Andrew, considers him for the core drummer spot in the academy's most important jazz band. Now Andrew must push himself, make sacrifices and even practice till his hands bleed to fully impress Fletcher and secure the spot in the band.
Miles Teller gives a very believable performance as the apprehensive but strongly driven Andrew Neiman. However, J.K. Simmons certainly takes the cake, for his Oscar winning performance as Terrence – an insult-hurling, foul-mouthed music instructor who is either taking his students down or helping them become the next big thing in music. Throughout the film both Andrew's determination and Fletcher's perfectionist (bordering on maniacal) methods to groom his students surprise us greatly. "Whiplash" brings forth questions like how far an artist will push himself and what extreme lengths a mentor will go to in order to make a musician realise his full potential. Understandably Fletcher isn't an easy character to love, but as you start trying to understand him you can't really despise him either.
The movie captures every musician's struggles – personal and emotional – faced in the highly competitive music scene, which to put it simply aren't easy to tackle. It also makes one wonder about when it is acceptable or necessary to give up or take a break.
The film is certainly inspiring and one can't help but admire the character that is Andrew Neiman. However certain themes or sub-plots aren't set that deep and only manage to scratch the surface; "Whiplash" is definitely entertaining but not deeply meaningful or thematic.
All in all, "Whiplash" is climactic and lively, and at some points breathtaking. Jazz lover or not, the music is captivating. The well-executed ending steered clear of clichés. If you're okay with some profanity and a few scenes of violence, this engaging movie will not disappoint.