GETTING YOUR FIRST SUIT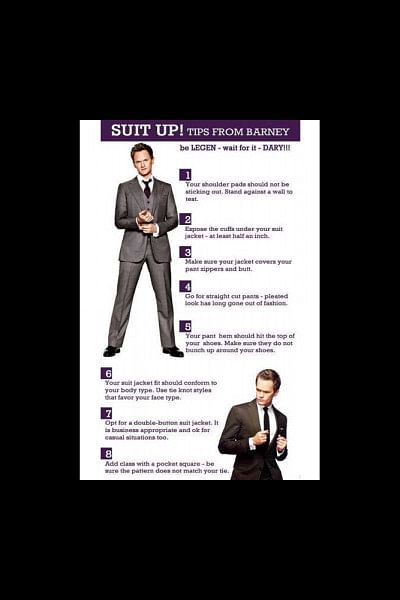 Admit it – a suit brings with itself a level of sophistication like no other apparel. If your wardrobe still lacks this particularly suave element, here are some basic guidelines to help you get your first suit.
COLOUR
A first suit should sport a conservative colour like grey, blue or black. Although many would think it safe to go for a black suit, I recommend opting for a charcoal grey one. This is a one-size-fits-all colour and goes equally well for interviews or presentations and wedding receptions. Besides, it looks classier and is much less mainstream than a black suit. The versatility of charcoal grey just makes it that much easier to recommend.
FABRIC
The fabric for your suit should be determined by the weather it is going to be worn in. For a hot and humid climate like Bangladesh's, linen comes highly recommended. Although it creases easily and requires regular maintenance, it is lighter and cooler than even cotton. Its porous nature and high breathability helps keep the body temperature low. Another advisable fabric is viscose, which is a variant of rayon. Although less breathable than linen, it is similar to linen in other aspects and is a good option in the synthetic section of fabrics.
THE FIT
The fit of a suit is so crucial that it can make or break it. How well the suit sits on the shoulders and around the body can be the difference between looking smart and sloppy. Proper attention should be given to the length of the sleeves, jacket, trousers, and the fitting of the collar. There is no point in wearing a suit that doesn't fit right. So it is recommended that you get it tailor-made. But shops these days offer suits in a plethora of combinations of different fits and fabrics. So taking a shot at buying a readymade suit is worth it. If you have the knack of wanting things to be exactly the way you want it, I suggest you skip straight to getting it made from scratch according to your personalised specifications.
WHERE TO SHOP
While fabrics can be purchased from well known brand stores like Raymond, another good option is Top Ten Fabrics on Elephant Road. Their large assortment of fabrics in a wide price range should suffice for all but the most niches of needs. All your efforts will be in vain should you fail to choose the right tailor. If, unfortunately, you do not already know an expert tailor, the top tier suit shops are your best chance at getting a well-crafted suit. I personally have suits made by Raymond and Fit Elegance, and both of them get my vote of confidence. Although I should note that it is Raymond's Bashundhara City branch and Fit Elegance's Gulshan-Tejgaon Link Road branch that excel most in tailoring.