THE REBIRTH OF NSU CLUB FAIR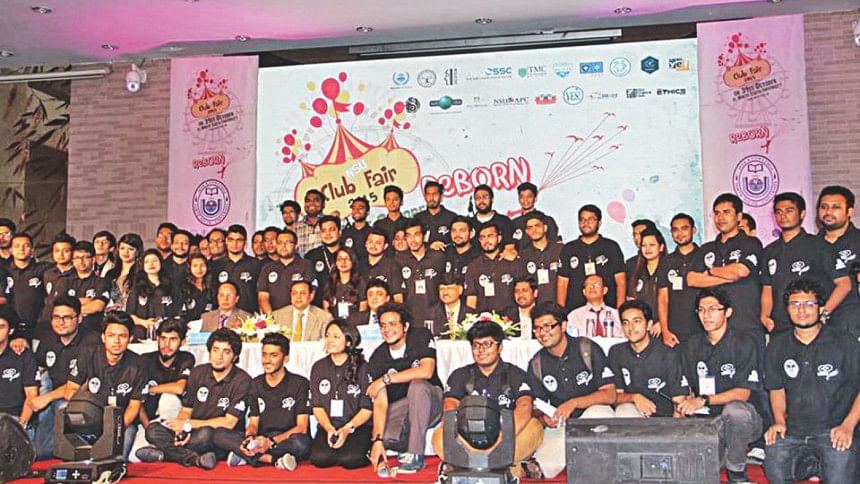 After two long years, North South University is back with its iconic Club Fair. NSU Club Fair 2015 was officially held on October 31, 2015 at the university's plaza area in the Bashundhara campus. "Reborn" was the theme for the fair this year, which was indeed very fitting. 
After about 1000 days since the previous club carnival, the students of NSU were eagerly waiting for the big day. All the 20 student clubs of North South University worked together as a team in order to create something truly marvellous. The event was inaugurated by the Chief Guest and Chairman, Board of Trustees, M A Kashem. 
At 10:30 AM, the program officially started with a recitation from the Holy Quran, followed by a video presentation that highlighted the activities of each of the different student clubs that NSU boasts. Afterwards, the Special Guest, Vice Chancellor In-Charge, Dr. Gour Gobinda Goswami and Director, Student Affairs, Dr. M Emdadul Haq presented their speeches, praising the month-long effort of the student bodies that finally brought this magnificent event to fruition. They also mentioned how, despite the fire incident and political instabilities that marred the last two years, the student clubs have taken up the initiative to bring the exciting annual event back, much to the delight of students and faculty members alike.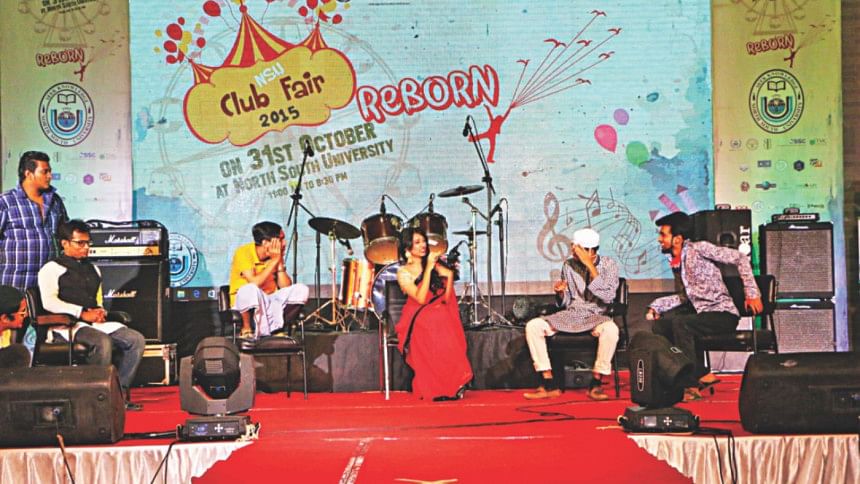 Next, the guests visited the well-decorated stalls set up by the clubs, which exhibited their creativity and brought out their uniqueness. The university's cafeteria and the recreation hall also housed different exhibitions and game zones. Throughout the day, each club performed on stage, starting from 12 PM. 
The entire event was made possible by the seamless collaboration of the authorities and eighteen student clubs of NSU. Executive bodies and members of Art and Photography Club, Athletics Club, Cine and Drama Club, Computer and Engineering Club, Communication Club, Sangskritik Sangathan, Diversity Club, Earth Club, Ethics Club, Finance Club, Human Resource Club, The Marketing Club, MBA Club, Model UN Club, Pharmaceutical Club, Public Health & Sciences Club, Social Services Club, Young Economists' Forum (YEF) and Young Entrepreneur's Society (YES!) worked tirelessly till the previous night of the event to make the entire day as enjoyable for the general student as possible.
This year's fair, as per the norm, included a wide range of activities, such as competitions, comic acts, drama, games, live music, a creative fashion show that exhibited diversity and heritage,a spectacular fire spinning display and laser shows. A flash mob, predictably, had also showed up during the middle of the day-long event. While performers from NSU kept the students entertained throughout the day, a surprise band performance from Nemesis thrilled the audience as the day came to an end.