IT'S TIME!
Unmad-JCC Comic Con 2015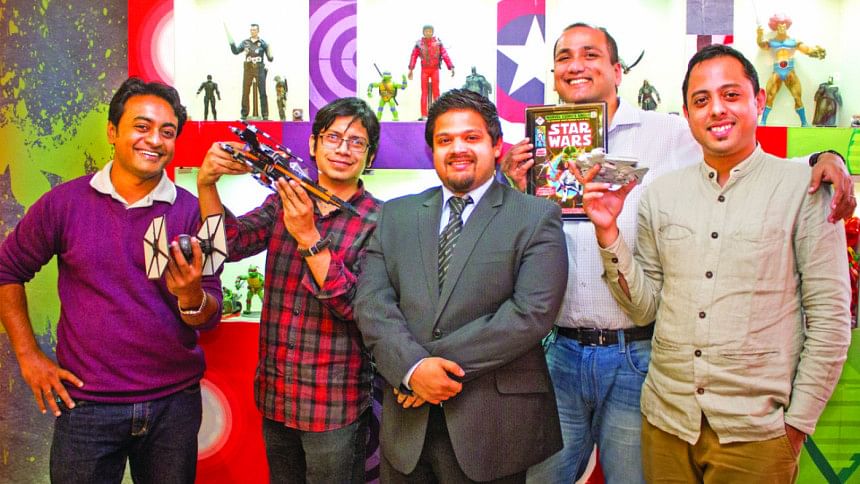 Comic-lovers and pop culture fans, rejoice! Unmad-JCC Comic Con 2015 (Sponsored by Ifad Eggy) is ready to stun you on December 25-26, which is this weekend, so keep your schedules clear. This year, the exposition is even bigger and better– the largest hall in the International Convention City Bangladesh (ICCB) in Bashundhara Residential Area is set to be the proud host.
"A comic convention's main focus should be on COMICS and we have major surprises for comic and pop culture enthusiasts this year," AKM Alamgir Khan Jamil, owner of JCC and one of the main organisers of the event, says excitedly."1990s Spiderman, original Watchmen, original Dark Knight Returns and even comics released last month – we have it all." Over 10,000 comics will be available at the venue and participants can get ANY four of their choice from a selection of comics only for BDT 100.
Mehedi Haque of Dhaka Comics was proud to announce that there will be a comic book panel and Q/A session this time where aspiring artists, publishers and fans will have a platform to discuss the Bangladeshi comics scenario. Needless to say, Bengali comics will get a major exposure at this event as Unmad, Dhaka Comics, Mighty Punch, Panjeree and more Bangladeshi publishers will steal the spotlight. Expect HUGE discounts.
Tashfeen Ahmed, director of IFAD Group – the main sponsor of the event, promises a grand weekend: "We have mascots, game zones, prizes, numerous exciting stalls, a Star Wars corner and a stunning hall of fame." 'Draw Eggy the Superhero' – an on-spot contest for artists can bring you prizes as well.
"Get ready to see the life-size Batpod and take selfies with the Hulkbuster, Batman, Deadpool, Spider Man and tons of superheroes!"–  exclaims Zishan Fuad Choudhury, another member of the wonder team. Along with tons of merchandise, action figures from Flash, Arrow, Game of Thrones and many pop culture franchises will be available.
We hope you registered for the cosplay, because the prize money is a whopping BDT 18,000 for the winner, while second and third prize winners will receive BDT 12,500 and BDT 10,000 respectively. Plus, all finalists will also receive BDT 3,500 worth of cash vouchers. There will be continuous live projections on large LED screens to show the cosplays."The event will be a haven for cosplayers," says Ahmed Ishtiaq, the creative head, while showing the SHOUT team some of the wondrous Star Wars collectibles to be displayed. FLICK Production will be in charge of photographs.
Foodies, the gold sponsors Bengal Meat, BRAC Chicken, Kazi Food and Bellissimo will not allow you to leave without a satisfied tummy. Wok and Fire and other renowned food brands will have their stalls at the venue. Like last year, Aamra is providing the venue with Wi-Fi so that you check-in with ease. Live music is anew attraction. Rock to the music of Cryptic Fate and Aurthohin on Friday and Saturday respectively. Naïve, Exenemy, Zerg and some other performances will be there to get you pumped up.
The tickets will be available on-the-spot, but if you want to avoid the hassle, rush to JCC, four Bengal Meat outlets across Dhaka or to PBS Shantinagar. Tickets are priced at BDT 200 (plus VAT), and you get complete bang for the buck immediately as you will be handed – for free – 2 comics, 2 posters, anime stickers and a packet of IFAD Wavy Chips to munch on. Of course, children under the height of 100 cm require no tickets.
If you want to know more, you'll have to be at the most happening place of the year to see what else these magical tickets can get you.
For more info, visit https://www.facebook.com/events/
962233533799784
Jawad is your next-door superhero who needs you to get him his cape. Your curtain will work too. Shout at him on facebook.com/jawad.muhtasim or [email protected]