If Game of Thrones were made in Bangladesh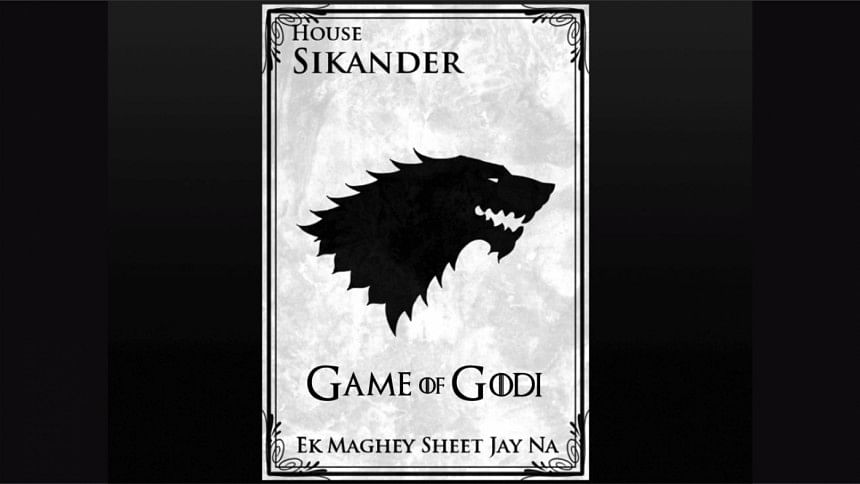 Synopsis: Famous producers of Dhaliwood have come together to produce the drama of the century on your favourite channel, Dhaka Box Office (DBO). Set in a medieval theme and in an alternate universe, powerful families of the country vie for control of the godi, while too many kobors are dug.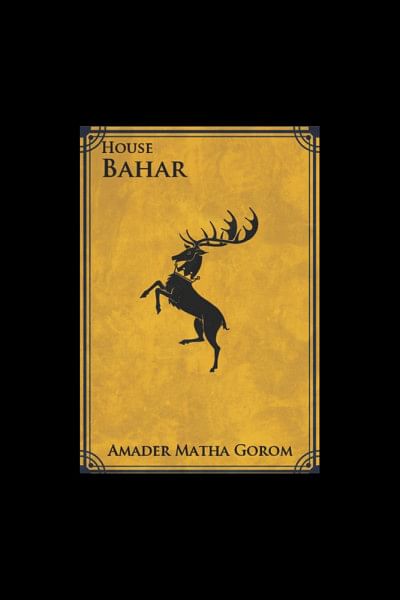 BAHAR: "AMADER MATHA GOROM"
Raja Rokib Bahar (Lord of Pashchimpur, King of Abduls) mysteriously dies after an elephant hunt in Rangamati. He was getting close to learning a dark secret. Unhappily married to Shoshi, rumour has it that he indulged in late night parties in numerous nortoki houses. He loved chewing paan continuously. 
Sanjid and Rana, Rokib's younger brothers, both put claims on the Godi afterwards, but they quarrelled all day among themselves. Eventually Sanjid kills Rana with the help of the Laal Petni and marches his own army towards Rajarbag to become a Raja.
Raja Jafar, Rokib's son (rumours say otherwise), remained the most hated character in "Game of Godi" till he got poisoned. He was a cruel lunatic who was first betrothed to Shanta Sikandar, but later gets to marry the stunning Morjina of the Tareq dynasty.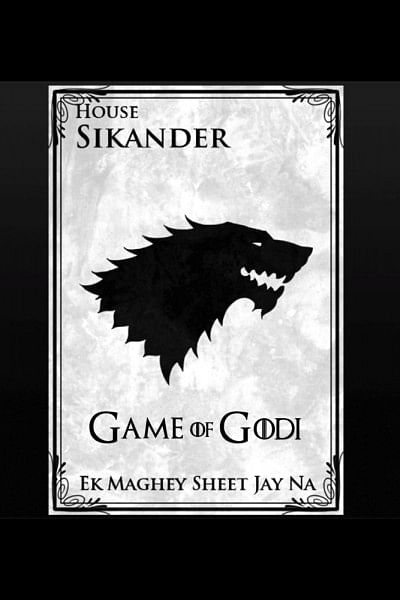 SIKANDAR: "EK MAGHEY SHEET JAYE NA"
The story begins when Nader Sikandar, an honest jamidaar, is invited from Uttarbongo to Rajarbag by Raja Rokib. However, shocking events keep unfolding. After the death of Rokib, Nader goes into the bad books of Shoshi, and the new king, Jafar, orders Nader's execution. 
Karima is the wife of Nader. After Nader is killed, she pushes Robi to become the Raja of Uttarbongo.
Robi, the oldest son of Nader, possessed a righteous character. However, just like his father, he, his wife and his mother are brutally murdered by the Boltu family at Laal Community Centre, after a fight over bad borhani.
Riya, the adorable kid of the family, turns cold after losing all her loved ones. She trains to become a Chhoddobeshi Khuni to take revenge, because "Uttarbongo remembers."
Shanta faces different kinds of torture as her life is turned to hell by Jafar, Porosh Barua (the master of plotting and the secret conspirer) and finally by Ramiz Boltu, the pervert.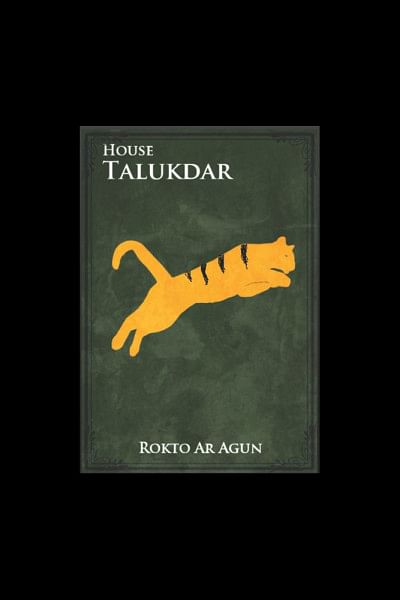 TALUKDARS: "ROKTO AR AGUN"
Dania Talukdar (Mother of Tigers, Breaker of shikol) is the only remaining member of the Talukdar dynasty. Her evil brother marries her off to the barbaric Kala Daku and she had to travel to Sundarban with him. After Kala dies from a wound in a crossfire, Dania goes alone into a forest and comes back with three Royal Bengal tigers, mesmerising her subjects. She unites all the clans and starts marching towards Rajarbag. To the joy of many viewers, her storyline contains many "cut-piece" scenes and tantalising item numbers.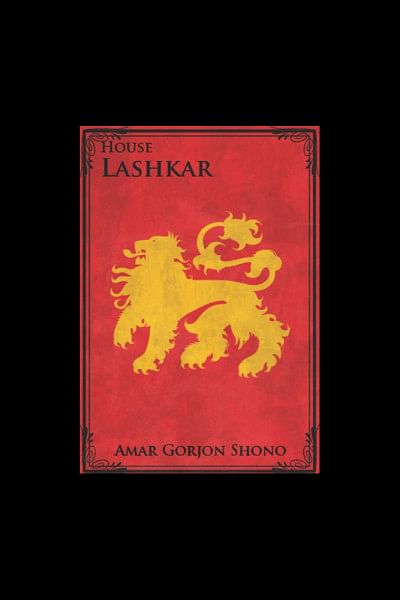 LASHKAR: "AMAR GORJON SHUNO!"
Taiyab Lashkar, a dangerous yet excessively rich jamidaar, is an influential man in Rajarbag.
Taiyab's son, Taymur Lashkar, has a keen sense of justice, even though he is a dwarf with intense interest in nortoki and paan. His animosity with his father ends with him killing Taiyab, after he hired Taymur's love interest, Shayla, as his own nortoki. He always clears his dhaar-dena, like a true Lashkar.
Shoshi, Taiyab's daughter, loves to twist things in her own way. The camera always does several double-takes on her each episode (with rumbling thunder in the background). 
She has a taboo, secret relationship with her cousin, Jamil Lashkar, which is a hot topic of gossip in Rajarbag. She has three children: Jafar, Tonmoy and Marshia.
Jamil is the Rajokiyo Rakkhidar of the king. Unlike Shoshi, he becomes a better human being, as the show progresses. He is called "Rajar Khuni" since he murdered the "Pagol Raja" Arif (shown in super slow motion, in flashback). He has some thrilling adventures with Borun, and Borsha of Tollabag.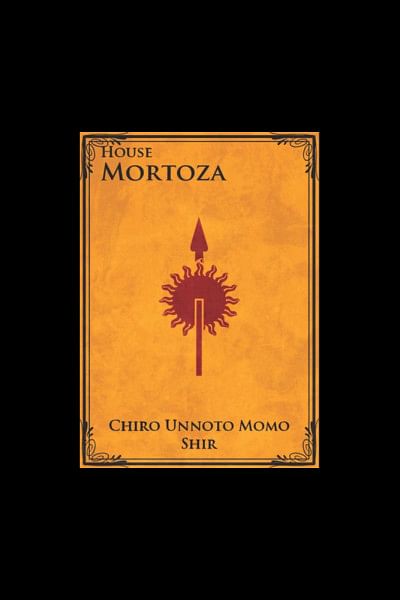 MORTOZA: "CHIRO UNNOTO MOMO SHIR"
They are a conniving bunch who are very courageous. Doha is a notable Mortoza who fought bravely against the Pahar but becomes alu bhorta. His daughters, the Nagins, are whiny and more boastful in comparison.
THE HERO
Jahangir Tushar knows nothing about his real parentage. Brought up by Nader as an illegitimate son, he becomes the commander of the Paharadars at the "dewal" on the border. There, he does his "dhishum-wipe" against the Shada Kaktarua zombies. Samee Tanvir is his loyal sidekick and so is his large dog, Bhoot. But danger looms ahead as the other Paharadars mutiny against him.
THE ZEROS
Torun of Goni family and the spy, Bhari Shojol, do not possess … ahem… something precious.
Ending: Seriously? This is a sub-continental mega serial – this stuff will never end. Maybe someday your kids will get to see the ending. But yes, "R+L=J" has been found written on a tree in one of the sets. We will let you know if Darbesh Baba was right about his prophecy.

Jawad is your next-door superhero who needs you to get him his cape. Your curtain will work too. Shout at him on facebook.com/jawad.muhtasim or [email protected].