APEIRUSS New Faces, New Sounds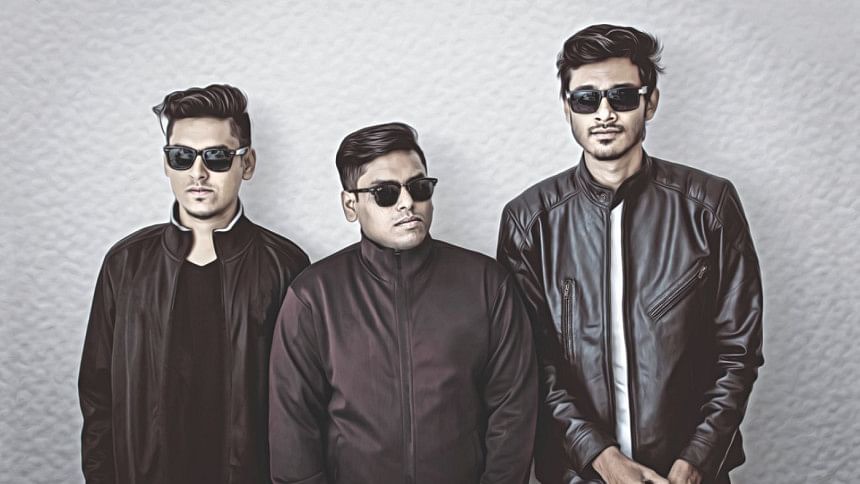 Genre: Electronic Dance Music, especially House, Electrohouse and Chillstep 
Interesting things can happen when youngsters try out something new. So when music producers Samee Mahmud (22), Shafi Mahmud (20) and Adnan Shahid (22) came together and formed the group Apeiruss, they brought refreshing new sounds that their listeners found to love. 
The electronic music group Apeiruss was formed in 2014. The name comes from the Greek word apeirose, which means infinity, and it signifies the trio's infinite zeal to make music. Apeiruss recently came to light with their track "Hold Me Down" featuring Bangladeshi Idol-famed Amid.
In a country where electronica is still in its early stages, how did these youngsters get involved? Well, Samee and Shafi are brothers who are massive fans of Linkin Park, whose rock music with electronic touch inspired them to try out something different than the regular rock scene of Bangladesh. They focused on learning more about different types of electronic music and started producing as well. Samee met Adnan and encouraged him to start pursuing electronic music production as well. When the trio finally felt they were ready after years of practice, they formed Apeiruss and released their debut track "Bijoyer Shopno" featuring Mehrab, Rinty & Borno during the ICC T20 World Cup 2014 in Bangladesh. 
Everything went uphill from there. Turkish musician Don Donadoni stumbled upon Bijoyer Shopno. He took them to the owner of Electro (a sub-label of Incursion Music), Misha Ali, who was impressed by the talent of the young lads and signed them. Later, HTM Records approached and signed Apeiruss. 
Besides their own musical endeavours, Apeiruss works on different projects. They are currently producing music for Tahsan's new album as well as that of Amid and Mehreen among various others. 
In addition, these local boys are also making a name internationally. With the help of their manager Tanzil Rahman, Apeiruss got the opportunity to work with Indian music composers Amaal and Armaan Malik, and co-produced various tracks for Bollywood movies. Moreover, Apeiruss have worked with Sri Lankan artist Stephan Neera recently. 
"Though we are working on various projects, our main vision is to go international. We want to represent Bangladesh in famous international EDM festivals and release international records with different artists," said Shafi. 
The trio is quite active in live concerts in Dhaka as well. They performed at the Dhaka Comicon. I experienced them in Close Up Volt in 2014 and was mesmerised by their stage presence and fresh new sound. They are planning on touring India alongside frequent local shows.
Given their young age, the trio of Apeiruss has accomplished a lot already. In the saturated music scenario of Bangladesh, Apeiruss is one of the torchbearers of EDM. With more widespread acceptance of EDM in our country, Apeiruss will surely flourish. 
To listen to Apeiruss's tracks, visit their SoundCloud at www.soundcloud.com/Apeiruss or like their fan page www.facebook.com/apeiruss for updates. 
Arman R. Khan is an engineer, a caffeine addict, a dreamer and a culture enthusiast who takes life one day at a time. Correspond with him at fb.com/arman.r.khan or tweet @ArmanRK