World can't look away from Rohingya crisis, ICC chief prosecutor says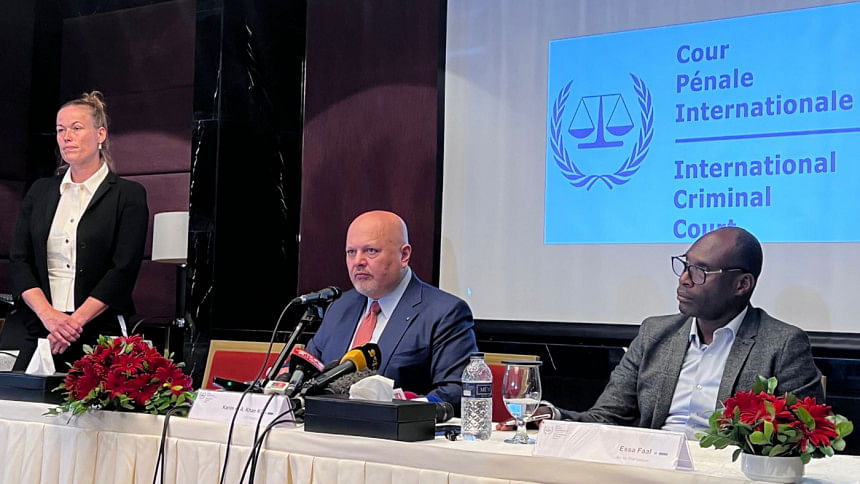 Efforts to bring justice for the Rohingya must be accelerated and the world cannot look away from the ongoing crisis, Karim Khan, chief prosecutor of the International Criminal Court, said yesterday.
He visited Cox's Bazar for four days this week to hear testimony from survivors of alleged genocide by Myanmar's military against its Rohingya population.
"There is heartbreak in these camps," Khan said in an exclusive interview with CNN. "They feel the world is looking elsewhere, is looking at Ukraine (and) other epicenters. And they have a right to justice."
More than 700,000 people have been living in refugee camps in Bangladesh since fleeing attacks in Myanmar's Rakhine state that began in August 2017.
On a visit to the Camps, Karim Khan met with Rohingyas to discuss ICC activities and promised them justice, according to UNB.
At a media briefing in Dhaka yesterday, the ICC chief prosecutor admitted that there was a gap between promises and delivery of justice.
In 2019, judges at the ICC approved a full investigation into alleged crimes against humanity targeting the Muslim-majority Rohingya people, including systematic acts of violence, forced deportation and ethnic and religious persecution.
Those who fled the bloody crackdown have detailed murders, rape, torture and arson, among other atrocities.
The chief prosecutor acknowledged the frustration felt at the speed at which the court issued an arrest warrant for Russian President Vladimir Putin for an alleged scheme to deport Ukrainian children to Russia. Meanwhile, the Rohingya have been waiting six years and no such action has been taken against the Myanmar military leaders who ordered the attacks.
"The big difference is that we have access to Ukraine, we don't have access to Myanmar," Khan said. "My presence here, my presence last year and the team's almost constant presence here over the last year … is evidence of the fact they've not been forgotten."
ICC's Khan said his office was trying to secure additional resources and had appointed a senior lawyer to lead the Myanmar team.
Known as the world's "court of last resort," the ICC has a mandate to try genocide, crimes against humanity, crimes of aggression and war crimes. Though 123 countries are parties to the treaty that brought the court into existence, Myanmar is not a state party, but Bangladesh is.
The ICC investigation is running parallel but separate to a genocide case filed by Gambia to the International Court of Justice, and another case taken up by Argentina's judiciary investigating alleged war crimes under the principles of "universal justice."
"I think collectively we're failing and I think what we're trying to do in the office that I lead is to move with more focus and to get results by separating truth from fiction," Khan told in the CNN interview.
But he noted, "The world can't look away."
Families in the camps are entirely dependent on aid and have seen their food allowances repeatedly cut, children can't go to school and young people have few opportunities, Khan said.
"Now families are being given 9 taka (8 cents) a day for a meal. And the cost of a single egg is 12 taka (11 cents). So food should not be taken off the plates of children and diverted elsewhere," he said.
Last month, the World Food Program was forced to cut food rations for Rohingya refugees in Bangladesh after suffering a funding shortfall of $56 million.
The cuts reduced the value of rations to about 27 cents per day, according to the UN human rights agency.
Chief prosecutor Khan believed that Myanmar's military leaders, including junta leader Min Aung Hlaing could be held to account.
Khan pointed to historic trials of former Yugoslavian President Slobodan Milošević, former Liberian leader Charles Taylor, and former Rwandan Prime Minister Jean Kambanda.
"One thing is certain," he said. "Unless we collect evidence, analyze evidence, unless we check what is incriminating and what is exonerating, there will be no chance of justice."